William and Mary made a critical roster determination Monday, announcing that sophomore Steve Cluley will start at quarterback for the season opener Saturday at Virginia Tech.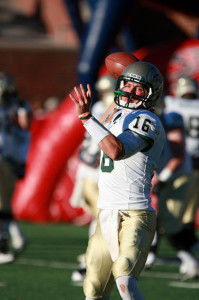 The announcement, which came from head coach Jimmye Laycock during the weekly Colonial Athletic Association coaches teleconference, temporarily settled the uncertainty of the starting quarterback position which has clouded the Tribe since Brent Caprio '14 and Michael Graham '14 graduated.
Cluley won the job over junior Christian Brumbaugh and sophomore Frank Brown IV. Although young, Cluley is the only passer among the trio to appear in a game for the College, appearing in four games last season. Most notably, Cluley completed 4 of 9 for 33 yards and an interception in relief against No. 20 Villanova.
Laycock also announced that redshirt freshman Jahlil Mosley will not play this season, joining senior Raphael Ortiz on the sidelines. Ortiz was medically disqualified but will remain with the team as an assistant, the program announced Aug. 4.
The Manasquan, N.J. native will have an intimidating task ahead of him, as Cluley looks to lead the College in Blacksburg, Va. Saturday. The game will be aired on ESPNews, with kickoff set for 4 p.m.