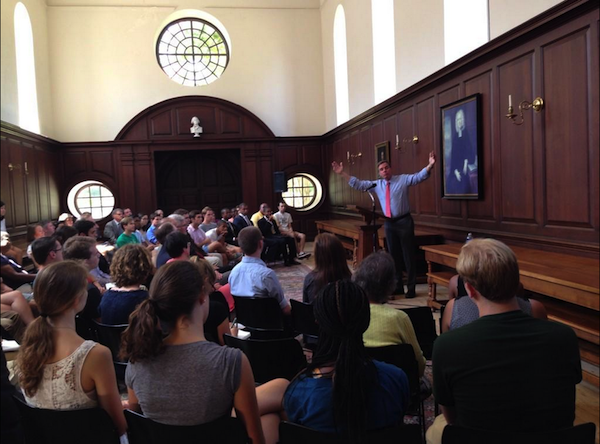 Students, community members and a few local politicians gathered in the Sir Christopher Wren Building's Great Hall Tuesday afternoon on the College of William and Mary campus to hear U.S. Senator Mark Warner (D-Va.) discuss student loan debt.
Student debt is a topic with which Warner is familiar. The first of his family to graduate from college, he emerged with $15,000 in student loan debt — a number that he believes would be much higher were he to graduate today. At $1.2 trillion, student debt currently exceeds credit card debt.
College student Jakob Deel '16 took the podium before Warner to share his own experience with student debt. Deel is also the first in his family to attend college, and he explained that student debt could prevent students like him from investing in things like a house or a car after graduation, because they must focus on first paying back their student loans. Deel, a former intern for Sen. Warner, stressed the importance of students making legislators aware of how debt affects them.
Warner shared several of his ideas to address the problem of student loan debt, including legislation he has introduced. The three bills Warner focused on are bipartisan efforts, with co-sponsors from across the aisle.
The Student Know Before You Go Act, sponsored by Sen. Warner and Senators Ron Wyden (D-Ore.) and Marco Rubio (R-Fla.), works to effectively inform students about different colleges' and universities' performances.
The bill aims to provide students with useful information like average student debt and job availability after graduation for different institutions. He explained that for some students, knowing that there is a chance of a job at the end college makes a significant difference. Warner acknowledged that many institutions of higher education resist sharing this kind of data.
"A lot of schools don't want to share this information because the graduation rates aren't that high or they don't give as much aid as they say," Warner said.
The goal is eventually to have all this data available online, allowing students and their families to make informed decisions about higher education. Warner described the website as a kind of "Zillow for higher education."
"This should not be … some mystery tour that you go through. This should be fairly transparent and clear," Warner said. "You should be able to Google what the real price of every school is based upon your income with a single question."
The former Virginia Governor also discussed the Employer Participation in Refinancing Act that he introduced with fellow Senators John Thune (R-S.D.) and Kelly Ayotte (R-N.H.). This bill would allow employers to allocate a portion of an employee's earnings, pre-tax, to help pay off that person's existing student debt. Under the current Employer Education Assistance Program, employers can only aid employees with continuing education.
Finally, Sen. Warner addressed the Dynamic Student Loan Repayment Act, which he is also sponsoring with Rubio. This bill focuses on simplifying the current repayment system, which, Warner explained, is not easy to understand.
Warner encouraged students to vote, emphasizing the importance of students voting in order to have student issues addressed.
"Hold our feet to the fire, you've got the power to do it," Warner said.