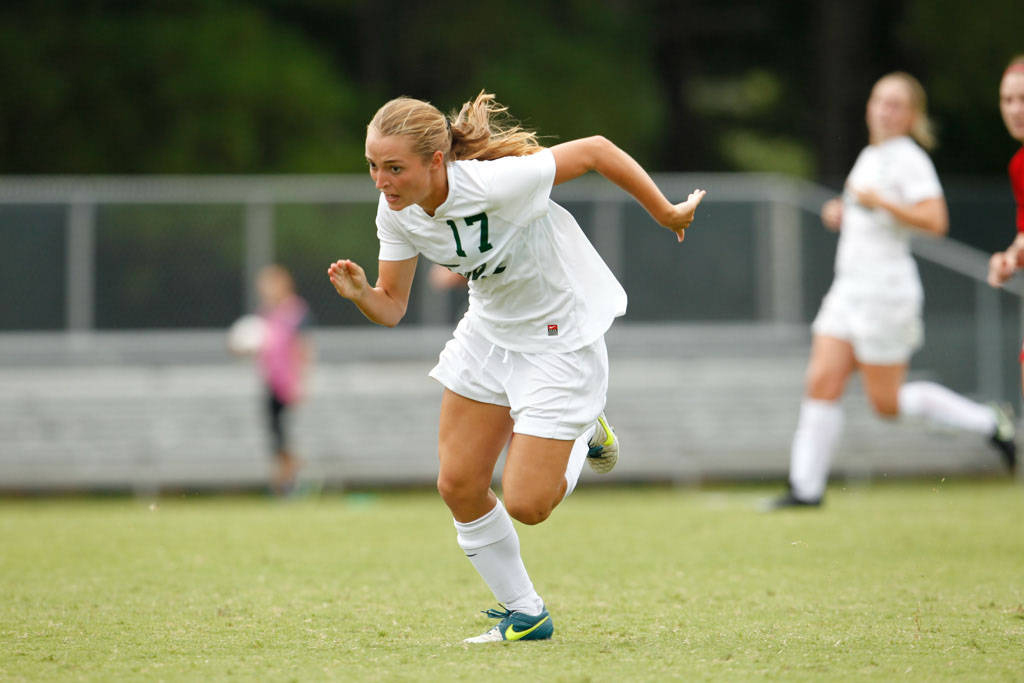 North Carolina State University goalkeeper Mackenzie Stelljas dove left, flew right, stretched high and slid low as she fought to keep the Wolfpack in the game against the Tribe. But, on Sunday, there were just too many shots.
William and Mary (2-1-1) relentlessly pounded N.C. State (2-4) in the second half of a 2-1 victory over the Wolfpack on Sunday, notching the Tribe's first home victory at Martin Family Stadium. The College outshot NC State by a margin of 17-7, with an impressive 11-5 lead in shots on goal. The Wolfpack has yet to earn a victory away from Raleigh.
Early in the match, the Tribe had two chances to take the lead, but Stelljas denied a shot by junior forward Lexi Irvin and a header by senior midfielder Aly Shaughnessy. N.C. State jumped on the board first at the 37th minute with a perfect shot into the upper corner of the goal. But head coach John Daly wasn't about to excuse any goal against the College.
"It was a poor goal to concede, and we've been conceding poor goals all the time," Daly told Tribe Athletics.
The half concluded with a 1-0 lead for the Wolfpack, even though Tribe held an advantage in both shots and shots on goal. Daly wasn't satisfied with just leading the two categories.
"We were very slow in the first half, we didn't really get forward and create enough problems for them," Daly told Tribe Athletics.
Despite the slow start, the College came out of halftime ready to take back the game, consistently attacking the N.C. State defense. Finally, in the 60th minute, freshman midfielder Rachel Moore controlled a throw-in and rifled the tying goal into the lower right corner for a Tribe score. The goal marked the first of her collegiate career.
After finally finding the back of the net, the Tribe attack cranked up the vice-like pressure. A shot by freshman defender Haley Kent ricocheted off the crossbar, and both the rebound shot by freshman forward Sammi Grasso and another by junior midfielder Nicole Baxter were blocked by the determined Stelljas.
The game-winner came on Moore's clear down the sideline. Junior forward Samantha Cordum chased down the ball and crossed it to the middle, hitting sophomore midfielder Haley Kavanaugh in stride. Kavanaugh's kick rang true as the ball sailed into the back of the net, sealing the Tribe victory in the 78th minute.
Daly was far more pleased with the team's second half performance.
"The pace [of the second half] was much better — the passes were better," Daly told Tribe Athletics. "We created enough chances to get two or three more."
This week, Tribe wraps up the home game streak against the in-statee rival Richmond Spiders (2-2) on Wednesday at Martin Family Stadium. The game will be televised on NSCAA-TV and will kick off at 7 p.m.