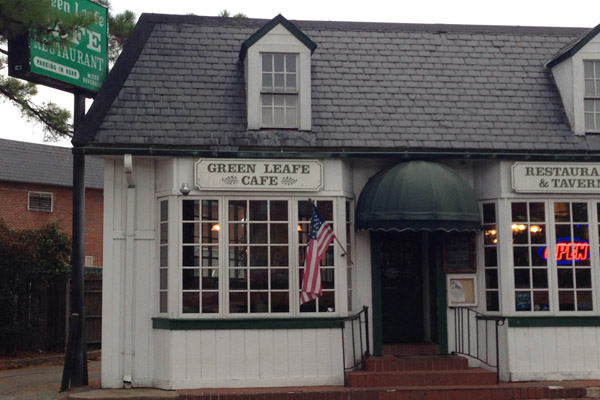 The Green Leafe Café has served the College of William and Mary community since 1974. This year, the restaurant is undergoing a few changes both in structure and in alcoholic fare. Last month, a partition extending from the back of a booth was removed from the restaurant, creating an open space for increased movement and socializing. 
The Green Leafe occasionally hosts DJs and frequently features music playing from speakers.
Server and bartender Nicholas Gupta '15 said that the new space is an improvement which allows students to gather easily. It is especially appreciated at times when the bar is crowded.
"It's easier to move around," Gupta said. "[The space] will encourage foot traffic and dancing. When we have DJs, it's been very fun for people. We're happy with how things are looking."
In addition to augmenting space within the restaurant, the Green Leafe will  expand  its beer selection. Gupta said that next month the bar will insert a new tap line, adding 20 taps to the existing 42. Additionally, starting Oct. 15, Bar Manager Emma Dickinson said that the bar will be hosting a weekly Senior Mug Night on Wednesday evenings, during which seniors can bring their class mugs and get discounts on beer.
The Green Leafe will also start hosting a Tap Takeover night on Fridays. This will feature local breweries coming into the bar and serving their own fare.
"It's very exciting for a lot of people who come in to drink locally," Gupta said.
Although the restaurant will incorporate some new events, it will maintain other activities throughout the week. On Mondays, the Green Leafe hosts Trivia Night, in addition to the occasional college DJ.
"[The Green Leafe is] preserving a tradition that's been at the College for so long," Dickinson said. "[We] want to keep it a traditional college hangout."
Ryan Boles '15 frequented the Green Leafe this summer while he worked at the College. He often went to Trivia Night and noted that, on most weekends, the restaurant was crowded. He said he believes that the opening space in the middle of the Green Leafe is a big improvement.
"It feels very authentic in there," Boles said. "The Crust is more of an urban scene. The Green Leafe has its own thing going for it."