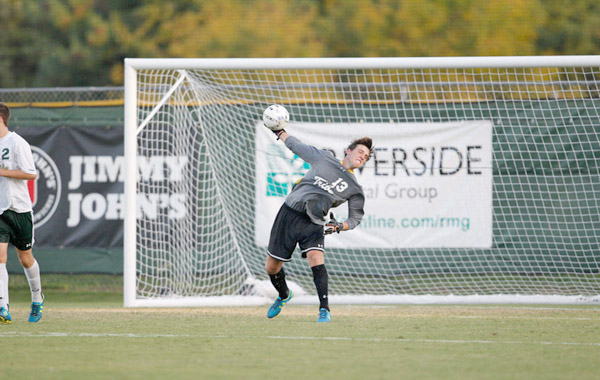 In Thursday's 1-0 loss at St Francis of Pennsylvania, the number one stood out for William and Mary. That was the number of shots on goal for the College (2-3), in essence the number of times St. Francis' (3-2) goalie had to stop the ball from crossing the goaline.
"For us it was a very disappointing performance," Tribe head coach Chris Norris said. "We made some changes in the second half but just were unable to find the equalizer."
The lone strike on target for the Tribe came at the 13th minute off the foot of freshman midfielder William Eskay. The College's offense sputtered against a suffocating Red Flash defense, as many of the Tribe's shots deflected off of St. Francis defenders. The attack could not manage to create a clear shot for the remainder of the game.
Although the Tribe shot first, as sophomore forward Reilly Maw sent an attempt into a waiting defender, St Francis stormed into the game with a goal at the 10th minute. The Red Flash nearly capitalized again with two shots in the 12th minute, but junior goalkeeper Bennett Jones was up to the task.
The College came close right at the end of the half, but senior forward Chris Albiston's shot sailed high of the crossbar at the 44th minute. Another Tribe shot deflected off a defender, and with ten seconds left, the Tribe could not manage to score despite the corner kick.
Entering the second half, the Tribe saw more of the same stifling defense and did not manage a single shot. However, the College's defense played just as tough and shut down the Red Flash attack, holding them without a shot as well. St. Francis led the College with a 9-4 shot advantage, and the crucial 4-1 shots on goal tally.
Next Tuesday, the Tribe faces off against nationally ranked No. 3 University of North Carolina (3-1) in a televised home matchup at Martin Family Stadium. Kickoff is at 7 p.m., and the game can be seen nationally on NCAATV.