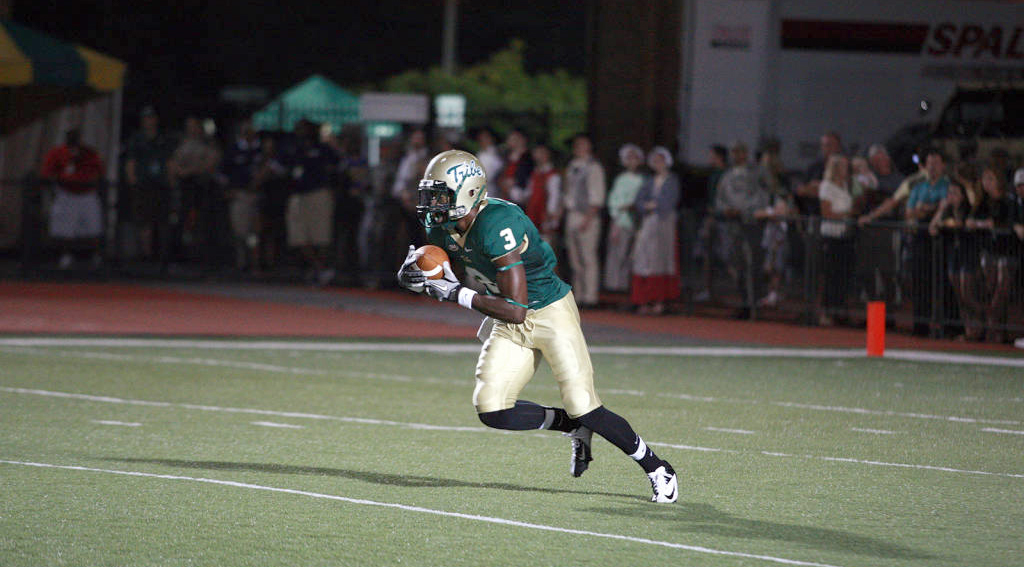 Senior receiver Tre McBride returned Saturday, and everything else just fell into place for William and Mary.
Fans can focus on some negatives of the College's 29-14 win over Norfolk State. The offense managed just 234 yards, with only 37 coming in the second half. Junior running back Mikal Abdul-Saboor was held to just 66 yards against a Spartans defense that was entirely committed to stopping him. The Tribe's defense ended up outscoring its offense 16-13.
Fans may wonder why sophomore quarterback Steve Cluley missed so many throws, or why freshman receiver DeVonte Dedmon hardly played after a sharp start against Hampton Sept. 6. But none of those narratives trumped Saturday's dominant story: McBride came back from injury, and he picked up the slack.
McBride was the brightest spark on the Tribe's offense in 2013, capturing the attention of the Colonial Athletic Association and drawing speculation about his professional football prospects. When he injured his ankle late in the College's 34-9 loss to Virginia Tech Aug. 30, it was a sickening turn. Losing to the Hokies wasn't a surprise, but losing McBride in the process was a cruel twist. The mystery surrounding McBride's return made things worse — his status was in doubt for two weeks, right up to the beginning of last weekend's game.
As the Tribe warmed up on the Zable Stadium field Saturday night, McBride strolled onto the field in full uniform, carefully running routes on the slick turf. McBride's presence during warm-ups hinted at his return, but as he gingerly tested his ankle, it was unclear how much he would play. McBride earned the start at wideout but failed to make a catch on the first two Tribe drives. The College's fans, dutifully watching in the rainy night, fell silent as NSU's Aaron Daniels punched into the end zone, forcing the Tribe into a 7-0 deficit.
At that moment the Tribe desperately needed a spark, and McBride provided it. On the fifth play of the College's subsequent drive, McBride sprinted behind NSU's defense and hauled in a rainbow of a throw from Cluley. With nobody to beat ahead of him, McBride sprinted the final dozen yards for the game-tying touchdown. After a troubling start, the Tribe was back in the game. McBride put them there.
After McBride's touchdown, the College took over the contest. Junior cornerback Jared Velasquez's interception return for a touchdown put the Tribe up 14-7 two minutes later, and the College eventually pushed its lead to a heavy 29-7 advantage. When all was said and done, McBride's score sparked a 29-0 run for the Tribe, a run that lasted until the fourth quarter and ruined the Spartans' chance of an upset.
That said, McBride's touchdown catch was hardly the only reason the Tribe won. The team drew strong performances from all over its roster, particularly from junior cornerback DeAndre Houston-Carson and senior safety Ivan Tagoe. But McBride's score was an inspiring play that had an unquantifiable impact on the contest. The College's fans were visibly rejuvenated by McBride's catch, and his teammates likely were as well.
McBride's importance to the College has always been evident, but it has hardly been more apparent than it was Saturday. Norfolk State attempted to stop the Tribe's offense by skewing its defense against the run, neutralizing Abdul-Saboor and hoping that the College couldn't throw its way to a win. The Spartans failed to give proper attention to McBride, and he finished with six catches and 101 yards. In addition to his long touchdown, McBride also added a leaping grab over multiple defenders and had several catches that left him open to bruising hits from defenders. His performance was impressive enough at face value, but given McBride's recent injury, it was all the more admirable. He refused to let the College's offense fall flat, and he refused to allow the Tribe to lose. It was a team victory, but McBride's resilience and offensive leadership made him a large part of it.
The Tribe definitely has some questions going into its matchup with Lafayette this weekend. The College still needs to prove that it can provide the offensive production to match its defensive dominance, and it needs to prove that it can take pressure off Abdul-Saboor, who drew most of the Spartans' attention Saturday. Cluley needs to show that he can build on his strengths as a passer and improve on his weaknesses.
All of those concerns are valid. But leading the offense is McBride, the game-breaker whose presence on the field serves as a reminder that a Tribe touchdown can come at any time. Even after a discouraging injury, McBride came through for the College Saturday night. Everyone who has followed his Tribe career should have expected as much.