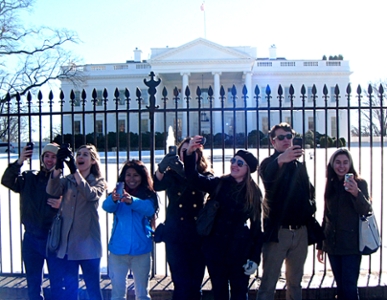 While winter break can seem to stretch on endlessly, students will once again have the opportunity to earn college credit for courses taken through the College of William and Mary's Washington, D.C. Winter Seminar.
The Washington, D.C. Office's D.C. Director Adam Anthony said that much like the classwork involved in the D.C. Summer Institutes, the D.C. Winter Seminar gives students the opportunity to earn three credit hours by attending lectures and going on visits to sites like the Environmental Protection Agency, Politico and the British Embassy. The Winter Seminar is not its own semester but is an attachment to the fall semester, or a "trailing class."
This January marks the start of the second seminar. Anthony said he is optimistic that the program will continue for years to come.
"We've been very lucky," Anthony said.
The William and Mary D.C. Office has been able to find professors who are not only experts in their fields but who also have close ties to the D.C. area, Anthony said.
One of the two classes offered this year will be focused on education. Drew Stelljes, Assistant Vice President for Student Engagement and Leadership and Director Office of Community Engagement, will teach the course. The other class centers on politics and will be taught by Newton Family Professor of Government C. Lawrence Evans.
While the professors and D.C. administrators do play a major role in the creation of course content, Winter Seminar 2014 students Allie Rosenbluth '15 and India Braver '16 said the D.C. Office takes students' interests into consideration when creating the final syllabi.
"There were a couple of people who wanted to pursue International Development, so we had a site visit at USAID," Rosenbluth said.
In terms of advice for applying students, Rosenbluth and Braver both said that applicants should make their interests known up front.
"From personal experience, one of the greatest benefits students get from participating in one of our major academic programs — William and Mary in Washington, D.C. Summer Institutes, and Washington Winter Seminar — is professional development," Anthony said. "I majored in government at the College and most of the students who come through our program are humanities majors. One of the things I want students to know is that our office is here to help with professional development and that it is not just reserved for business students."
Program coordinator for the William and Mary in Washington semester program Steven Lovern '13 said he believes that the D.C. Office is also responsible for helping students become better professionals.
"Our office is here to help with professional development, and that is not just reserved for business students," D.C. Summer Institutes program coordinator Sarah Adler said. "[The D.C. Office is] able to teach students how to network, how to seek out opportunities for personal growth and development, and how to become polished adults who can hold their own in D.C. society."
Administrators from William and Mary's D.C. office said they believe their students deserve more than just a scholarly education; they deserve real-world knowledge that will help them land the career they desire. Anthony said that, to him, helping students in more than just classwork is the "William and Mary way." He said he believes it is administrators' and professors' duty to help the students grow both intellectually and personally, and to make sure the students are the main focus.
The College does not offer winter break classes on campus, but many other schools around the country have created January terms or offer January study abroad programs. Anthony said he believes if other schools can do it, so can the College. Opening up January classes would provide students with the opportunity to further pursue academic interests — or professional interests, in the case of the Winter Seminar, Anthony said.