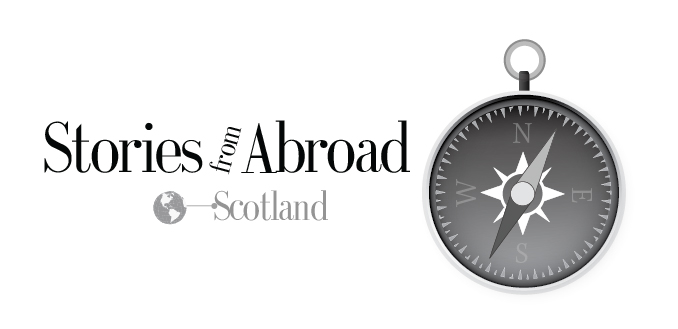 One of the most tiring things about being abroad is that you're always meeting new people. When I was just starting college, I remember how cool it was meeting all different sorts of people. But those people had nothing on the cool and amazing people I've met so far in Scotland  — a former green beret who was shot by the FARC, an Iranian-German girl living in Bethesda who has now become my academic aunt (more on this later), and more.
There comes a time, however, when another new person is just too much and it's time to remember people back home. Granted, this is mostly done with Skype, but it's a nice change when a friend happens to have a Charles Center grant to come study the Referendum. It's tough to beat when one of your best friends comes for a visit at the exact moment when that's what you need to keep going, so many thanks to Lucas for a touch of home.
Alternately, there's another moment when new friends start to become the support network that your old friends provide at home. This is helped by the system that's traditional at St. Andrews where "freshers" and year-abroad students are adopted by "academic parents." I have a Canadian parent from Vancouver and an Iranian-German aunt. Additionally, I have a raft of academic siblings and cousins. While I'm slowly getting to know them, knowing there are good friends here provides me with that extra feeling of home that only comes when new friends begin to feel like old ones.
Societies are the big thing here at St. Andrews, and that's where I first began to fall into a groove. I met my Academic Family at a welcome event for the Middle East Society — for which I'm now Academic Events Coordinator. A society exists for anything and everything that you could possibly want to do — be it riflery, backpacking, adventuring, whisky tasting, real ale and a society expressly for people studying abroad and people who want to study abroad. I'm a member of almost all of these. Particularly anticipated is the upcoming weekend trip to the west of Scotland (Glen Coe) with the hiking/backpacking society, Breakaway. One of the best parts of Scotland absolutely must be the fact that my walk home from class is along a cliff, and no matter where I look at 6 p.m., I'm bound to get a beautiful view of either wet stone in the grey mist or the sun streaming through the ruins of the old cathedral, illuminating the water at the foot of the cliffs. Photos of St. Andrews and the hiking trip, along with some of my better photography along the journey to St. Andrews can be found at mrheffernan.vsco.co.
Learning how to put myself out there successfully has been the biggest thing that I've learned here — while you can show up to your study abroad location with a great attitude, you begin to realize that you're not as tied into things as you could be. That's particularly pronounced if you live in a flat, where most others are upperclassmen who are already involved — especially because after the first few weeks, the wonder of being in a new place wears off and you start to remember how busy you were back at home. I found it particularly notable that I hadn't yet heard something of the kind in my preparation for studying abroad, but now that I've gotten more involved, it's clear that the hardest part of being abroad may well be behind me. Becoming at home and settling in has proved to take more than just showing up with self-confidence and putting in extra energy to be outgoing – turns out it takes finding a family of friends, too.