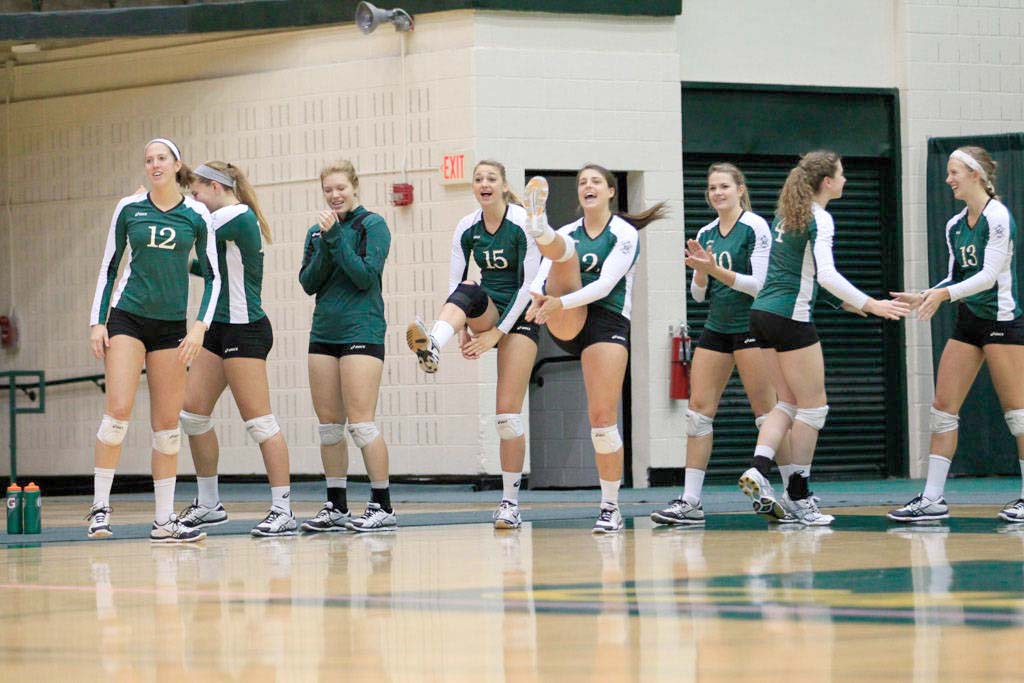 It took just under a month — 28 days — for William and Mary to snap its 11-game losing skid. After dropping a 3-1 decision to the College of Charleston Friday, the Tribe topped Elon Saturday, 3-1, to secure its first win since Sept. 6.
After splitting the weekend home stand, the College sits at 5-13 on the season, including a 1-3 Colonial Athletic Association record.
The College opened the weekend against defending conference champion Charleston (12-7, 4-0 CAA), a squad that has won 18 of their last 19 conference games. After claiming the first set, 25-17, the Tribe dropped the next three sets as the Cougars eased to a 3-1 win.
Junior Mallory Brickerd led the College with 12 kills alongside three digs and two blocks. Junior Dessi Koleva added 10 kills offensively, and 15 digs and three blocks on the defensive side.
Once again, the College recorded more blocks than its opponents (14-7). The game saw 17 ties and five lead changes.
Facing an 11-game streak without a win, the College hosted Elon Saturday. Koleva paced the Tribe, recording seven of squad's 14 first-set kills as the College eased to a 25-14 first-set win. Koleva finished the night with 17 kills and 13 digs, good for a conference-best fourth consecutive double-double.
Elon rallied for a 25-22 second-set win thanks to a late run. The Tribe returned the favor in the third set, enjoying runs of 9-2, 6-0 and 7-1 to claim the set, 25-9. Koleva came through for the College again, recording the set's final kill.
Brickerd tallied seven of her 14 kills in the fourth set as the Tribe built a 17-7 lead. The College went on to win the set, 25-16, capping the 3-1 match win.
The Phoenix recorded 10 blocks to the Tribe's nine and a half. The College shined defensively, tallying 90 digs to Elon's 64.
With its first conference win in hand, the Tribe returns to action Friday as it travels to conference-foe Delaware. The match is set to begin at 7 p.m.