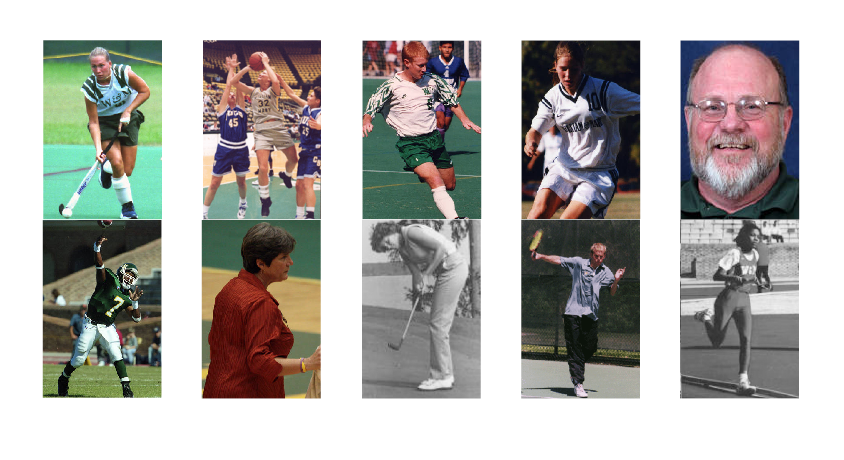 The William and Mary Athletics Hall of Fame has represented the best of the Tribe's student athletes and coaches since 1969. The Flat Hat recaps the 2014 class ahead of the 2015 class announcement, expected during Homecoming weekend.
Ann Saunders '03
Aside from a laundry-list of top-five rankings in the school's records, Saunders is better remembered for her role in advancing the College to its first two trips to the National Collegiate Athletic Association postseason. Saunders finished with 120 points.
Ashleigh Rabe '94
Finishing as the College's second-leading all-time scorer wasn't enough for Rabe, who also lead the Tribe to its first ever Colonial Athletic Association Championship game. Rabe became the first women's player to sign a professional contract in Belgium.
Billy Owens '95
Over the span of 90 matches started, Owens tallied a school-record 41 assists alongside 111 career points. Owens' teams won the Colonial Athletic Association three times, in part due to Owens' program-high 13 game winning goals.
Carrie Moore '99
In four years, Moore never experienced a losing season. In fact, Moore's squads won the Colonial Athletic Association and appeared in the National Collegiate Athletic Association post-season play for four consecutive years.
Dan Stimson
After 25 years as the director of the College's track and field program, Stimson turned his attention to the throwers in 2011. While director, Stimson's squads won over half, 52 percent, of the possible Colonial Athletic Association titles.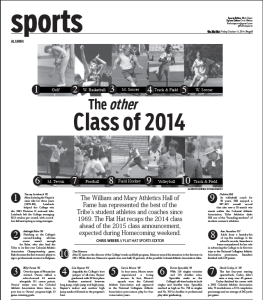 David Corley, Jr. '03
The last four-year starting quarterback, Corley didn't miss a snap over 45 games. Corley finished his career with a 2001 Colonial Athletic Association title, 73 touchdowns, a 57.9 completion percentage and an average of 245 yards per game.
Debbie Hill
As volleyball coach for 30 years, Hill enjoyed a 587-413 overall record that also saw a 56-match win streak within the Colonial Athletic Association. Tribe Athletics dubs Hill one of the "founding mothers" of modern women's athletics.
Tracey Leinbach '81
After claiming the Virginia state title for three years (1978-80), Leinbach helped the College win the 1981 Division II national title. Leinbach left the College averaging 82.9 strokes per round, with record-low fall and spring scoring averages.
Lisa Rayner '96
Arguably the College's best jumper of all-time, Rayner graduated with 20 first place finishes scattered between long jump, triple jump and high jump. Rayner's indoor and outdoor high jump marks still stand as the program's best.
Trevor Spracklin '01
With 110 singles victories and 113 doubles wins, Spracklin ranks as the College's all-time leader in both singles and doubles wins. Spracklin reached as high as No. 734 in singles and No. 319 in doubles in professional play after graduating.