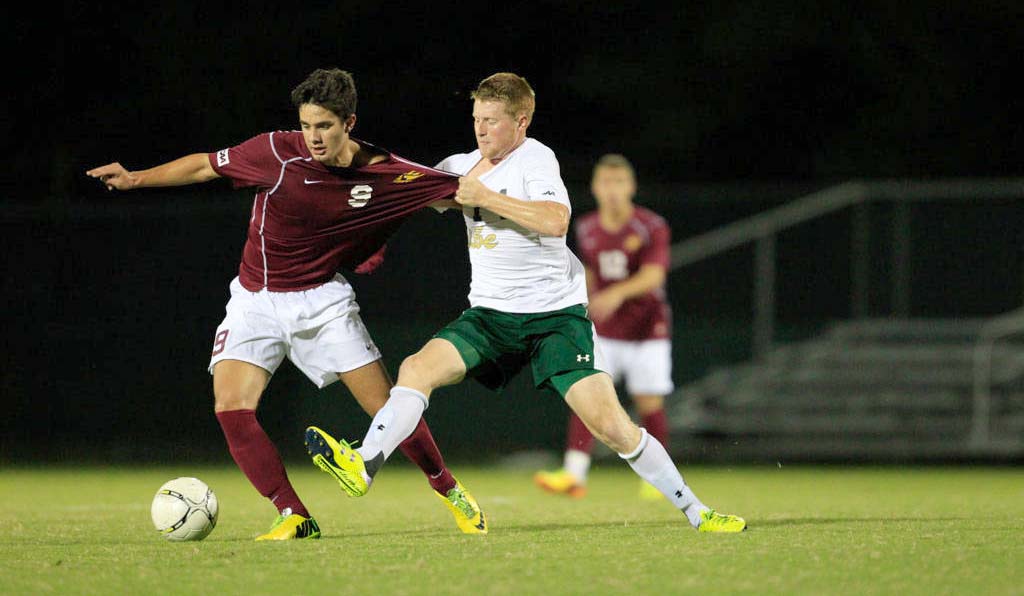 Editor's Note: Due to website maintenance, this article on the Tribe's Oct. 8's matchup with Elon is running a week late. Since this article was written, the College fell to Hofstra, 3-0, in Hempstead, N.Y. last Saturday and defeated College of Charleston, 3-2, on Wednesday in Charleston, S.C. The Tribe is now 5-8-1 and 2-2-1 in the Colonial Athletic Association.
In a long, hard-fought Oct. 8 match at Martin Family Stadium, William and Mary (4-7-1, 1-1-1 CAA) played Elon (4-4-3, 0-1-1 CAA) to a 0-0 draw in double overtime. The shutout means the College has only scored in three of its past nine games.
Head coach Chris Norris had plenty to say about his team's struggles.
"It was a really bad performance by both teams I think, but more so by us," Norris said. "It was kind of back and forth, but if you're a soccer enthusiast or purist there were more turnovers probably than connected passes in the game…There was a lot of effort and endeavor, but not a lot of quality. … I don't think there's a simple answer [to improve]. Playing simple is the answer but I don't know that it's that simple for us to make that adjustment."
Each squad had its fair share of offensive chances. The College had a great opportunity at the 38th minute, when freshman midfielder William Eskay intercepted one of the Phoenix's passes for a breakaway, driving to the top of the net. However, he hesitated in deciding whether to pass or shoot the ball, and the brief pause gave Elon's defense time to get set, preventing the College from scoring.
Elon had plenty of scoring opportunities as well, including 10 corner kicks. Despite the Phoenix's offensive effort, senior goalkeeper Bennett Jones stood strong in the net for the College, notching four saves and maintaining a clean sheet, his second of the season. Still, Jones made sure to compliment the defense on its efforts.
"Individually I think [the defense] stepped up. Our one on one defense was very good, and we had good intensity. … We had a tough time early on as a unit, but we're starting to gel and not give teams as many chances," Jones said. "I'm just glad to be a part of such a solid defensive unit."
The Tribe made an unexpected substitution near the start of the second half, subbing out junior forward Jackson Eskay, one of the College's most consistent offensive threats. Eskay did not return until the start of the second overtime, sitting out for 54 minutes of game time.
The referees let the game play very loosely, neglecting to use their whistles for most of the 110 minutes. As a result, both teams played more physically than usual throughout the match. In a notable incident in the 83rd minute, an Elon defender grabbed William Eskay's jersey and pulled him down on a breakaway. The refs did not call a foul and play continued into overtime. At the 102nd minute, as tensions rose, senior defender Austin Dunker of Elon and senior forward Josh West both got yellow cards. Dunker fouled junior midfielder Ryan Flesch, and West got in Dunker's face after the play.
"In some situations where there could've been a red card [the refs] made an impact," Eskay said. "Other than that not really too much, we just let it go and kept playing."
The College plays two road games against Hofstra Oct. 11 and the College of Charleston Oct. 15. The Tribe returns home to Martin Family Stadium Saturday, Oct. 18 to face Delaware. Kickoff is set for 7 p.m.