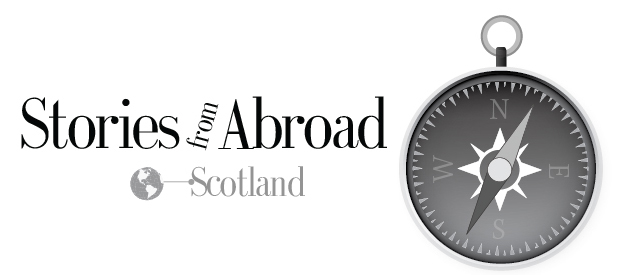 Traveling around Scotland has been the theme of the past two weeks, and in 12 hours, I will be off to the Highlands once more. One of the most amazing things about living in Scotland is that no matter how civilized St Andrews may be, the wild isn't too far away.
I spent this past weekend in Glen Coe with the hillwalking (hiking) society Breakaway, hiking the Munros (which feature hills over 3000 feet tall). I thought that the high-medium level trek would be an apt level for someone who has done quite a bit of hiking in the Appalachians. I was, quite literally, sorely mistaken. While the hike was great, it was a real push in places where there was at least a 60 degree scramble up wet, loose rock. On the other hand, as soon as I thought I was too tired to continue, I looked around and saw the intense beauty of the Scottish Highlands surrounding me. That alone was enough to motivate me to continue. Besides, I knew we were on the right path up the Munro when we came across sheep droppings in the heather — clearly the sheep would be too lazy to take the tough way up.
Aside from the beautiful trip up and down the rugged and barren Munros, there's much to be said for the other moments of the trip — the unintentional delights. The trip from St Andrews to Glen Coe was made in a minivan with several other people: an ex-submariner, a Canadian, a French girl, another American and a Scottish girl. I can't begin to describe what a fun ride it was going up, with people taking turns DJing and talking, especially when we entered the Highlands while listening to Fantasia on a Theme by Thomas Tallis. Truly an inexplicably beautiful moment of a wonderful trip. This was topped yet further by the second night in the Glencoe Independent Hostel, where the Breakaway committee (their exec board) made risotto and sticky toffee pudding for everyone. Aside from the food and community being excellent, it was topped off by some whisky and softly played acoustic guitar. Keeping in mind that it was inside a stone-walled room with warm sweaters and tea, I had found heaven.
This next weekend, I will be heading off to the Isle of Skye with my German postgraduate friends Jan, Holger and Kjell. We have scant plans, in the best way: We will be heading off at roughly 8 AM to Dundee, where we will rent a car and head off to Skye. We will be there all day Saturday and return Sunday evening, having hopefully hiked a Munro or two (I bought a guidebook) and seen some of the myriad sights (and distilleries) that Skye has to offer.
The city may be where I live and study, but the more I adventure, the more I see that heaven is in the Highlands.