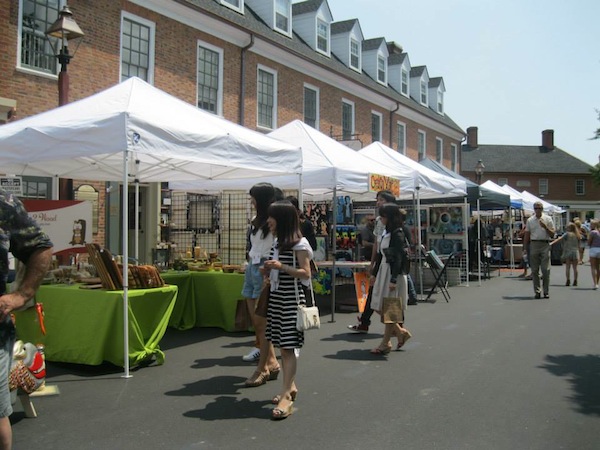 Every second Sunday in Colonial Williamsburg, Prince George Street is filled with artists showcasing their crafts and musicians performing up and down the street.
The 2nd Sundays Festival takes place every month, except for January and February, from 11 a.m. to 5 p.m. It goes along the upper block of Prince George Street and extends down North Boundary Street. Local artists pay in order to showcase their work while multiple musicians preform live at different stages throughout the festival. The director of 2nd Sundays, Shirley Vermilion, created the event in 2010. Vermilion grew up in the Northern Neck of Virginia and lived in both Seattle and Richmond before she moved to Williamsburg in 2001.
"Williamsburg for a long time felt like it was all about history," Vermilion said. "It was all it really did and Colonial Williamsburg kind of did everything, and that was what drove it."
Vermilion was surprised when she found out that some of her neighbors in Williamsburg ranged from mystery novelists and children's book authors to potters. However, Vermilion found out that it was difficult for them to display their work unless they left Williamsburg, as local opportunities were limited.
Vermilion originally decided to reserve her local clubhouse and feature around 15 local artists in a show she called First Colony Arts Bazaar. According to Vermilion, the show was well-attended and well-loved.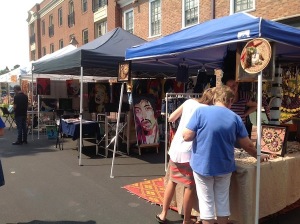 "I always thought, 'here we are a tourist town; we need something like this downtown,'" Vermilion said.
In 2010 Vermilion contacted the Blue Talon Bistro executive chef and owner David Everett and general manager and owner Adam Steely to ask if they would help her facilitate an art festival on Prince George Street.
"I thought I was just asking for the summer months," Vermilion said. "I was thinking June, July and August."
Steely asked Vermilion at the end of the summer if she would consider continuing the festival all the way through the fall. The festival, in fact, continued all the way through December in 2010.
"I really don't have to recruit at all — in the very beginning I would go to some of the other art shows and would do a little bit of scouting," Vermilion said.
The maximum distance any vendor travels to the festival is four hours of driving.
"If there's good quality and I'm looking at somebody from Maryland or New Jersey versus somebody local, all things being equal, I'm going to chose local," Vermilion said.
The College of William and Mary's professor of kinesiology and health sciences Patricia Charles is one of the 2nd Sundays vendors. Charles has been participating in the art and music festival since its conception, and has been making various types of jewelry for nearly seven years. Charles makes necklaces and earrings using various gemstones and sea glass which she collects during her travels.
"[2nd Sundays] is really fun. You're on the street and meet a lot of strangers," Charles said. "I never thought I'd sell on the street."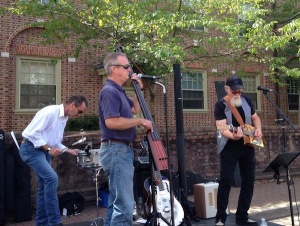 Charles encounters many students at the festival who are taking her classes, but wished more students would attend the event overall. Apparently, they have no idea that she creates jewelry unless they see her at 2nd Sundays.
"It would be awesome if we could get more students," Charles said. "A lot of my jewelry is more interesting for students."
Jack Villani '16 attends 2nd Sundays whenever he happens to pass by.
"It's a great environment, everyone always seems to be in a great mood and they pull in good music, and the crafts are really interesting," Villani said. Vermilion lets certain artists into the festival specifically because she believes they will appeal to younger generations.
"I've always had that vision of wanting it to be an all-ages festival … my kids would like it, teenagers would like it, college students would love it," Vermilion said.
Last year, three William and Mary students shared a tent to display their art. Vermillion wishes students would display their art in the festival this year as well, and she helps students who contact her secure spots.
"My idea and my preference would be to have a student art tent," Vermilion said. "I would not charge them. I would just like for them to come."
Vermilion considers 2nd Sundays a tribute to her life when she grew up in Seattle.
"When I realized there was nothing like it here, I really didn't want my kids to grow up without it," Vermilion said.