Two points separated the William and Mary men's team from capturing the Colonial Athletic Association tournament championship last season. The Tribe has since been busy trying to close the gap. Meanwhile, the women's team looks to improve on an 8-21 debut season for head coach Ed Swanson.
With just a month until tipoff, both the men and women's teams held open practices in Kaplan Arena Saturday morning. Students and alumni got first glimpses of two teams, each evoking vastly different expectations for the upcoming season.
The women's team kicked off the Homecoming festivities with an open practice from 9-11 a.m. Swanson enters his second season after struggling through an 8-21 inaugural season. Last year's squad depended heavily on young talent and became increasingly competitive as the season dragged on, going .500 in its final six games.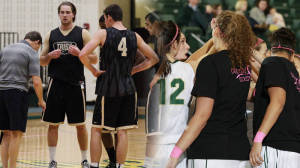 Saturday's practice showed off the program's potential with a range of new faces. Six of the 16 players on the roster are freshmen while five are sophomores. Four seniors return for the Tribe, including senior team captains forward Kyla Kerstetter and guard Jazmen Boone, who were vocal throughout the practice.
The men's team began a scrimmage after the conclusion of Swanson's practice. Although the Tribe will be one of the conference favorites this season, it has to replace four crucial contributors, including three starters. Saturday's scrimmage showed off the team's new-look cast.
Freshman guard Mike Schlotman, who redshirted last season after sustaining an injury early on in the season, delivered an encouraging performance, guarding star senior guard Marcus Thornton while facilitating and scoring on the offensive end.
"He's gotten a chance to learn the offense," Thornton said. "He's looking good. His shot's coming along. He'll be a great asset to us this year."
Tim Rustoven '14, a three-year starter at center, left perhaps the biggest question mark coming into this season for the Tribe: Can Rusthoven be replaced in time to steady the intense expectations surrounding the team? Junior center Sean Sheldon steps into the role as the team's big man, having served as Rustoven's understudy for two seasons. Mobile, confident, and sporting some long locks, Sheldon played the entirety of the scrimmage and was praised for his development in the offseason.
"Sean Sheldon has improved a lot offensively," Thornton said. "He's a big guy hard to guard, so he'll be great for us this year."
Sophomore guard Omar Prewitt, last season's Colonial Athletic Association Rookie of the Year, and freshman forward Jack Whitman, a redshirt last season, did not play in the scrimmage due to injury. Even though head coach Tony Shaver emphasized that Prewitt's injury was minor, it comes on the end of a twisting offseason that has included injuries to several players and a first-team lineup that was in near-constant flux.
"It's a little bit hard to tell where we are because we've had so many injuries," Shaver said. "We've had too many guys out, even our young guys. So we've had a little bit of a hard time having any stability out there. But I think we have some depth, some quality, and I'm excited."
The men's season is set to start its season Nov. 14 at Florida, with the home opener Nov. 18 against Howard. The women's side begins at home Nov. 14 against Loyola.