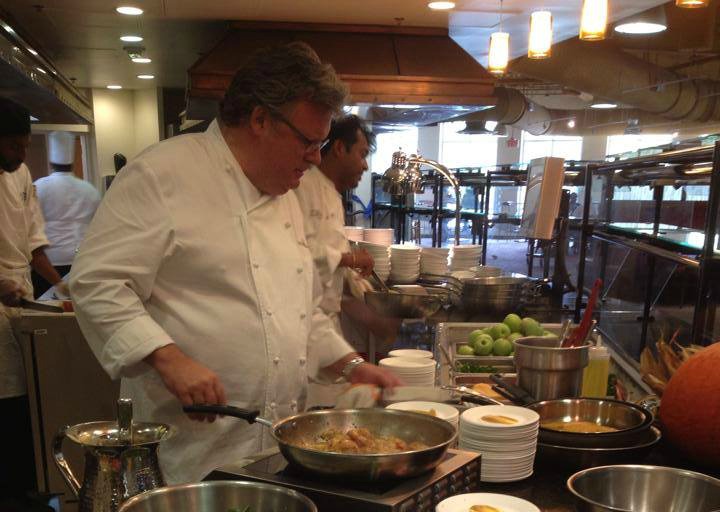 A month after the official launch, Sodexo sponsored the grand opening of the Chancellor's Bistro with a ribbon cutting ceremony and a guest appearance from celebrity chef David Burke.
Last Thursday Oct. 16, the on-campus restaurant unveiled a menu which Burke, a previous Top Chef Masters contestant, helped to design. The Chancellor's Bistro used a menu based on seasonal, local and sustainable influences for the duration of the weekend and plans to incorporate Burke's recipes in the future.
Resident District Manager of Sodexo Jeff McClure hoped that the event would increase awareness of the Bistro.
"With everything else that we had going online, I thought it would be a really good idea to promote this as a grand opening because I don't think a lot of students really know about it, and I want to generate that interest," McClure said. "I think having a live restaurant on campus is truly unique and there's not a lot of places you could go that actually offer something like that."
Burke's prior relationship with Sodexo was instrumental to his presence at the event.
"We met a couple years ago and started talking about if we could get a chef to help develop dishes and elevate the dining experience in conjunction with the local market and bring something new," Burke said on his prior relationship with McClure and Sodexo.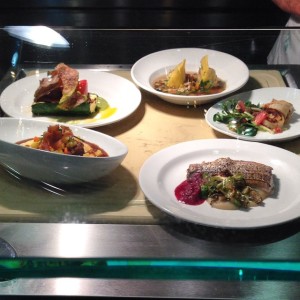 Although Burke only dined at Chancellor's Bistro for the night, he had positive a experience. He said that the team in the back was very conscious, brought good spirit and was eager to learn.
The event also garnered positive feedback from students, who appreciated the quality of the food. Newcomers to the Bistro, Connor Mcalevy '16 said he would definitely pay the $2 of flex again, and Sloane Nilsen '17 said that he appreciated the additional nutritional option. Jordan Corrie '16, who was returning to the restaurant, commented that the meals were delicious. However, Corrie remarked that the nature of the event was confusing.
"It seems weird that they chose to do a grand opening a month late," Corrie said. "It seems like they're just reacting to the fact that they haven't had a lot of student interest, because there wasn't any fanfare for this opening or this kind of thing at the beginning of the year."
In addition to increasing interest in the restaurant among students, McClure also said that he ultimately aims to elevate the College of William and Mary's dining services by creating a unique experience. McClure said that the Bistro could be used for a date night, business event or even a birthday party.
On Wednesday the proceeds from the $2 charge of flex that Chancellor's Bistro costs benefitted Breast Cancer Awareness. McClure said that the Bistro would continue to occasionally offer the charitable incentive.