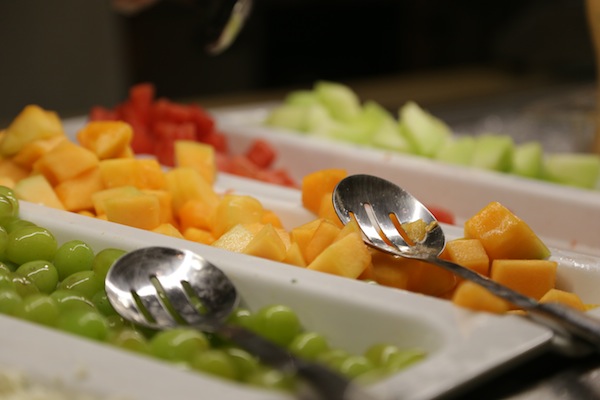 When the College of William and Mary handed Sodexo a contract last year, questions came in faster than customers at made-to-order serving lines. Resident Dining Manager Jeff McClure provided answers, opening the doors for a media tour Aug. 19.
In addition to innovation and variety, McClure mentioned speed as a change he would like to see in campus dining.
"At the end of the day, we're here to take care of the students. We're going to work on efficiency. Being faster — I think that's a challenge," McClure said.
Despite the new facilities, menus and services, McClure remains focused on the personnel.
"The employees here are great," McClure said. "They've done a wonderful job so far. I think we're new and we'll grow together. We'll go through some growing pains, but it's about listening to the customers. The students are the paying customers, and that's what we're here for. I want William and Mary to be number one in the Princeton Review, I want us to be the best. I came here to be the best, to challenge and to think outside of the box."
McClure's vision begins at the Commons Dining Hall, where eight stations feature everything from fresh seafood to market-bought produce. Where a salad bar once welcomed students, a newly oriented pre-made salad selection compliments bakery products and a to-go sandwich option.
"When we built the Commons, when we came on board, one thing we really wanted to do is that the first place where folks walk in had to be impactful," McClure said. "At the end of the day, what does the food look like?"
If sustainable and fresh come to mind, then McClure said he feels he has achieved his desired impact. Seafood is fresh daily. The variations of salads are dependent on the market's offerings. The bakery produces fresh products daily; for McClure, the bakeshop allows for a unique advantage in creating desserts from scratch.
Case-in-point, McClure showcased a cupcake topped with maple bacon.
Turning the corner, a fully functioning restaurant sits where soups and sandwiches were once served. It's the first of its kind among campus dining experiences according to McClure, who claims the idea as his own.
"There are no fryers here — we do not fry foods in this restaurant," he said. "We do not use any type of convenient ingredients. Everything in this restaurant is made from scratch, all the way down to roasting chicken bones and natural making chicken soups. This is something for the future and how we should be doing campus dining, to really create an alternate restaurant experience."
Beginning operation in September, students can make reservations online and eat at Chancellor's Bistro, which will be open weekly, Thursday through Saturday. Students swipe in and are seated and served by a Bistro employee. McClure said acclaimed chefs will serve food with local and seasonal ingredients.
"This will be the best restaurant in Williamsburg. This is the heartbeat of everything we do. You know why? Because this is going to be the incubator of everything we create," McClure said. "You can quote me on that, being the best restaurant in Williamsburg."
Another station, Simple Servings, pays tribute to Sodexo's stated inclusiveness. Open to all, the station uses only natural food, prepared without seven of the eight most common food allergens.
Wholly Habaneros, the College's first-ever food truck, will roam the streets of the College's campus throughout the year. While the truck currently in use belongs to Mary Washington University, McClure said the College's truck would be in service by Labor Day. If the sample was any indication, the truck can expect a steady demand.
Running four to five times a week, the food truck will offer late-night options generally between 8 p.m. and midnight. Eden Harris, Assistant Director of Marketing and Communications for the Office of Auxiliary Services, said the truck, which can feed between 250 and 400 people, would appear at events if the request fit into the pre-determined schedule.
The Commons and Center Court at the Sadler Center house the College's cafeteria-like settings, while the remainder of the dining facilities will operate as retail establishments. Dining dollars replace meal swipe equivalencies, a common practice at locations like Marketplace last year. To compensate, meal plans now offer larger amounts of dining dollars — meal plan dependent.
Still largely under renovation, Marketplace will re-open with expanded seating and a new menu featuring soups, salads, grill and sandwich options. Artwork from the President's Collection will decorate the walls.
At Sadler, Qdoba will move inside the Student Exchange and feature bar seating. Lodge 1 will play host to Cosi, an establishment offering flatbreads, sandwiches, soups and salads. Outside, 1693 BBQ will serve recipes from Sodexo's Executive Chef Ernest Stevens, notable for winning Food Network's "Chopped Grill Masters."
All told, Vice President for Administration Anna B. Martin said she hopes students make the most of the new dining opportunities.
"At 2:00 in the morning, when you're studying, you can have Aroma's coffee on campus, or Argo tea, which is a wonderful new concept," Martin said. "The food truck, that will be on campus for the first time, will move from place to place and serve things in the evening. There's a whole new variety and freshness that's being brought to campus, and I think the sensitivity to sustainability and students' needs is also very important. Try it, because I'm sure you will like it."
Areas with less traffic were not forgotten. Jamba Juice opens at the Rec, while Argo Tea and Boehly Grill will serve customers at the Mason School of Business. The Marshall-Wythe School of Law will be able to take advantage of Zime, while The Monticello Cafe powered by Intelligentsia replaces the food option at the School of Education. A Chicago-based coffee brand, Intelligentsia has been recognized by major media outlets such as The New York Times, Food & Wine and The Wall Street Journal.
"The dining experience is important to the community — you socialize when you get meals," Vice President for Student Affairs Ginger Ambler '88 Ph.D. '06 said. "I anticipate a responsiveness from Sodexo."
With the exception of Cosi, Ambler expects all options to be fully functioning for the fall semester.
Although the management has changed, students can expect to see most of the employees from last year. McClure estimates 75 to 80 percent of the staff returned to work with dining services.
"The frontline employees — the people at the registers and prep staff — they were all offered to come over with the transition," Harris said. "A large majority, 95 to 99 percent, made the transition. Those that didn't, it was their choice. Some retired, some moved on to other locations. If they had a desire to stay with William and Mary dining, they were offered a position."
With expanded options comes more potential for problems, but, McClure stressed, overcoming issues would only result in a better dining experience for all.
"Many of the employees are really good and seasoned — things we show them, they can really grasp what we do different and focus on that," McClure said. "The thing I preach to the entire team is, given a staff and tools to be successful … respect is equal. Management is better than no one else. We want to work together as a team. I think they're responding very well to that."
New facilities and dining options may dominate conversation in the short term. However, Martin understands the College's commitment to Sodexo is a long process.
"When you're in a contract that's conceivably ten years long, you bring in something fresh every year. You're always looking at your retail offerings and those sorts of things," Martin said. "It'll be a continuous process."
For now, however, the focus is on the upcoming semester. McClure repeated his desire to get to know the students — even work with sustainability groups and make use of the campus gardens. Students with concerns are encouraged to use the text tool advertised at dining facilities, McClure said.
"Our goal is to correct problems immediately and take feedback seriously. We can't do everything for everyone because there are so many students, but we'll take feedback seriously and do what we can. If you listen and continue to improve, then you can't go wrong," McClure said. "If [the students] know we're listening to them, then that speaks a thousand words right there."