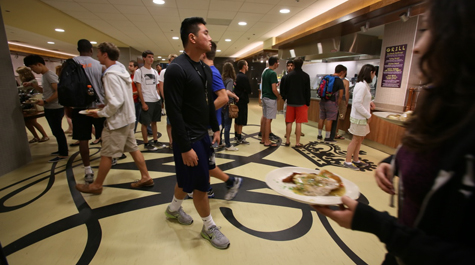 On Monday, students glimpsed Sodexo's dining vision for the College of William and Mary, as they move closer to becoming the College's new food provider. Vice President for Administration Anna B. Martin sent an email to the campus community Monday morning outlining a few of the changes Sodexo plans to introduce at the College next year. Sodexo, whose management will be officially instated July 1 of this year, will continue to provide updates on changes throughout the summer.
In general, Sodexo plans to augment the variety of food provided in the Sadler Center and the Commons Dining Halls. The provider also plans to offer an increased number of retail dining options across campus.
"We will be busy throughout the summer executing these changes, as well as some renovations related to updating the Marketplace and Commons. … I look forward to sharing more on those exciting changes when plans and timelines are more complete," Martin wrote in the email.
According to Martin's email, one of the major changes occurring at the Sadler Center will be the implementation of the Chop House, which will offer made-to-order salads. The Sadler Center will also hold two stations — titled Maize and Natural — for those with special dietary needs. The dining hall will continue to offer pasta and pizza stations, but will now also include an ethnic food station that offers Latin and West Coast dishes in addition to Asian ones. The company has also pledged to provide a "catch of the day" seafood option.
The Commons will also offer seafood and will introduce the Queen's Kitchen, which will feature desserts. Sodexo also plans to add a Breads and Spreads Kitchen, which will provide a selection of breads and various toppings. The Commons will retain a sandwich station and an area for those with special dietary needs. Another new addition, the Colonial Kitchen's goal is to offer local favorites, reminding students of the cuisine that surrounds them in the community.
"We think it's very important to procure things locally to support local farmers. As far as the quality of [our food] program, it's important," Director of Auxiliary Services Cindy Glavas said.
Another local food source that will make an appearance on campus is Aromas, a Colonial Williamsburg coffee shop. This student favorite  will operate a satellite shoping the Mews Cafe, located in the Earl Gregg Swem Library, which is currently occupied by Greenberry's Coffee.
Tim Courtney '15 said he is looking forward to having Aromas's food and coffee available at Swem.
"[Aromas] is probably the part of [Martin's email] I'm most excited about. I think Aromas's coffee is a lot better than Greenberry's," Courtney said. "It's a good sign that Sodexo is trying to have relations with local businesses. That's encouraging."
In addition to working with local farmers and businesses, Sodexo also plans to implement more "pop-up" dining options. One option is BBQ 1693, an outdoor restaurant that can be disassembled and moved around. Although slated to be open near the Campus Center, BBQ 1693 may shift to various locations on campus, like the Sunken Garden for campus events or William and Mary Hall for sports games.
Another portable food option is Wholly Habaneros, a Mexican food truck that will drive around campus throughout the day offering quesadillas, tacos, nachos and burritos. Wholly Habaneros will use Twitter to communicate with students, telling them where on campus the truck will be at certain times.
Glavas said she believes Sodexo's visionary plan will best fit students' desires in both the dining halls and in retail options.
"The responses I've heard [about Sodexo's plans] have been very positive," Glavas said. "We hope [they will] be extremely well received."
Some students said they were already excited about the changes Martin's email detailed.
"My internship used [Sodexo] as a provider and I loved it," Kameron Melton '15 said. "I'm glad they're responding to the outcry in the current food situation. It's good they're reactive. I'm excited to see what changes are made."
Courtney expressed more cautious optimism.
"The email makes it sounds really good, but I'm sure a similar [email] was sent out before [our current dining program]" Courtney said. "I'm optimistic, though."