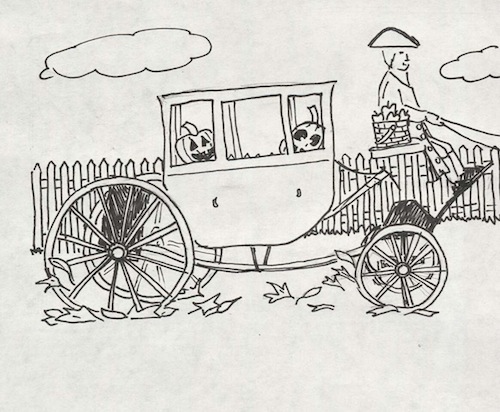 Fall is finally here! The leaves are changing, the sweaters are out in full force, and it's officially socially acceptable to shamelessly binge-watch any and all entries in the Halloweentown movie franchise. As we settle into fall, here are some great ways to keep busy during the season in and around Williamsburg.
FOOD:
Few would dispute that one of the best parts of fall is the food, and fall in Williamsburg is no exception. As the weather grows colder, the opportunities for fun and interesting ways to enjoy a meal grow greater and greater.
If you have a sweet tooth, perhaps consider taking the "Fall Pancake Challenge." Richmond Road alone is home to six pancake houses, and there are plenty more scattered throughout Williamsburg. Gather up a group of friends and try to test each house's "fall special." Astronomical Pancakes, Five Forks Café, Old Mill House of Pancakes and Mama Steve's House of Pancakes are all tasty local places to start.
If you are looking for a more hands-on experience, there is nothing more classically autumnal than going apple picking with your friends. Busch Neck Farm, a local orchard located on Busch Neck Road, allows visitors to pick their own apples, and let's face it − handpicked fall apples make the best apple pie.
If pancakes and apples haven't quite got you satisfied, perhaps a haunted dinner theatre will. Every year, Captain George's, an all-you-can-eat seafood buffet located on Richmond Road, hosts a haunted dinner theatre for their guests. As guests eat their meals, actors perform a murder mystery, dropping clues about "whodunit" throughout the meal, while guests try to solve the mystery.
DRINK:
Everything, it seems, tastes better in pumpkin spice. Fall brings with it a delicious array of new and exciting things to drink. From the classic hot chocolate to the strangest of pumpkin cocktails, Williamsburg has them all.
Similar to the "Fall Pancake Challenge," we have the "Quest for the Best Pumpkin Spice Latte." Williamsburg is home to, if possible, even more coffee shops than pancake houses. Throughout the next few weeks, try a different fall-themed drink from all of Williamsburg's cafes, and pick your favorite. If you're looking for suggestions: Aromas, The Meridian Coffeehouse and Joe Muggs Coffee are all good places to start.
For those of you 21-and-overs, the arrival of fall also brings with it the arrival of a variety of seasonal beers. A good way to sample around without breaking the bank is by participating in Waypoint Grill's Oktoberfest celebration. For $25, participants can sample classic and seasonal German beers. Waypoint Grill is located on Quarter Path Road and will be hosting Oktoberfest until Oct. 26.
If lattes and pumpkin beers aren't quite your thing, you cannot go wrong with a classic cup of hot chocolate or hot apple cider. Cider runs are one of students' favorite fall traditions. Students purchase a cider mug in Colonial Williamsburg and can use the $11 mugs throughout the rest of the calendar year to get free gourmet apple cider from any Colonial Williamsburg tavern.
FUN WITH FRIENDS:
As midterms slow down, and we begin to enjoy an ever-so-slight break in academic work before finals hit, take the time to enjoy some fun fall activities with friends.
Corn mazes are a great way to spend an afternoon in the autumn sunshine. Whatever your skill and courage level, there is a corn maze for you. For those seeking a relatively easy corn maze, check out Pumpkinville, located in nearby Toano. Pumpkinville is home to all sorts of fun, family-friendly activities such as ring-tosses, pumpkin sales, beanbag tosses and of course, the corn maze. And the best part? All the activities are free.
For those who are a little more adventurous, check out the Berkeley Plantation Corn Maze and Pumpkin Patch. For $11, visitors can enjoy tours of the plantation and walks near the river shore, as well as the famous corn maze. Visitors can also purchase a pumpkin for an additional cost. Interestingly enough, Berkeley Plantation was the home of the first Thanksgiving in 1619.
For the daring of heart, Renwood Fields, located in nearby Charles City County, has perhaps the largest corn maze around. It even provides a time clock, so that visitors can time themselves as they go through the maze. For the bravest of us all, Renwood Field's maze also includes a "Moonlight Maze" nighttime option.
Sometimes, simply getting outside can be a great way to enjoy the season, too. Bring hot chocolate and blankets out to the Sunken Garden and go stargazing. And if you're looking for a great way to support your peers here at the College this fall, check out the AMP and Student Assembly's Spooktacular Pumpkin Palooza, a pumpkin festival on the Sunken Garden Friday, Oct. 24 from 4-7 p.m.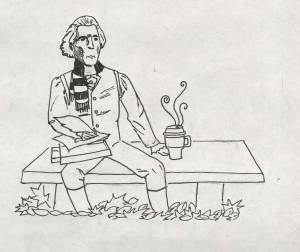 ENTERTAINMENT:
With the coming of fall also comes the arrival of fall-themed entertainment. All over Williamsburg, organizations and businesses put on a plethora of fall and Halloween programming for all levels of interest.
Colonial Williamsburg takes advantage of its historic past with an array of spooky programs. Some of the recurring events include "Cry Witch," a mock witch-trial; "Pirates Among Us," a show highlighting Williamsburg's connection to  Blackbeard; "Ghosts Among Us," a lantern ghost tour; and "The Tavern Ghost Walk," another ghost tour through Colonial Williamsburg.
If you're looking for a ghostly experience separate from the classic ones offered by Colonial Williamsburg, the city and surrounding areas have many options. Throughout October, visitors can enjoy the Williamsburg Spooky Hayride through the Woods, taking place in York River State Park. Ferry Plantation, located in Virginia Beach, hosts a haunted plantation tour and the aforementioned Berkeley Plantation hosts a Sunset and Spirits Tour. For the truly brave, Northwest River Park, located in Chesapeake, hosts a haunted train ride on their ghost train.
Finally, if you're looking for a fun way to spend an evening away from things that lurk in the dark, be sure to check out the William and Mary Symphony Orchestra's Halloween Concert, taking place Friday, Oct. 24 at 8 p.m. and Sunday, Oct. 26 at 4 p.m. in Commonwealth Auditorium.
HALLOWEEN:
Fall wouldn't be complete without Halloween: the one night a year where people can be anything they want.
If you're looking for a costume, check out the Costume Sale, taking place Wednesday, Oct. 29 from 10 a.m.to 4 p.m. in Tidewater A and B. The sale will include costumes and capes, men and women's formal wear, vintage finds, shoes, hats, purses, gloves and more.
If for some reason you were unable to find what you were looking for at the Costume Sale, odds are you will be able to find it at Spirit Halloween. Located on Monticello Avenue, this seasonal Halloween store is a one-stop shop for all of your Halloween needs.
If you're feeling brave this Halloween, check out AMP's Zombie Apocalypse. From 4 p.m. to 1 a.m. on Halloween, the Campus Center will be flooded with actors dressed as zombies. Test your luck and see how long you last once the apocalypse begins.
CAN'T BEAT THE CLASSICS:
While Williamsburg is booming with fun and exciting ways to spend your fall, sometimes the best things are the tried and true. Whether it be Busch Garden's Howl-O-Scream, going for walk in the foliage and making a leaf pile, attending Colonial Williamsburg's farmer's market Saturday morning, or just making s'mores around a bonfire, there are plenty of fun things to do. Whatever your idea is of a good time this fall, odds are, Williamsburg and the College have something for you.