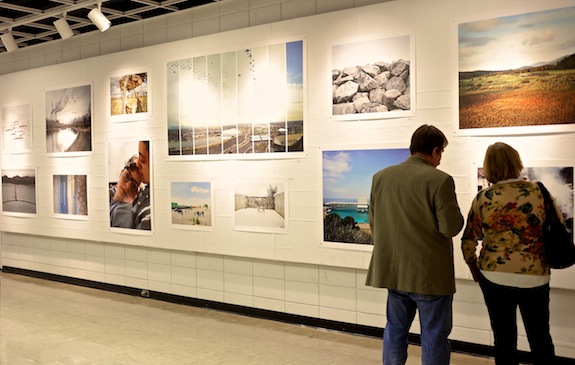 Students with a passion for photography might have been surprised to find out that a photography department has never existed at the College of William and Mary. However, this may soon change, as the College celebrates the launch of its photography program with a contemporary photography exhibition titled "Breaking Ground."
In the lobby of Andrews Hall the first and second floor have been transformed into a gallery of contemporary photographic works, including photo prints, handmade books, video art, assemblage sculptural works and installations.
"We and the Dean's Office of Arts & Sciences are very supportive of this initiation of photography as a course material in the department of art and art history," said Kate Conley, Dean of Arts and Science, in the opening remarks of the reception.
The exhibition consists of a variety of contemporary photographs from 110 artists, who have diverse backgrounds and experiences in art and photography.
Photographer Meg Griffiths shared her perspective on the meaning of her artwork "Miel y Sandia (Honey & Watermelon)," a finished breakfast plate with watermelon and a little bear-shaped bottle of honey standing on the side.
"I was on a trip in Cuba and stayed in a private house that was kind of like [a] bed and breakfast. This is the breakfast scene that I took in the house," Griffiths said. "Part of the point of this photo is that it is specific to Cuba in terms of culture but it is also universal, which could be found anywhere outside the country."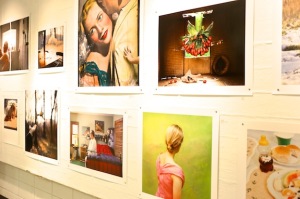 Griffiths also discussed the ideas she wants to convey through the photo.
"[Before my travels,] I only had American notions of what Cuba was like. However, when I got there, I found it to be very different. There are a lot of stereotypes; some of those are true, yet I found that Cuba is actually quite different from my previous expectations."
According to Griffiths, "Miel y Sandia" is one component of an overall project series called "Casa Particular (Private Home)," which attempts to dispel typical American ideas that may differ from reality.
Another photographer, Ashley Kauschinger, shed light on what motivated her to become a professional photographer.
"I feel like photography can be a difficult path," she said. "How to make a living off this career might cause some people to hesitate when trying to decide. I was very interested in people and story. You have to follow your passion in order to do it well … You cannot make it without loving it."
Adjacent to the left entrance of Andrews Hall is a quaint, antique-esque assemblage piece titled "Butterfly House." The piece creates the aesthetic of wandering alone in a forest, approaching a wooden house with a dark, strange feeling.
"When I started with this photographic assemblage work, I really like this to feel like something you would stumble upon," said artist Lori Vrba, the photographer of "Butterfly House."
Vrba also discussed her work ethic as a photographer.
"Once I start building the piece, I can't really stop and I become obsessed," she said. "I don't do anything else until it's finished. It feels like a dream to be able to do the art I love doing. I work seven days a week."
The photographs in the exhibit also provide insight into how to stay inspired as an artist.
"It is not difficult to maintain the creativity," Vrba said. "The source of creation really comes from movement truly. It feeds itself. If you sit around and try to figure out a perfect idea or wait for inspirations to come, it will never come while you are waiting for it. It comes while you are doing it. That's when it's like, 'Oh my God, I have a brilliant idea.' I'm either making something or being with other artists. I also don't spend a long time worrying about failures. If you're always moving and in motion and in the active process of creation, you'll just push it through all the time."
Both students and staff at the College visited the exhibition during its opening night.
"It is my first time to see a modern photography exhibition at the College," said Tianchu Gao '17. "I really enjoyed it and I'm excited for the new photography program."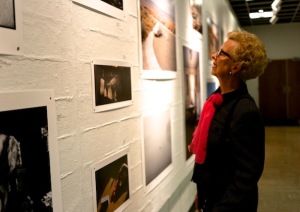 Curator of "Breaking Ground" and visiting professor of art and art history Eliot Dudik hopes to expose students to the breadth of contemporary photography through this exhibition. He also noted that efforts to build the College's fledgling photography program into a more complete offering are still "ongoing." Development of the program will include construction of a digital lab and dark room.
Dudik will also be offering limited courses in photography for graduating seniors next semester.
"Class offerings starting from spring 2015 will combine photography theories as well as hands-on practice," he said.
"Breaking Ground" is free to the public and will be on display at Andrews Hall until Oct. 31.