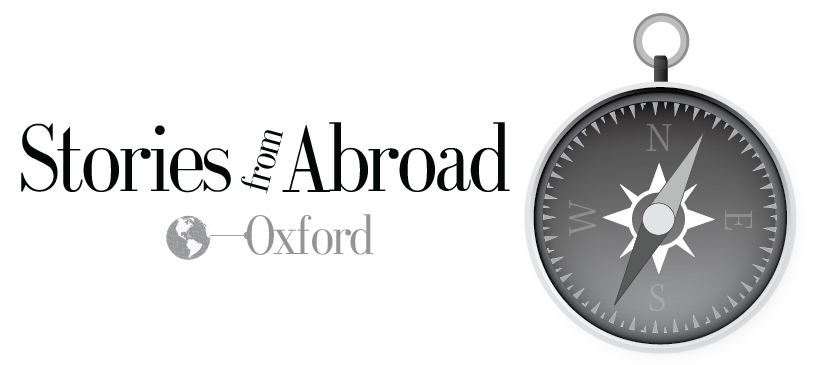 A massive ice sculpture of a lion's head stood on the table in the main ballroom. Its mouth was open in a fierce roar and its fangs dripped throughout the night as the ice slowly melted. A hole ran through the lion's head and, eventually, the catering service poured vodka shots down it for people to drink through its open mouth.
This was the annual charity ball, and the theme was Narnia. The sculpture was meant to be Aslan. Oxford's entire Town Hall was covered in decorations evoking the magical world of C.S. Lewis — lampposts, snow, ivy, knights and even fawns. There was a main dance room with bars and a live band, a movie room where the Narnia films played, a dessert room with a photo booth, and even a poker room. The whole thing was pure fantasy, an escape from the work we do during the day. Oxford is a bubble, nothing like the real world — but this was even more removed from reality. None of the ball's grandeur was necessary, but we can't say we didn't love it. We had never seen anything like it. After a few hours, of course, we had to leave. We had work to do the next day.
Most students' time here is divided into three spheres: social life, athletics and academics. Although the majority of our time is spent on academics, events like the Narnia ball offset how hard we work the rest of the time. Some people think of studying abroad as a time to let the actual studying fall by the wayside and just enjoy the experience of being in a foreign country. Here, you're challenged to read more, write more and think more in shorter periods of time than you've ever done before. It's like boot camp for nerds. Oxford's academic calendar, the "tutorial" system, is very different from the system we have in America. Unlike the full semester we have at the College, Oxford's three terms are each eight weeks long. We have two classes each, and, for humanities people like myself, an eight-page essay is due every week. For our second class, an essay of the same length is due every two weeks. At first, you're jarred, but after a couple weeks you learn to read effectively, distill the central thesis of your paper, and write fast, editing as you go. You have a week to produce a deeply researched, clearly written paper on a brand new subject. In this high-speed system, as the British say, it's fatal to "faff around."
But even after you've written the last sentence and alphabetized your bibliography, you're still not out of the woods. You are going to have to defend your paper's argument in front of your tutor, likely one of the leading experts in their field. And you won't have any other students to help you, because tutorials at Oxford are one-on-one. It's like office hours at the College, but this time the professor goes on the attack. Writing a paper alone is challenging, but it's oddly safe and secure. You have time to think out your argument and sentence structure. In the hour-long tutorial, you have no time. With the parry and thrust of their questions and your answers, trying to use your limited knowledge against their lifetime of studying the topic feels like a duel. But the effect is anything but confrontational. After the hour-long tutorial, you feel enriched. Your tutor, by talking to you and challenging you, is almost reaching out and offering their passion for the subject as a gift. And you accept it. Oxford and Cambridge are among the only colleges that still use this old system, but by experiencing it, you're persuaded that sometimes old ways are the best.