The two-body problem refers to the difficulty spouses face when it comes to working at the same academic institution. Whether it involves working at the same university or simply within close proximity, it's an issue that remains difficult to resolve despite the attention it receives.
It's also a problem that is all too familiar to College of William and Mary professors Sasha and Elena Prokhorov.
Both natives of Russia, Elena and Sasha moved to the United States to attend graduate school at the University of Pittsburgh. While raising a daughter, they searched for jobs, often competing for the same position.
Elena and Sasha both needed employment to acquire a green card. Sasha was essentially a single parent five days a week. He updated Elena on his parenting skills via telephone as often as he could, but it still was not ideal. Elena accepted a two-year visiting professor position at the College before returning to teach at The University of Pittsburgh.
"It was a tough gig, but we needed to do it," Sasha said. "We both required a job to be able to stay in the states. So she would drive down on the weekends and head back to D.C for the week. From Monday through Friday, I was calling her telling her about the parenting choices I made, whether good or bad."
Sasha discussed a time when Elena received an offer from George Washington University for which he was next in line. Elena took the job at George Washington and Sasha received an offer from the College. Sasha said the situation was rough but necessary, not only to support their family, but also to obtain residency.
The two-body problem exist not only in academia, but all jobs that limit people geographically.
Due to the shortage of academic jobs, some spouses face a challenge deciding between unemployment for one or living separately to support each other. The two-body problem only exists when a partner doesn't want to or financially can't afford to stay home.
According to The Journal of Higher Education, 89 percent of female faculty members have full-time working spouses, while only 56 percent of male faculty members do. Women in academia are also more likely to be married to a partner in an academic profession than men are. Solutions to this problem are considered increasingly important, the article reported, as they could potentially keep women present in the academic realm.
"Our colleagues who work at separate places from their spouses constantly tell us we won the lottery," Elena Prokhorov said.
During Elena's two-year period at the College, she said the Prokhorov family experienced a normalcy to which they were unaccustomed. She then returned to Pittsburgh, facing an exhausting commute, until she eventually got lucky and accepted a full time position at the College.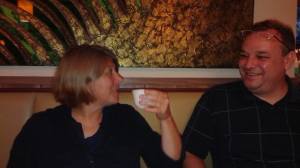 "Our colleagues who work at separate places from their spouses constantly tell us we won the lottery," Elena said. "We know we are very lucky. If I have a question about my work or anything, I don't need to call him. The communication line is shortened."
Sasha credits the size of the College, as well as the closeness of colleagues, for Elena's job offer. At a smaller university like the College, the faculty is closer and more aware of situations such as the Prokhorovs'. When the job was opening up, Elena knew right away.
Sasha said he believes that at a larger university, this would not have happened.
Nationwide actions have been taken to address this issue, including the creation of the online database HERC, which is geared toward dual career searches for couples. Elena said she sees the database as a way for couples to find their ideal situation.
"It's a great way to solve a bad situation," Elena said. "I mean, we have it great now, but before we definitely would have used a resource like this."