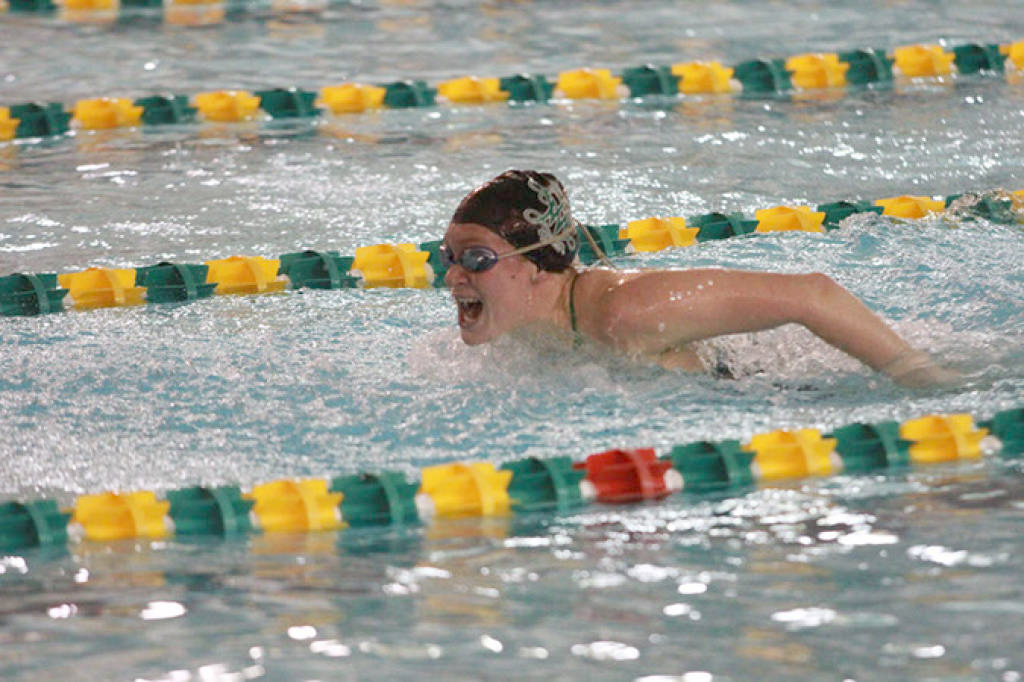 William and Mary's men's and women's teams each took a loss to Duke Friday at the Rec Center. The women (5-3) lost 156-106 to the Blue Devils (3-1), while the men (4-1) lost 143-119 to Duke (2-2). Saturday, the women's team recovered with a win against Richmond (5-3), 161-101.
The Tribe women broke four all-time records Friday night. The 200-meter medley relay team of junior Noelle Klockner, freshman Annie Valls, junior Jessie Ustjanauskas and senior Megan Howard finished in 1:44.22, winning the event and recording the ninth-best time in school history. The time also smashed the previous pool record of 1:44.28 and eclipsed the dual-meet record previously set by Mary Washington (1:44.97).
Howard completed the 50-meter fly in 25.03 seconds, beating the previous school record of 25:04 to win the event. In the 100-meter individual medley, sophomore Allie Christy set the third school record of the night, posting a time of 1:00.43 and taking third place in the event.
For its part, the men's team won four out of a total of 14 events against Duke Friday. For the Tribe's first win of the night, freshman Conrad Zamparello swam the 1000-meter free in 9:42.21, earning the 12th best time in the College's history.
Junior Will Manion won the 100-meter back in 49:29. Manion set a school record of 51.70 in the 100-meter individual medley, but missed the win by .01 seconds. Sophomore Joe Eiden clocked a time of 4:44.19 in the 500-meter free, winning the event. Eiden, freshman Kyle Neri, sophomore Risten Clarke and senior Taegan Clarke composed the 200-meter free relay team; they decisively won the event in 1:24.32.
Less than 24 hours later, the Tribe took to the pool again, as the women faced Richmond Saturday afternoon. Against the Spiders, the 200-meter medley relay team of Klockner, Valls, Howard, and Miller took first place with a time of 1:45.16, the 15th best time in school history. Valls got her second first place finish of the night in the 100 breast with a time of 1:06.17.
Freshman Abby Mack won the 200-meter fly in 2:06.83, a career best and 12th fastest time in school history. The Tribe swept the first four spots in the 50 free, with Howard clocking a time of 23.47 seconds for the win. The team clinched its victory during the final event of the day, winning the 400-meter free relay with a 3:32.72 and a three-second margin of victory.
Next up for both the men and the women is the Hokie Fall Invitational on Nov. 20-22 in Christiansburg, Virginia.