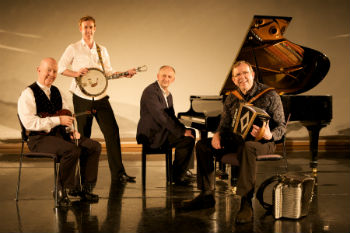 When one hears "traditional Irish band," what most often comes to mind is fast-paced fiddle music and folk songs.
The Brock McGuire Band, which performed at the Williamsburg Regional Library Nov. 8, both encompasses and moves beyond these things. Named the "Traditional Irish Band of the Decade" by "The Irish American News" in 2011, the group truly lived up to the critical acclaim. From frontmen Paul Brock and Manus McGuire on button accordion, melodeon and fiddle to Garry O'Meara and Denis Carey on banjo, mandolin and piano, each member demonstrated incredible breadth and depth of skill.
To be fair, the performance kicked off with the usual fare — a couple of traditional reels and a jig. However, while expected, these sets had an incredible energy to them. Their speed and complexity appeared effortless, and a look around the audience revealed more than a few heads nodding to the beat.
After an enthusiastic intro, the band showed off the greater variety of musical styles in its repertoire, including polkas, banjo solos and vocal performances. The energy behind their faster-paced pieces was wonderfully juxtaposed by a collection of quieter, more contemplative compositions — McGuire's "Genevieve's Waltz" and Carey's "Goodbye to the Loneliness (Slan Leis an Uaigneas)" were particularly moving — as well as original — pieces.
With each piece also came the opportunity to share historical anecdotes and trace musical influence. Folk songs, such as the piece "Carrickfergus," gave a taste of traditional Irish ballads, while others, like "Isle of Hope, Isle of Tears," highlighted the Irish immigration experience during the Great Famine of the mid-19th century.
Due to this immigration, traces of Irish music can be found in numerous other music styles, including French-Canadian folk and American bluegrass.
Overall, the band created an equally educational and entertaining experience. Coming away from the concert, I felt that I not only enjoyed the music, but understood where it came from and how it affected other musical forms. The musicians had a clear passion for the genre, and, at least for the duration of the performance, instilled that passion in their audience — the concert ended with a standing ovation.
The performance was part of the annual Ewell Concert Series sponsored by the College of William and Mary's department of music. The variety of the Brock McGuire Band's performance can be found in the remaining acts in the 2014-2015 season: Upcoming concerts include a brass band, piano trio and saxophonist. If the Nov. 8 concert was any indication of the quality of the acts in this series, then I would absolutely recommend checking them out.