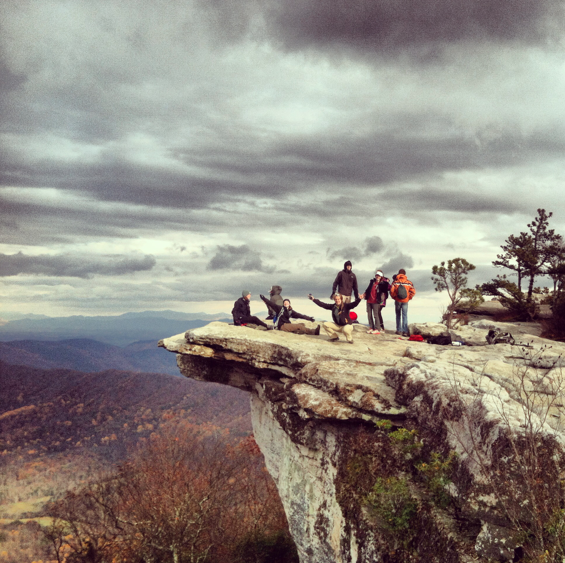 The Student Recreation Center's Tribe Adventure Program takes students to class with the College of William and Mary's oldest unpaid professor: nature.
The Tribe Adventure Program plans day and overnight trips around scenic sites in (and sometimes outside of) Virginia that offer affordable outdoor activities. No experience is needed to participate in water sports, rock climbing, backpacking, skiing or any other outdoor endeavor with the program.
This semester, trips take place every other weekend and are advertised on the Tribe Adventure Program's website and Facebook page. Assistant Director of Outdoor Recreation Mackenzie Brady said that next semester they plan to take trips every weekend and will continue to offer trips for every break. This winter break, the program will take students skiing in Stowe, Vt.
Students have reported that the most rewarding aspect of the trips is the opportunity to bond and learn with the other student participants and trip leaders. Student trip leader Mary Ellen Garrett '17 emphasized the power of nature to relieve stress and bring students closer together.
"The best part for me is seeing people's eyes light up after a couple of days in the woods," Garrett said. "[At the College], people are used to everything being a test. I think after a couple days out in the wilderness you learn that not everything's a test and that you can achieve more working together than you can just by yourself, studying in Swem."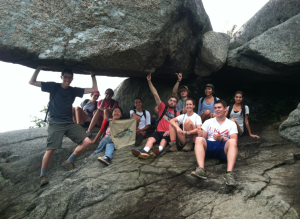 Brady hopes that the lessons learned during the Tribe Adventure Program's outdoor trips will apply to the lives of student participants after they return to school.
"[I hope] that students take what they've experienced in the outdoors back with them into the classroom and campus," Brady said. "Anything from increasing self-efficacy to building self-confidence or increasing friendships between people or dealing with things like frustration."
Trip leaders are responsible for teaching participants skills like rock climbing and canoeing, as well as facilitating the group's cohesiveness. The leaders discussed the mentorship role they can play on trips with small groups.
This role was particularly important on the Pathways trip, a pre-orientation trip offered to incoming freshmen. Many picked Pathways as their favorite trip in the Tribe Adventure Program.
"Pathways is a unique situation where it's a lot of people that don't know each other or anybody on campus," Matt Pienkowski '16 said. "They're really starting fresh and Pathways is the start of their college experience. It's really cool to get to be a part of that because everybody's looking to make new friends and open to forming those group bonds."
Director of Campus Recreation Linda Knight credits Pathways with getting students interested in being trip leaders from their freshmen year.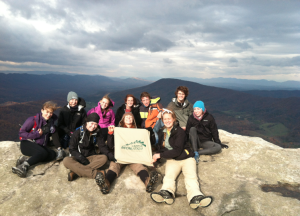 Anne Self '16 said that before going on Pathways and becoming a trip leader, she thought that having a career meant staying inside all day and reserving her outdoor fun for the weekends. Now she realizes that she can have fun everyday doing something she's passionate about. Pienkowski also said that Pathways made him realize how much he loves the outdoors and opened up possibilities for his future after college.
"I didn't realize that you could be in the field of outdoor recreation until I [was a trip leader]," Pienkowski said. "Pathways … was a huge turning point. I love working with people and I love the outdoors and the fact that I could do that possibly forever is awesome."
Knight said that the Tribe Adventure Program had always been a part of the Rec Center, but that the program began to grow in 2004 because there were more opportunities to expand the program. Last year, Brady was hired to fill the first full-time position for outdoor programming. Knight said this will allow the program to grow even further and collaborate with other groups on campus.
"I think we have a lot of potential to collaborate with other groups," Knight said. "We know that sometimes groups get together and have bad behaviors, such as hazing. We feel like we can take some of the groups that would normally try to bond in a negative way and take them on an outdoor trip and allow them to bond in a positive way. It's still challenging and difficult for them but it's in a healthy environment."
Knight also spoke about the potential for the outdoor program to work with the Counseling Center by offering healthy, controlled ways of building self-esteem and improving mental health through bonding in the outdoors.
Garret further highlighted the camaraderie of the Tribe Adventure Program.
"I did a lot of team sports in high school, so it's awesome to exercise and bond with people when you're not trying to beat someone," Garrett said.