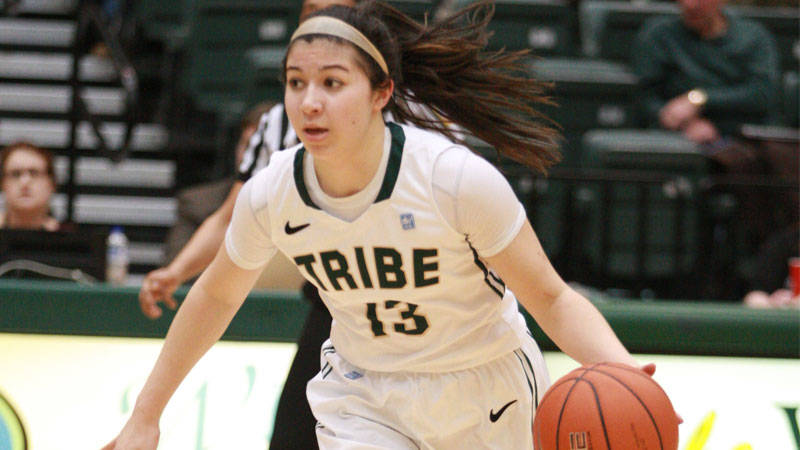 William and Mary lost in overtime, 87-80, against High Point Sunday. The loss drops the Tribe to a 2-2 record overall, and a 2-6 all-time series record against the Panthers (2-2).
Sophomore guard Marlena Tremba scored 23 points — a game and season high — to lead the College. Freshman guard Jenna Green had the best game of her collegiate career, totaling 16 points. Senior guard Jazmen Boone and sophomore forward Alexandra Masaquel contributed to the effort as well, adding 15 and 11 points, respectively.
High Point took a 7-4 lead within the first three minutes of the game. Green converted a layup at the 17:46 mark to cut the deficit to just a point before a three-pointer from sophomore Latrice Hunter gave the Tribe its first lead of the game with 15:11 remaining in the half.
The Tribe ended the half with a 44-37 lead.
Green and Tremba combined to score seven consecutive points at the start of the second half, improving the Tribe's lead to 58-46 with 13:26 remaining. High Point answered back, though, using a nine-point run toward the middle of the second half to tie the game at 65 apiece with six minutes remaining.
The two teams traded points back and forth, settling at a 73-73 tie with three minutes left. With fifty seconds remaining, the Panthers built a two point lead. Though it looked like the College would concede the win, Green hit a jumper with three seconds remaining, tying the game and sending the teams into overtime.
High Point dominated the overtime period en route to the 87-80 win.
The Tribe faces Virginia Commonwealth University Wednesday. Tip is set for 7 p.m.
HIGH POINT 87 WILLIAM AND MARY 80
William and Mary- 44   31   5   (80)
High Point- 37   38   12   (87)
William and Mary (2-2) statistical leaders
 Tremba- 23 points (8 of 27 FG, 4 of 13 3-point), four rebounds, two assists
 Green- 16 points (7 of 10 FG, 2 of 3 3-point), five rebounds, two assists
 Boone- 15 points (6 of 13 FG), 11 rebounds, two steals
 TEAM: 43.1 percent FG, 38.8 percent 3-point, 68.6 percent FT
High Point (2-2) statistical leaders
 Keys- 20 points (6 of 16 FG, 4 of 12 3-point), three rebounds, five assists
 Jackson- 20 points (4 of 6 FG, 12 of 13 FT), 10 rebounds, four blocks
 Phelps- 17 points (7 of 13 FG), nine rebounds, two steals
 TEAM: 43.1 percent FG, 33.3 percent 3-point, 78.0 percent FT