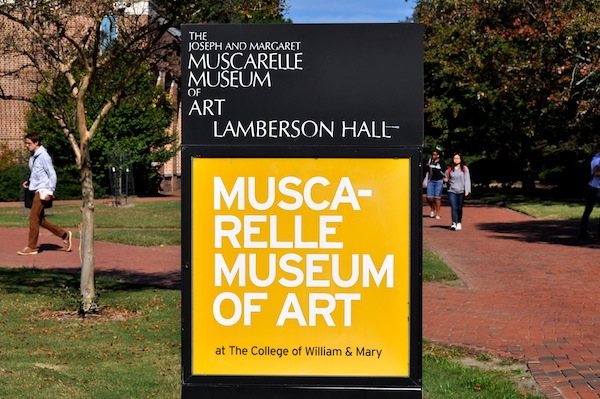 Need a study break? Searching for creative inspiration? The College of William and Mary's Muscarelle Museum of Art can certainly help with that.
Located at 603 Jamestown Road next to Phi Beta Kappa Memorial Hall, the Muscarelle is an easy walk from just about anywhere on campus – and walking is a small price to pay for access to world-class art exhibits, especially after considering the fact that student admission is free.
The museum hosts the most varied collection of art in the Williamsburg area, proving a valuable resource for both entertainment and academics. Its permanent collection spans centuries of art, as well as mediums including everything from pottery to painting. And, of course, no Williamsburg art gallery would be complete without 17th and 18th century colonial portraits.
The Muscarelle also hosts traveling exhibits displaying notable art from around the globe. The current exhibit features Japanese artist Toshi Yoshida's woodblock prints and a rare collection of Leonardo da Vinci's drawings will be arrive from museums in Italy this February.
Perhaps the most fun and interactive part of the Muscarelle is the Solar Wall, a mural of colored light on the side of the museum which turns anything in front of it into a silhouette. Students can pose creatively with their friends to stage that perfect Instagram post.
In addition to offering top-notch art exhibits, the Muscarelle prides itself on its role as a "Laboratory for Learning." It not only provides access to art but acts as a teaching tool in conjunction with the College. On the third Thursdays and the first Tuesdays of each month, experts and artists give lectures which are free and open to the public. Additionally, select students canwork with the professional staff to curate exhibits as part of their studies.
The museum also holds some great events. From student soirees to music nights in the gallery, there is always something worth investigating. For those staying in the 'Burg for the holidays, the Williamsburg Youth Chorale will be singing at the Muscarelle Dec. 21.
Open from noon to 4 p.m. on weekends and from 10 a.m. to 5 p.m. Tuesday through Friday, the Muscarelle has much to offer the Williamsburg community. So, before you buy that movie ticket, consider taking a trip to the Muscarelle instead.
To view all winners of Best of the 'Burg, click here.