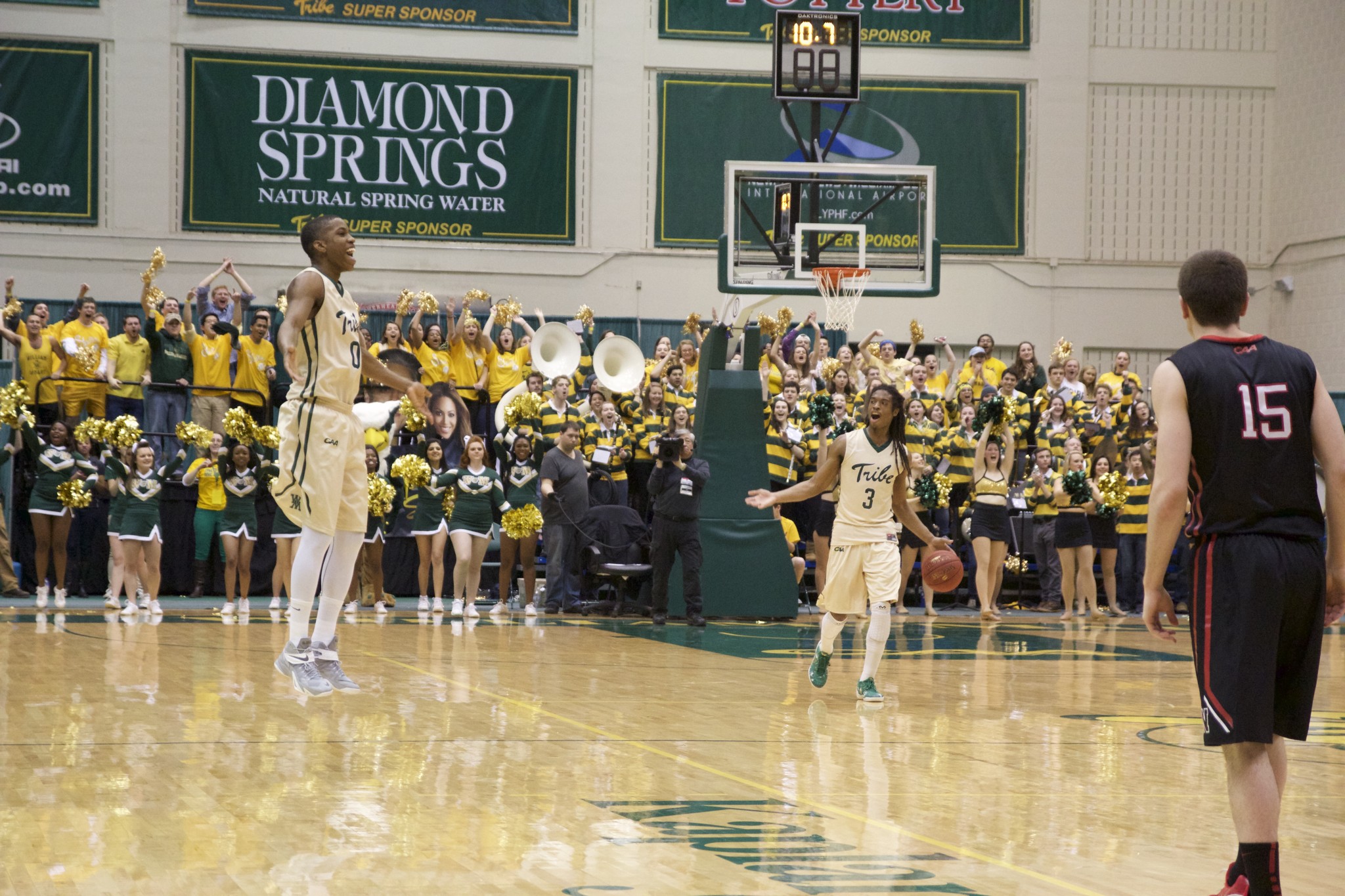 It's getting harder to be an underdog these days. William and Mary's athletic identity as the constant letdown didn't seem to fit Wednesday night as the Tribe rolled over Hofstra, 100-79, in front of yet another raucous Kaplan Arena crowd to claim sole ownership of first place in the Colonial Athletic Association.
The usual masochism that can come with Tribe fandom was nowhere to be found. Instead, for the average Tribe fan, the game was a breeze. A dominant showing against another conference contender means the College's bandwagon is brimming and moving at full speed.
The Tribe (13-7, 7-2 CAA) improved to 10-0 at home on the season after trouncing the fifth-place Pride (14-8, 5-4 CAA.) The night also marked head coach Tony Shaver's birthday, and it's hard to think of a more fitting gift. The College cut the cake early, taking a 32-13 lead just 10 minutes into the action and holding a 54-34 advantage at halftime.
"I'm really pleased with the guys, really proud of the guys," Shaver said. "We beat a really good basketball team tonight, so no question, we're really happy with what we're doing."
Sophomore guard Daniel Dixon hit home on all six of his three-point attempts Wednesday night, setting a school record with a 100 percent shooting performance beyond the arc and adding to his reputation as a three-point bomber. Each of Dixon's triples was either contested or fired from far beyond the arc.
Hofstra nearly collapsed under the College's seven first half three-pointers and never managed to make the game competitive. The Pride closed the Tribe's lead to 77-65 with just over six minutes remaining in the half but came no closer as the College closed the game with a 23-14 run. The late effort effectively polished off Hofstra and secured the 100-79 victory.
Senior guard Marcus Thornton finished with 24 points on 8 of 16 shooting to go along with four assists. Thornton needs just 148 more points to pass Chet Giermak '50 as the school's all-time leading scorer. Currently averaging 19.3 points per game, Thornton is on pace to take the record eight games from now, at home against Towson Feb. 25.
Junior center Sean Sheldon sat out following an ankle injury sustained during the second half of Saturday's win over Northeastern. With Sheldon out, Shaver turned to his bench, and the Tribe's reserves delivered. Senior forward Tom Schalk started in Sheldon's stead, scoring six points in 22 minutes. Freshman forward Oliver Tot chipped in by playing 15 minutes. Tot finished with eight points, five assists and four rebounds and Freshman forward Jack Whitman chipped in nine points.
Junior forward Terry Tarpey hit seven of nine shots from the field, contributing 17 points, eight rebounds and two blocks. Overall, the College shot 64.8 percent from the field, a top ten single game shooting percentage in school history. With a number of standout performances, the key Wednesday was the College's offensive depth. The Tribe's floor awareness, unselfish passing and deadly shooting from all sides threw the Pride off balance. Shaver spoke about the versatility of the Tribe's offense.
"I think early in the season people saw us as a one- or two-man team, and we're not that anymore," Shaver said. "We've got pretty good weapons, and we've got some guys that can hurt you."
Defensively, the College held Hofstra's star guard Juan'ya Green to 14 points on four of 19 shooting. The Pride coughed up 17 turnovers against a Tribe defense that mostly stuck to a 2-3 zone. Thornton discussed the College's sharp defense after the game.
"It was just a matter of us being disciplined and sticking to our defense," Thornton said. "We have some good defenders, and we were just trying to make them take tough shots."
The College travels to in-state rival James Madison (13-9, 6-3 CAA) Saturday with a head of steam following two emphatic home victories over conference contenders. The game is the first of three consecutive road games for the College, and the Tribe will try to shake off its 3-7 record away from Kaplan Arena. Tip-off is set for 4 p.m.