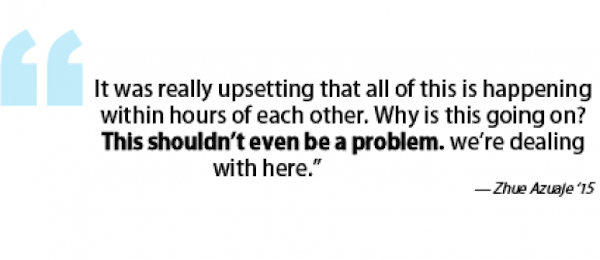 At the start of the new semester, individuals and three Greek organizations face accusations of hosting racially insensitive parties.
On the night of Jan. 23, members of the Alpha Eta Chapter of the Sigma Pi Fraternity and the Beta Lambda Chapter of the Kappa Alpha Theta Sorority met at the Green Leafe Cafe, dressed in attire for their "Gangsters and Golfers" off-campus mixer.
"I came to the Green Leafe around 9:30, the same time a bunch of Greek people were coming in," Kat Contreras '15 said in an email. "I'm not sure if the mixer was being held there or they were coming from it, but they were all definitely together … many people wearing tight tank tops ('wifebeaters'), sagging sweat pants and basketball shorts. Some girls had handkerchiefs on their heads and faces, and there were some drawn on tattoos. I saw a couple teardrops drawn onto people's faces. They also wore handkerchiefs on their arms, and some gold chain necklaces."
The group's costumes elicited negative responses on social media outlets — particularly the College's Yik Yak feed — by individuals who perceived the outfits and/or theme as racist. Yik Yak posts made that evening include "S/o to tonight's racist mixer!!!" and posts describing the students' costumes as "bloods", a reference to the Los Angeles gang of the same name that is primarily, though not exclusively, described as an African American street gang.
Photos of the party that were uploaded to Facebook were later taken down, according to Zhue Azuaje '15, a student who viewed the photos through their location designation —  the Green Leafe.
"At first I was really shocked and thought it would only be a few people, but it was almost everybody there. …  I just felt really shocked and disappointed, because I had heard of parties like this at other colleges, but never really thought it would be something to happen here," Azuaje said. "Even though I'm not black, I felt offended, because they are making a mockery of an entire culture and group of people, and that is just never something that's okay."
Contreras said she visited the Green Leafe Friday night to see her friend Haley Bauser '16, the lead singer of Llamas at Brunch — the band hired to perform that night.
Bauser said the fraternity and sorority did not hire her band.
"We had no prior knowledge of the mixer, let alone the theme," Bauser said in an email. "We would not have done the show if it was just for them and their offensive mixer."
According to Bauser, the mixer was not held at the Green Leafe, but at another location.
Liz Rinck, Director of Communications at Kappa Alpha Theta nationals, declined to comment as the organization is "currently investigating this incident."
Michael Ayalon, Executive Director of Sigma Pi Fraternity International, released a statement regarding the event.
"We apologize to all students, faculty, and other members of the community for any offense that the insensitive theme may have caused," Ayalon said in an email. "We will begin an investigation to get more details about the social event, and we expect our members to lead discussions towards a solution. It is our hope that our chapter can use this mistake as an opportunity to better themselves and the entire community at William and Mary."
Representatives of both Kappa Alpha Theta and Sigma Pi at the College declined to comment.
Associate Director of Student Leadership Development Jennifer Leung said that on-campus themes are approved through the Office of Student Leadership Development.
"If a questionable party theme is identified through the registration process, we can intervene with an educational conversation about the impact of the theme and suggest that it be changed," Leung said in an email. "When events are held off campus, there is no registration process with the College, making it more difficult to address things like party themes proactively.  Ultimately, student leaders and organizations should be the monitors and stewards of their organization's decisions related to things like party themes."
Leung went on to say that party themes have been a topic of conversation before.
"The topic of party themes has been a topic of conversation off and on over the past several years, and the leadership of the Interfraternity Council, the National Pan-Hellenic Council, the Panhellenic Council, and the individual fraternity/sorority chapters here at the College have the opportunity to step up and be leaders in a proactive conversation about these event themes and the impact of the events they host on the broader community," Leung said.
The mixer followed multiple reports of another party on Thursday night, which has been accused of having racially insensitive costumes.
A white student posted a photo on Instagram of herself wearing shorts, a backwards hat and a shirt that reads "Ghetto fabulous" with a large emoji of a gun beside her. The caption on Instagram reads: "reppin' ghetto fabulous Norfolk at (cigarette emoji) (money bag emoji) (knife emoji) (gun emoji)." Another picture on Facebook shows the same student with another white student, wearing a wife beater with a drawn-on tattoo that reads "Thug life."
According to Allie Rosenbluth '15, who attended the Thursday night party, the pictures were taken at an off-campus party that happened Thursday, Jan. 22.
"There was a theme to the party — it was repping your hometown," Rosenbluth said. "We thought it would be good to show the diversity of our friends … and represent where we come from. Most people were wearing shirts from their high school — some people from more rural areas were wearing camo or overalls. … People were just wearing what's associated with where they're from. I don't think people were paying attention to what everyone was wearing. … We were all just excited to see each other."
Rosenbluth said that she did not think the costumes were intended to offend others.
"I think there is an issue about how we should respect our peers on this campus, hearing about the fraternity mixer — people need to be more conscientious about what they choose to wear," she said. "I don't think any of these people did this maliciously."
Following the Thursday off-campus party and the Friday mixer, a student who attended the Phi Beta chapter of Kappa Delta Rho on-campus party Saturday, but wished to remain anonymous, confirmed that the theme of the party was "War of Northern Aggression: Northern States Vs. South."
Executive Director of Kappa Delta Rho national Joseph Rosenberg said that steps will be taken against the chapter.
"There is documentation covering what is and is not an appropriate theme. … [The] chapter will be placed on social suspension until our investigation is complete," he said.
Representatives of Kappa Delta Rho at the College declined to comment.
Before the Kappa Delta Rho party Saturday, the College hosted "Bending the Arc: Moving Racial Justice Forward," a one-day summit held for members of the College community to reflect on race. The event was hosted by the Center for Student Diversity, who also commented on the weekend's events.
"The Center for Student Diversity will work with the members of our Greek community to increase awareness about how these types of party themes are hurtful and disrespectful, and contribute to distrust in our community. … We know that there are even members of Greek organizations who are offended and alienated within their own groups when this kind of stereotyping happens. … This incident has caused a lot of pain and anger, and illustrates the negative impact we can have when we use other people's identities or experiences as a costume or a party theme, because it inevitably reduces people to stereotypes," Associate Director at the Center of Student Diversity Margie Cook said.
Brittney Harrington '15, who led last month's protest in Williamsburg following the acquittal of Ferguson police officer Darren Wilson for the death of Michael Brown, said she felt the responses from the organization were standardized.
"If what a number of people are describing is true, then it wasn't simply something people are getting offended by. That places the burden on who has been hurt by what happened and places the blame on their oversensitivities rather than placing the blame on what those responsible did," Harrington said. "Part of the coping and healing process for people of color is when racist things happen and actually calling them racist. Part of moving forward and learning what went wrong and making efforts to make things better in the future is being honest with ourselves about what happened. We can't get to that point if people are afraid to use the right words to describe what happened."
Azuaje commented on the fact that multiple incidents of this nature occurred on one weekend.
"It was really upsetting that all of this is happening within hours of each other," Azuaje said "Why is this going on? This shouldn't even be a problem we're dealing with here."