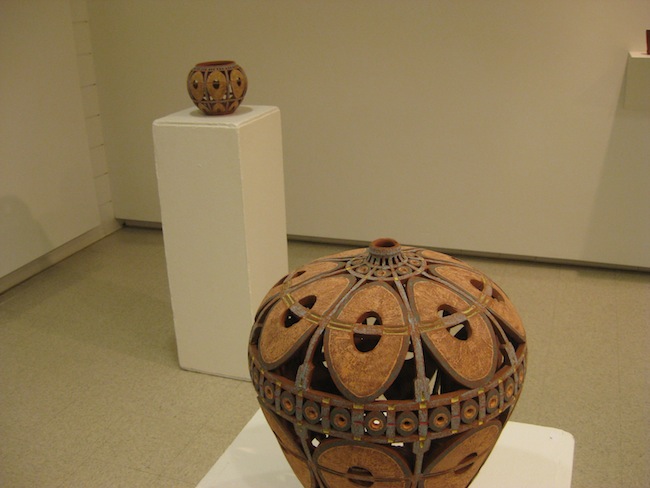 Hidden in the hallway where Andrews Hall meets Phi Beta Kappa Theater lies the small art haven that is the Andrews Gallery. This small, bright exhibition space hosts a variety of works meant to teach and inspire both students of the College of William and Mary and other visitors who pass through its glass doors.
According to gallery coordinator and photography professor Eliot Dudik, the role of the Andrews Gallery is to provide an exhibition space that doubles as a classroom.
"The mission of the gallery is to educate students and the community with contemporary art from various mediums including painting, drawing, sculpture, printmaking, ceramics and photography," Dudik said.
The gallery displays art from students, faculty and professional artists. Past exhibitions have included work from professional painter Elise Schweitzer and the projects of Catron Scholarship recipients who spent their summers abroad studying art.
The gallery is currently hosting a ceramics exhibition featuring professional artists Simon Levin, Gwendolyn Yoppolo and Matt Repsher. Ceramics professor Mike Jabbur curated the show, and said that he chose these artists for their varied and distinct approaches to ceramics.
"I try to bring in artists who work in a mixture of techniques and styles," Jabbur said. "Right now I'm teaching wheel throwing and hand building, so I wanted stuff that's relevant to both classes. In this particular show, we have one person who wheel throws and the others both hand build and wheel throw, sometimes on the same piece."
To celebrate the new exhibit, the Andrews Gallery held a reception for the general public Feb. 5. Repsher was present to give a talk and answer questions about his work.
According to Repsher, his personal style is inspired by his home environment growing up.
"There was a lot of art, crafts and ceramics in the house that I grew up in, which [my father] had built and designed," Repsher said. "For his career, he worked as a builder and an architect so there are several influences coming from him."
As a result of this early architectural influence, Repsher said his current work focuses heavily on construction and shape.
"I came to a realization that structure and repetition are really important to me. I like the idea of small things building up a larger object," Repsher said.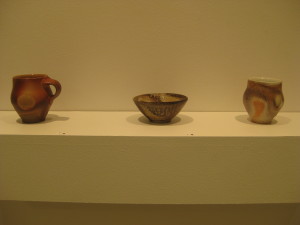 According to Repsher, his work fits well with the other featured artists in the show because of the way all three artists concentrate on the surfaces of their ceramics.
"For me, [surface] is a really big theme running through the work and the show in general. [Gwendolyn's] mastery of glaze is producing this very soft, buttery effect and Simon is going after a whole other angle where he uses atmosphere of kiln as a surface and does wood firing," Repsher said. "It's really a neat pairing because I'm using slip surface, Gwendolyn's using glazed surface, and Simon's using kiln surface. They are very distinct things but I think they carry continuity through the work."
Repsher said he enjoys ceramics over other mediums because of the abundant possibilities inherent in clay.
"The breadth of actions you can get with this material is amazing, and that's probably why I stick with it," Repsher said. "It's easy to fall in love with."
Repsher also gave a demonstration to ceramics students earlier that day. Mayzie Zechini '17 attended the demo and said Repsher's ideas resonated with her.
"Matt mentioned during his demo that it was very 'meditation-like' to create pots, and I find that to be true," Zechini said. "I haven't done that much three-dimensional work, but I get the same emotion and therapy from [painting]."
"The breadth of actions you can get with this material is amazing, and that's probably why I stick with it," Repsher said. "It's easy to fall in love with."
Jabbur said that exposing students to professional work, especially in a personal, hands-on way, is crucial to the learning process.
"I think most of us in the art department teach through demonstration. We contextualize what we do through historical images and contemporary images [but], especially with a three dimensional object, there is only so much you can learn from an image," Jabbur said.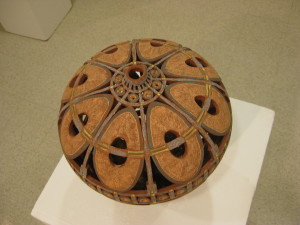 Andrews Gallery is free and open to the public. Repsher, Yoppolo and Levin's work will be on display until Feb. 19. Yoppolo will be giving a free, day-long demonstration Feb. 26. in the College's ceramics studio.