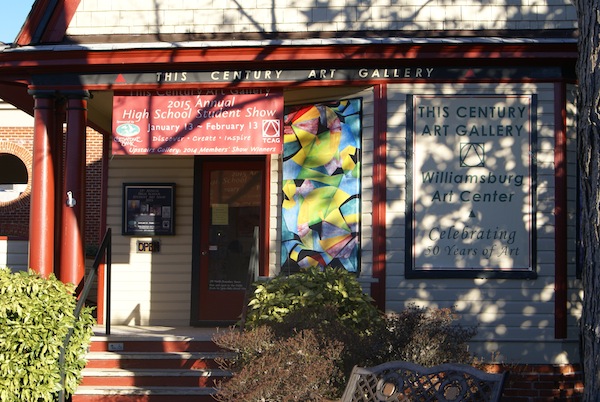 On the walls of a gallery a few steps from campus hang more than 100 priceless works of art. No, This Century Art Gallery is not hosting an exhibit on the famous Italian "old masters"; however, they are offering the public a chance to view the art of this century's future masters in their 12th Annual High School Student Art Show.
According to coordinator Karen Schwartz, This Century has been hosting the high school show since 2004, when the high school work in their usual children's gallery made a remarkable impact.
"We have always had a children's hall upstairs where we display different schools," Schwartz said. "Usually it would be a group of elementary schools, and they would rotate so we would only have one show a year. One year we had the high school show and it was so remarkably good that [we] talked about doing a juried show for the high school kids so we could fill the whole gallery."
The first show was hosted in the gallery's upstairs space — a decision, Schwartz said, that greatly underestimated the popularity of the show.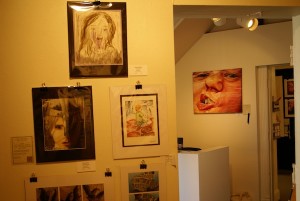 "This show typically generates as much or more traffic for the gallery than any other show," Schwartz said. "The first year we had it upstairs and there were so many people, [standing] shoulder to shoulder, going up those stairs. This was right after we decided that we would limit the upstairs to about 12 people at a time because this house is very old. So they moved it, and it's been in the downstairs location ever since."
The show brings in art from six major high schools in the area, including Bruton, Lafayette, Jamestown and Warhill High Schools, as well as Walsingham Academy and the Williamsburg Christian Academy. Exhibited works are selected by the teachers and students at the individual schools.
"I don't know what we've got until they get here, which makes it interesting when hanging them. It seems like every year it gets better and better and better, and this year could be our best," Schwartz said. "It definitely has a lot of really strong pieces."
Artistic director Apryl Altman said hanging a show with such varied styles can be a challenge, but it ultimately creates an interesting exhibit.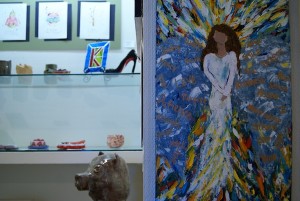 "If you have a singular artist you can usually choose a strong piece and work around that, which is what we try to do here. But for something like this, you have so many different artists doing so many different things that it comes down to color and texture. You start pulling paintings together in a visual way rather than by subject matter and sometimes, by the time you're finished, you look around and you realize that the subject matter did come into play after all," Altman said.
Each year before the show opens, the pieces are judged and the top three bodies of work are awarded cash prizes, with smaller awards for the merit prize and certificates for the honorable mentions. This year, the student work was judged by professional artists Ginny Fisher and Sharon Parker. According to her judge's statement, Fisher said that the first impression a piece makes is important in her selection process.
"It's important for me to look briefly at each piece of artwork," Fisher said. "I often get an immediate first reaction. Then I study each one. Creativity. Uniqueness. Does the artwork tell a story? Does it speak to me? What is the artist trying to portray? When I look at the artwork again I validate which pieces of artwork stand out to me."
Schwartz said that participation in a judged show is an extremely valuable experience for any budding artist.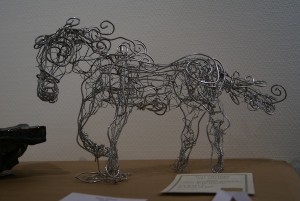 "For students that really do plan to study art, it is positive reinforcement, and it's good for their portfolios to say they've won awards or participated in shows," Schwartz said. "It's a good experience regardless of whether or not your individual piece receives the positive feedback. It's like playing third base on a baseball team or being in the chorus of a play — the more experience you have, the better artist you become."
At a preview held the Monday before the exhibit opened, members of the gallery selected their favorite piece to receive the People's Choice award. This year's recipient was "Slow" by Haley Ellis, a senior at Warhill High School who has recently begun her own mural business in the Williamsburg area. Ellis was also awarded the first place prize for her body of work.
Overall, the show impressed members, judges and staff alike. Gallery volunteer Suzie Brooks said the student works continues to amaze her.
"I'm just very impressed at the variety of things that these young people are qualified to do. They are very talented," Brooks said.
The student works will be hung at This Century Art gallery until Feb. 13 and select student works will be for sale. Altman encourages the public to come and take a look at the art for themselves.
"It is a wonderful exhibit of our local talent and [of] the kids who are hopefully going to be part of our future in professional art 10 years from now," Altman said.