A noted geographer once said that "the human occupancy of a place carries within itself the seeds of its own transformation," as one human activity inevitably fails and yields its venue to the next. Yet in the mouths of those among us who put little stock in geographic aphorisms from the 1920s, Monday's ribbon-cutting ceremony left a bitter taste not easily cleansed by Cosi's flatbreads. The loaves themselves were not at fault — their slim, toothsome dough glistened handsomely with olive oil and resisted the bite with an inviting coyness — instead, it was the wistful memory of Lodge 1's former occupants that seemed to cast a shadow over an otherwise pleasant meal. As the crowd queued into a somewhat misshapen checkout area, one could not help overhearing Qdoba's exotic consonants and Einstein Bros.' twanging vowels invoked in nostalgia or remorse. To be sure, it is a shame that this pair of eateries had to perish to make way for our esteemed Cosi, and perhaps now a short eulogy would not go amiss.
For many of us, the Einstein Bros. were the Cyril and Methodius of early morning fare, a mysterious meeting of balding, ancient men who hid inscrutably behind yellow monocles emblazoned on crumpled paper bags. How many fasts did we break beneath their enraptured gaze, sputtering crumbs over unfinished homework and smearing cream cheese in the margins of unread tomes? Alas, the brothers are gone from us. Injurious exile deprived them of that warm breath that quickens vulgar lumps of dough into circlets, dense yet pliable in hands enfeebled by nocturnal revelries. Just so, Qdoba has been driven — screaming — from our halls, feathered cloak billowing with Aztec winds and long fangs dripping with arcane poisons. Downward she plunges, insane with bloodlust, clawing at the throats of caverns too deep for man to delve. Amen.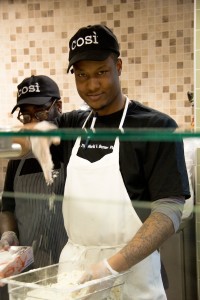 Of course, modern psychology tells us that most humans tend to reflect on bygone sensations with more fondness than their sources initially begot. It seems probable that the Einstein Bros' bagel that you now slaver over with retrospective verve was at the time little more than disemboweled toast. That sumptuous Tex-Mex feast that you so yearningly remember relishing with your friends was almost certainly a fiction — the product of a sick mind attempting to make sense of a traumatic eating experience. Recall now that it was 8:30 p.m. on a Thursday when you sat alone, miserable in a booth in Lodge 1, your torso at a sharp acute angle with your lap as you cowered over a failed burrito, black beans and rice hunched all to one side of the tortilla, with sauce spilling out of the creases, threatening to unfurl the wrap like a carpet thrown from a moving vehicle. But as we stand in contemplation of Cosi's man-sized menus, many of us feel an urge to draw unrealistic comparisons to Qdoba and Einstein Bros. and to loudly lament their demise between mouthfuls of supple mozzarella and piquant basil.
If only we could appreciate what providence has lain at our feet — humble caprese and tabbouleh salads anointed with lively vinaigrettes, cleverly reconceived in sandwich form; zesty tandoori chicken and ginger-infused pork belly, thoughtfully enclosed in crisp flatbread sheaths; and slow simmered vegetables attentively resolved into warming broths, to name just a few of Cosi's specialties. But it seems that many of us are not ready to do so, as undigested bits of beef plague our minds with phantoms of meals long since passed. If I may suggest a compromise, surrender to the epicurean instincts that urge you to enjoy the cuisine at hand, and consider your meals a commemorative tribute to Lodge 1's former masters.