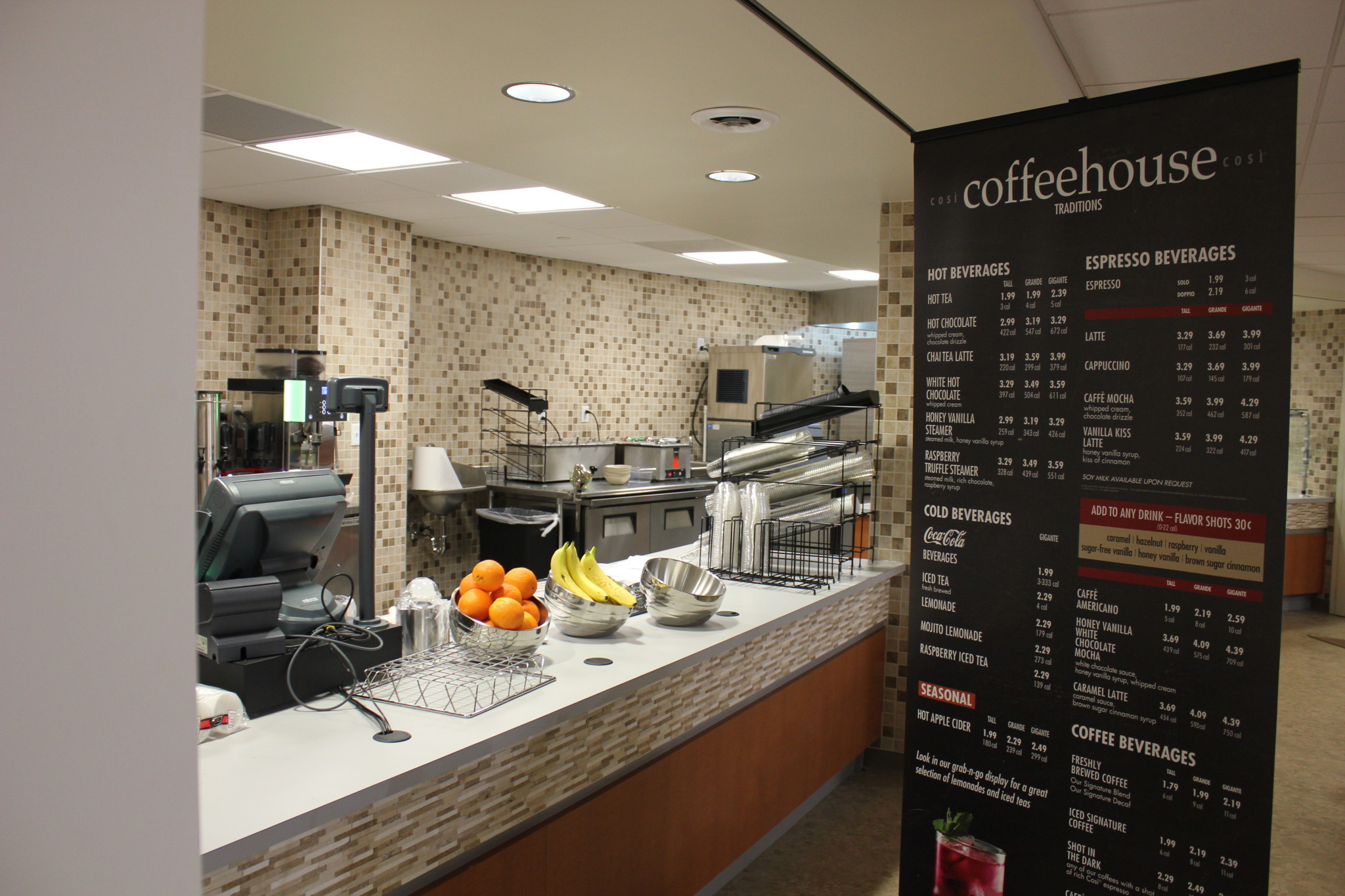 Cosi, Sodexo USA's latest retail offering, opened to students at the College of William and Mary Monday.
For several months, Lodge 1 has been impassable due to extensive renovations. Now a viable shortcut and study space, it features a new dining option for the spring semester. A national restaurant chain specializing in breads, soups and salads, Cosi occupies the area formerly held by Einstein Bros. Bagels and Qdoba. This installation on campus marks Cosi's arrival in the Hampton Roads area.
For the past week, the Cosi staff has trained in the recently refurbished Lodge 1. According to a press release distributed by Dining Services Jan. 21, Cosi relies on fresh ingredients for bread, sauces and soups. Resident District Manager Jeff McClure said three bakers have been hired solely to bake bread every day, ensuring that the fare is fresh.
"Everything is made in-house," McClure said. "The food is excellent. The variety is excellent."
Cosi's grand opening was Monday, Jan. 26, at 11:30 a.m. Its normal working hours are from 8 a.m. to 9 p.m. Monday through Friday and from 10 a.m. to 2 p.m. Saturday. Students can use Dining Dollars or Express Dollars at the establishment. In addition to sandwiches and soups, the restaurant features breakfast wraps, salads, desserts and signature Squagels, a form of square bagel. Students can also purchase coffee and specialty beverages.
"Our student body is very aware of fresh, local food. Having fresh products is important," Director of Auxiliary Services Cindy Glavas said. "I think [Cosi] will be received very optimistically."
Although the Cosi restaurant chain ventures into new territory with its location in Williamsburg, some students are already familiar with the franchise.
Allyson Mateja '15 said she frequently goes to the Cosi restaurant in her hometown of Avon, Connecticut. She said she is very excited for the reopening of Lodge 1, not only because she can now walk through the Sadler Center more conveniently, but also because she can get food from one of her favorite places.
"[Cosi] is really good. I go when I'm back home at least once a break," Mateja said. "I will use all of my [Dining Dollars] there."
Cosi's opening is not the only College's only dining adjustment this semester. The food truck BBQ 1693, which offers barbecue fare which is smoked and prepared on campus, has moved from the back of Campus Center to the front, so that it is now visible from Jamestown Road. McClure said that the increased visibility is meant to increase customer traffic.
He added that Dining Services has also been moving the food trucks to sporting events, moves which have been popular among students. He said the next project Dining Services is working on is setting up one of the food trucks next to the Commons Dining Hall at night to provide a late night option in a location removed from the Sadler Center.
"Both of the trucks are popular," McClure said. "The challenge is if it gets cold. The whole thing is listening to student feedback. Being different makes a difference."