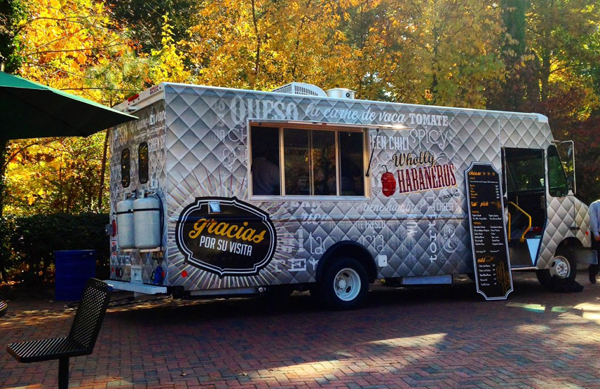 Wholly Habaneros, Sodexo USA's long-awaited Mexican food truck, rolled onto the Sadler Terrace Nov. 12.
The food truck is the most recent addition to Sodexo's dining program. According to Resident District Manager Jeff McClure, the Wholly Habaneros vehicle arrived at 1:30 a.m. Tuesday. McClure said that setting up the food truck to be ready in a short period of time was a challenge, but Dining Services has now established Wholly Habaneros' location on the Terrace outside of Sadler.
"This is a good traffic area," McClure said.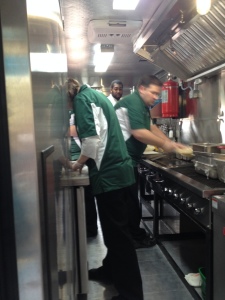 Indeed, students flocked to Wholly Habaneros on opening day and ate on the Terrace in unseasonably warm weather. Although the following day was 20 degrees cooler, students still ventured to the Mexican food truck to try its fare. One such student was Gabriella Carney '18, who purchased a burrito from Wholly Habaneros.
"It tasted pretty good," Carney said. "I think people will continue buying from here because it's convenient. I won't go [to the food truck] too often, but maybe every once in a while."
Some students said they believe the Mexican food will be a welcome option in such a central location on campus. Timothy Myers '18 got a burrito from Wholly Habaneros. He said that he would come to the food truck for Mexican food if he did not want to make the trip to Marketplace to take advantage of its lunch and dinner Qdoba option.
"I think people are going to keep coming here because it's a good change-up from the food they have in Sadler," Myers said. "I would love to see more meal swipes, [though]."
"Students love the Mexican food. This offers a whole different variety," Resident District Manager Jeff McClure said. "[Food trucks are] a trend that's here to stay."
While the food truck is located on the Terrace for now, McClure said he and the Sodexo team will review different places to set up Wholly Habaneros. He mentioned that BBQ 1693, a portable food stand serving barbecue options on campus, has been popular with students at athletic events. Wholly Habaneros, too, may start appearing at games or surfacing on campus for a late-night option.
"Students love the Mexican food. This offers a whole different variety," McClure said. "[Food trucks are] a trend that's here to stay."