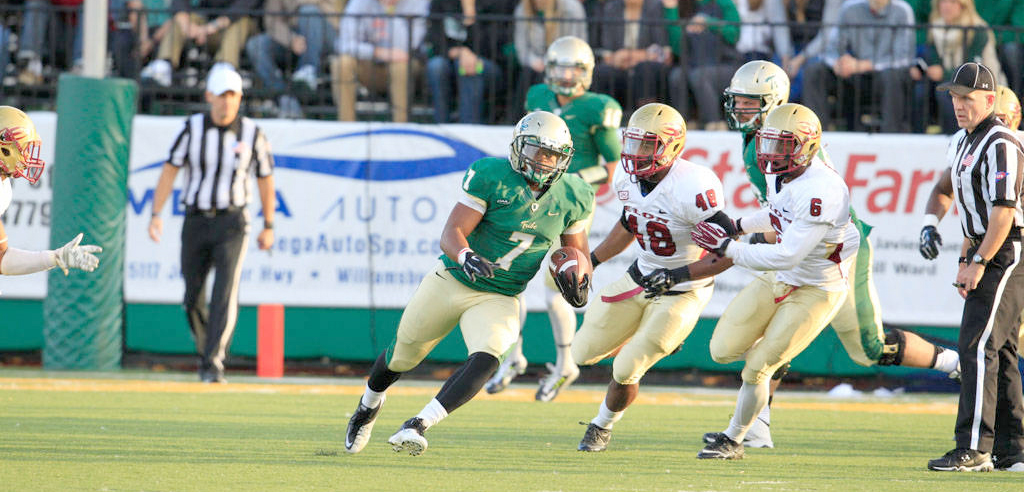 William and Mary came out of Zable Stadium victorious last weekend with a decisive 17-7 win over Elon. The Tribe dominated offensively with 246 rushing yards and two touchdowns and picked up two interceptions and a blocked kick.
The College (6-4, 3-3 CAA) looks ahead to this weekend with hopes of a win at Towson Saturday.
Slotted in a three-way tie for fifth place in the Colonial Athletic Association, the College retains a chance to move on to the postseason, but to do so, it must win its two remaining games.
Towson (4-6, 2-4 CAA) is a tough opponent, with wins over the Tribe in the past three seasons. However, the College has a 3-1 record in Towson. Towson is eighth in the CAA in scoring offense, averaging 17.2 points per game. However, the Tigers have the 2013 CAA Rookie of the Year, Darius Victor, who leads the CAA with 1,115 rushing yards and 10 touchdowns. Towson's rushing attack is its biggest offensive weapon, a fact which head coach Jimmye Laycock acknowledged.
"Victor is an outstanding back, a downhill runner, a tough competitor, and they do a good job mixing up their formations and getting him the ball in different ways," Laycock told Tribe Athletics.
Expect the Tribe to use a diverse offensive strategy to score quickly and efficiently. Junior running back Mikal Abdul-Saboor, who is first in the CAA with 113.3 rushing yards per game, is just as threatening as Victor. Abdul-Saboor ran for over 100 rushing yards in each of his last three games, and should perform well this weekend. In addition to the rushing game, sophomore quarterback Steve Cluley will likely get varied passing opportunities, including play action passes and deep throws. Cluley will depend on senior receivers Tre McBride and Sean Ballard to exploit Towson's pass defense.
Junior running back Mikal Abdul-Saboor, who is first in the CAA with 113.3 rushing yards per game, is just as threatening as Victor.
The College's defense only gave up seven points and snagged two interceptions against Elon last weekend, keeping Towson to 15 points last year in a 15-9 loss at Zable. To minimize the threat of the Tigers' running game, the Tribe must control the line of scrimmage on defense by compressing the defensive line and keeping its safeties, senior Ivan Tagoe and junior Jared Velasquez, tight on Victor and Towson quarterback Connor Frazier. Additionally, junior linebacker Luke Rhodes and senior linebacker Airek Green will both focus on stopping the run. If the College's defense is able to gain control, it should force the Tigers to depend on their struggling passing game.
As the Tribe goes into its final games of the season, the team is still in contention for its first playoff berth since 2010, and losing is not an option at this point. According to Laycock, there are several keys to victory.
"We've got to slow down their running game, we can't give up big plays, and just like last week with the two big turnovers, we've got to, again, force some turnovers," Laycock told Tribe Athletics. "Offensively … we're settling for some field goals and we've got to convert those opportunities."
The Tribe faces Towson Saturday at Johnny Unitas Stadium in its final road game of the season. Kickoff is scheduled for 3 p.m.
Football news and notes
Flat Hat Sports editor Chris Weber
— — —
Following an Oct. 31 arrest on charges of assault and battery of a police officer, William and Mary dismissed Jesse Santiago from its football program.
Santiago was listed as a sophomore wideout, hailing from nearby Grafton High. Santiago never appeared in a game for the College.
"Jesse Santiago is no longer a member of the William and Mary football team," Senior Assistant Athletic Director Pete Clawson told the Daily Press Nov. 3.
A hearing is scheduled Dec. 4 in the Williamsburg-James City County General District Court. Santiago also faces a hearing in the York Country General District Court for charges of petit larceny and tampering with a vehicle. Both charges stem from an incident last March.
— — —
Junior cornerback DeAndre Houston-Carson was named to the College Football Performance Awards Football Championship Subdivision National Defensive Performer of the Year Watch List Nov. 5.
Houston-Carson has logged four interceptions, four pass break ups, two fumble recoveries and 67 tackles. The six feet, one inch junior from Woodford, Va. ranks second in the nation with four kick blocks.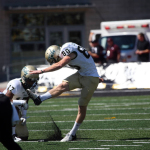 The watch list features 30 players from the FCS; of those 30, Houston-Carson is one of just five defensive backs. A host of Colonial Athletic Association rivals join Houston-Carson, including James Madison (2), Rhode Island (1), Stony Brook (2), Towson (1) and Villanova (1).
— — —
Senior kicker John Carpenter had missed two games due to an "undisclosed medical condition." Reports revealed more information Nov. 4. Carpenter donated bone marrow as part of the National Marrow Donor Program and the Be The Match organization.
The procedure kept Carpenter out for two weeks, but the placekicker returned to face Elon. Dave Fairbank of the Daily Press has more.