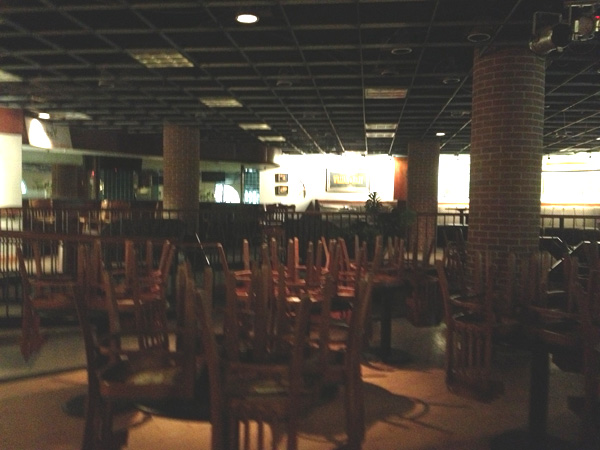 Students at the College of William and Mary will have a new dining option this January when Cosi, an artisan sandwich cafe, opens in a renovated version of the Sadler Center's Lodge 1.
Cosi will replace the spaces formerly occupied by Einstein Bagels and Qdoba. The change will allow Cosi to offer grab-and-go service and a sit-down cafe.
"Cosi will offer an inviting cafe space, as well as online ordering for students on the go," Auxiliary Services Assistant Director of Marketing and Communications Eden Harris said in an email.
In addition to offering a sit-down experience and to-go service, Cosi will have early-morning and late-night options. It will also cater for student groups and those in need of a "casual" catering option, Harris said.
Cosi is a national chain that specializes in breakfast and lunch foods. It offers options such as Squagels (square bagels), wraps, sandwiches, salads and soups. Flatbread, Cosi's signature item, will be available as a side and as a base for pizzas, sandwiches and melts.
As for non-breakfast and lunch foods, Cosi's menu will also include various entrees and desserts.
Similar to dining options like Qdoba and Mooyah, Cosi will accept dining dollars, William and Mary Express, cash and credit. The restaurant will not accept meal swipes.
To prepare Lodge 1 for Cosi's opening, builders are installing new flooring, wall coverings, furniture and lighting. Other additions include a redesigned entrance from the Terrace, as well as areas for food preparation and cooking.
While Cosi has already spread to many students' hometowns — its closest locations are in northern Virginia and Maryland — its impact on the College is yet to be seen.
"Cosi will bring its signature recipes and style to the Williamsburg area," Harris said.
Matt Rigsby '15 has already dined at Cosi. He described the experience as positive and likened Cosi to Panera and Corner Bakery, two other cafe-style restaurants.
"I'll probably still go to the Crust or Qdoba before Cosi, because it's overpriced for that kind of food. But that's just personal preference," he said.
Flat Hat Assoc. News Editor Eleanor Lamb contributed to this article.