As a part of I Am W&M Week, the Student Assembly sponsored the College of William & Mary's We Day, which brought activist and musician Emmanuel Jal and motivational speaker Taylor Conroy to campus Feb. 15.
We Day is an initiative of the international charity Free the Children, which includes multiple stadium-sized events around North America to support the We Act program. The organization aims to empower young people to promote social change by shifting their focus from the individual to the community.
The campus event was a joint initiative of the SA and the College's chapter of Free the Children. President of the College's Free the Children chapter Chido Chola '18 has worked with the charity for years and started a chapter on campus with her freshman hallmates.
At Sunday's event, the College's chapter premiered a campaign video through the friend-funding platform Change Heroes, a social enterprise founded by Taylor Conroy which also serves as a partner initiative of Free the Children. The seven freshmen will launch their Change Heroes page March 1 with the goal of raising $10,000 to build a school in Ecuador. Chola contacted Conroy last semester when they began planning the event.
"Conroy said that he would love for us to go on with the campaign but he wants to be there when we kick [it] off," she said. "That's why he was like, 'I would love to come to William and Mary.'"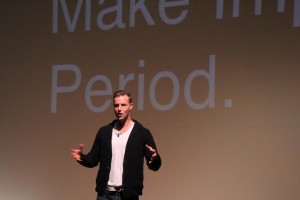 Conroy spoke about Change Heroes' work, how it began, and why he left his successful real estate business to become a social entrepreneur. The platform uses personal videos from individuals or groups to encourage 33 friends to commit $3.33 per day for three months. Ideally, the campaign will result in the $10,000 required to build a schoolhouse in a developing country. Conroy said he believes that the face-to-face interaction through the videos is what makes a difference in his platform.
 Chola also had a prior connection to Jal, after bringing him to her high school in 2012. An escaped South Sudanese child soldier, Jal became a hip-hop artist advocating for peace. He uses his personal experiences to motivate others to make change happen.
Before the Sunday night event, Jal hosted a workshop with student leaders on campus. He spoke of the importance of education and business in social impact, his various campaigns to raise money to build a school in his village, and his struggle to find peace and forgiveness within himself.
"I want to change the world. We are the same. You don't have to be a billionaire, a millionaire, a thousand-aire or a hundred-aire to make a difference. You can be a zero-aire."
"You all want to change the world," Jal said. "I want to change the world. We are the same. You don't have to be a billionaire, a millionaire, a thousand-aire or a hundred-aire to make a difference. You can be a zero-aire."
During the talk, Jal focused on his life and his music. He began with his happy memories involving stories of lions, hyenas and chickens. After amusing the crowd, Jal shared his worst memories, including his lowest point in life: the moment he was so hungry that he seriously contemplated eating a dead comrade, like many of the other children had resorted to. Jal also shared a spoken word poem regarding the event, which was one of the many artistic aspects of his talk.
Co-Undersecretary of Diversity Initiatives Meronne Teklu '17 said she thought that Jal and Conroy were a perfect choice for the College.
"I think that people are just waiting to hear an inspiring story, to be the change they really want to see in the world," Teklu said. "[To know that] there is somebody in the world doing the work you wish you could do and it's easy to follow in their footsteps — I think that's something students can really touch on."
Event organizers said one of We Day's goals was enhance the idea of community at the College. The theme of Ubuntu embodies the idea that "I am who I am because of what we all are." Co-Undersecretary of Diversity Initiatives Lynn Nakamura '15 said she sees this philosophy mirrored in the College community.
"We're always like, 'one tribe, one family,'" she said. "It's the very same thing, just different words saying that we all are who we are because of who is in our lives and how we interact with each other."