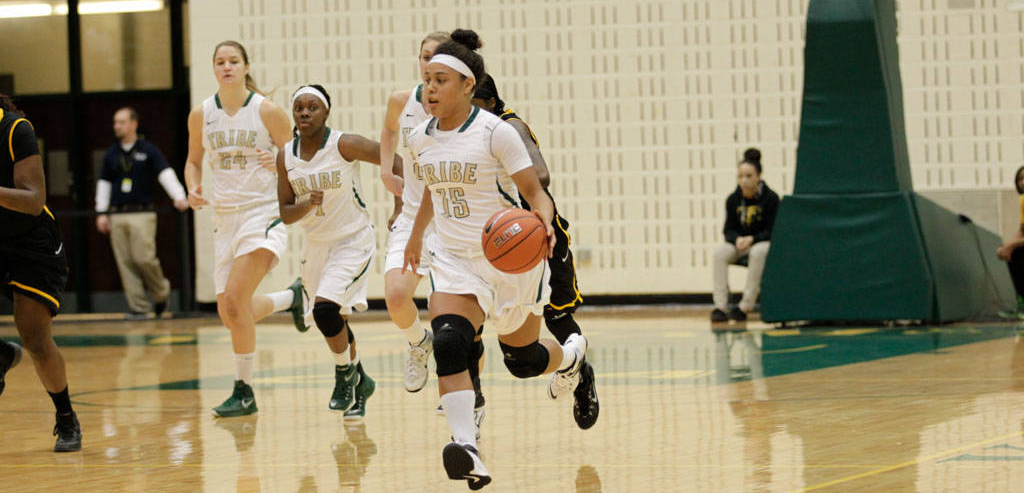 It was a busy weekend for the William and Mary women's basketball team. The Tribe fell to Delaware, 61-56, Friday night, then defeated College of Charleston, 74-59, Sunday afternoon in its annual Think Pink game. The triumph over the Cougars was head coach Ed Swanson's 300th career Division I win.
The Tribe (12-13, 6-8 CAA) had a slow start against Delaware, as the Blue Hens (13-12 8-6 CAA) began the game with an 8-2 lead. The College responded with a 22-6 run to take a 24-14 lead with six minutes left in the first half. This lead did not last long, however, as Delaware closed out the half on a 16-4 run, entering halftime with a slim 30-28 lead.
Unlike the first half, neither team was able to sustain a long scoring run during the second. The Tribe took an early lead, but failed to retain the advantage. Five minutes into the half, Delaware pulled ahead and led for the remainder of the game. The Tribe chipped away at its deficit, constantly reducing the Blue Hen's advantage to a point or two, but failed to take the lead. A single basket separated the teams with two minutes left in the game, but Delaware made a layup and some free throws to stay ahead, ending the game with 61-56 win.
"It's a disappointing loss, this one hurts, but there's no point in crying over spilled milk," Swanson said. "We have got to get back and get ready to play in 48 hours."
Though they lost, several players played an excellent game. Sophomore guard Marlena Tremba scored 19 points, and made five three-point shots. She also had four rebounds and three assists. Senior guard Kyla Kerstetter also scored in double-digits, notching 14 points and seven rebounds. Swanson spoke positively about Kerstetter's performance.
"It's a disappointing loss, this one hurts, but there's no point in crying over spilled milk," Swanson said. "We have got to get back and get ready to play in 48 hours."
"We inserted Kyla [into the rotation] and she gave us great energy," Swanson said. "She's been doing that, she's a great bench player who can come off the bench and give us great energy. Not only with points, but with her deflections and great defense."
Freshman center Abby Rendle also played well, leading the team with eight rebounds, four blocks, and two steals.
Despite a short rest between games, the Tribe did not appear fatigued Sunday, defeating the College of Charleston (4-20, 2-11 CAA) by a 15-point margin for a final score of 74-59.
The Cougars led for most of the first half, maintaining as much as a seven-point advantage before intermission. With four minutes left in the first half, Tremba's three-point shot gave the Tribe a 28-27 lead. After taking the lead, the Tribe never trailed, growing a sizable lead and entering halftime up 36-29.
Building on its first half momentum, the Tribe dominated the second half, continuing to build its lead, and ultimately winning by 15 points.
Rendle had another strong game, scoring a career-high 18 points to lead the team in scoring and adding six blocks.
"I think it all comes down to good execution and good ball movement," Rendle said. "We passed the ball well, and it was easier for me to get good inside looks."
The Tribe's defense kept the Cougars under 40 percent on field goals and allowed only one three-pointer.
Junior guard Brooke Stewart performed well, tying her season high with nine points. Led by nine steals from senior forward Jazmen Boone, the Tribe forced 24 turnovers. The College played with an aggressive press for the majority of the game, forcing Charleston to turn the ball over frequently. Boone commented on the Tribe's defensive execution.
"[Forcing turnovers] is a huge part of our game," Boone said. "I think the reason why we have six wins in conference is because we play such good defense. Even when our offense gets stagnant, or when games get close, we can depend on our defense to pull a win out."
The College plays its next two games on the road, facing Elon Feb. 22 and Charleston Feb. 26. The Tribe returns to Kaplan Arena to play Northeastern March 1.