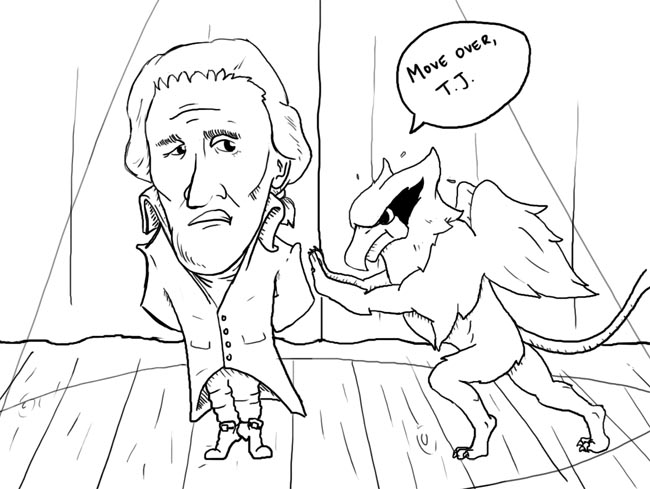 For a sense of how much the College of William and Mary relies on Thomas Jefferson in its branding, simply search Thomas Jefferson on the College's website. There you'll find 10 pages of results directing you to links such as the Thomas Jefferson Award, the Thomas Jefferson Teaching Award, the Thomas Jefferson Prize in Natural Philosophy, the Jefferson's College page, the Thomas Jefferson statue and Jefferson Hall.
You'll also find that, in the spring of 2012, hundreds of students congregated by Jefferson's statue to celebrate the 250th anniversary of his graduation. Participants were told that the statues on campus can be awakened on important anniversaries by students "honoring their legacy." Too much? You tell us.
Flash-forward to Clint Smith's spoken word performance Saturday. Smith addressed the problematic history of our early presidents. In his poem, "A poem to five presidents who owned slaves while they were in office," Smith provides a different conception of Jefferson, one that presents the historical reality of his racism against African Americans. He questioned the way he saw Jefferson mythologized all over campus, and he talked about Jefferson's sexual abuse of a young Sally Hemings, one of his slaves.
Of course, the College does a good job selecting which parts of history it wants to tell. On the College website, in a section titled "Jefferson's College," there is a brief history of Jefferson's time at the College and his views on the Wren building and the College curriculum. The word "slavery" is never used.
There are a lot of problems with the way the College relies on a skewed version of Jefferson. By refusing to acknowledge the totality of Jefferson's character while still using Jefferson as a figure central to the institution, the College is doing itself a grave disservice. The College's branding should reflect its appreciation of critical thinking and nuance, values which correspond directly with its rich history and academic excellence. By excluding the problematic aspects of Jefferson's history, the College is contradicting these values.
If the College is to use Jefferson as a selling point, it needs to present him objectively, as a nuanced historical figure. Presenting a holistic Jefferson is not only the right thing to do, it's the strategically better thing to do. An honest acknowledgement of his complicated history places the emphasis back on the values of the College — like critical thinking and analysis — rather than just glorifying the man himself.
The best use of Jefferson as a branding symbol is one in which he inspires the community to think critically about the values we hold, and why we hold them. A holistic representation of Jefferson can spark a conversation about racism and other issues we still face today, engaging the community in a dialogue that is both valuable and important.