Dancing at the College of William and Mary is not just about an evening at the King and Queen Ball or the Charter Day concert. Every day of the week, numerous dance organizations hold rehearsals on campus, ranging in style from Bhangra to ballroom.
Some dance groups cater to dancers of every style and skill level.
Ballroom Club encourages anyone, with or without experience, to come and try its style. Members are always willing to teach newcomers the steps they've picked up.
Rhythm and Taps, the tap dance group on campus, holds three different rehearsals for different skill levels: beginner, intermediate and advanced.
Co-president Becca Brown '16 said in an email that she joined the group because of its acceptance of those with different levels of experience.
"I was drawn to Rhythm and Taps because I liked the casual, noncompetitive style. I really appreciated that the club let us experiment with different difficulty levels, so that, while I was still challenged after 15 years of practice, others had the chance to learn a totally new style of dance," Brown said.
Time commitment varies for each organization, but on the whole dance groups are very flexible with their members. Organizations like Pointe Blank and Syndicate let their members choose how many dances they would like to be a part of, allowing members to commit only as much time as they choose.
The College has more than 10 dance clubs — but despite such a high number, Syndicate performance chair Giselle Tirado '17 said she had concerns about the lack of dance diversity.
"As much as William and Mary is all about pushing boundaries, I feel like the dance department is not," Tirado said. "I came in expecting a lot of options. I still take classes though, because it's a good way to maintain flexibility."
According to the College's dance director and professor Denise Damon Wade, the department has limited space and faculty. However, it tries to structure its program for maximum creative growth.
"With the resources William and Mary has, we have thoughtfully crafted a program that is creativity based, with a depth in modern offerings and supported by ballet and jazz," Wade said.
Finding rehearsal space is problematic for a number of the organizations. Syndicate uses the lobby of Millington Hall for its rehearsal space, with its glass doors acting as makeshift mirrors, while Pointe Blank uses Chesapeake A in the Sadler Center. Wade said the scarcity of available space is similar to the problems faced by any other department, such as a science department where students would need lab space. That space must first go to students who are a part of that department before being allocated to others.
Wade encourages students who are curious about dance to pursue their interest by trying the different classes offered through the school and getting involved with organizations on campus.
"The more students that dance, the happier we are," Wade said.
The dance department finds ways to collaborate with dance organizations on campus in many different respects. The modern dance company run through the College's dance department, Orchesis, requires its members to take a modern dance class to improve technique and strength, and to avoid injuries. Additionally, many members of Orchesis take a composition dance class in order to improve choreography skills.
Most dance organizations have their members choreograph their own performances and competitions. Wade said taking classes in the basics of choreography is essential, no matter what kind of dance students might want to pursue.
"If you're interested in choreography, those classes are going to support any style you want to do," Wade said.
In the classroom, collaboration between professors and dancers allows dancers who are out of their comfort zone to learn new skills that are applicable to all dance styles.
Amanda Hinckle '15, president of Orchesis, said that her inspiration often comes from a mixed background in both modern and traditional dance.
"Personally, I am inspired by both my ballet background and the modern dance styles that I have learned from the professors within the dance department as well as master classes that the dance department has brought in," she said in an email.
Dancers looking for more specialized styles can find their niche with groups such as the Bhangra dance team.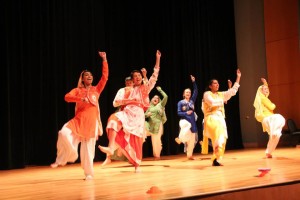 "[I've done] classical Indian dance since I was five, and I still do it," Bhangra member Pallavi Rudraraju '17 said. "I used to practice in the Yatesment or Jones [Hall] at night by myself, but it was lonely and I wasn't learning anything new. I tried to start a classical fusion team that didn't work out, but I still wanted some structured dance. I saw [Bhangra] and they were really good and it's something that I wanted to be a part of."
Pointe Blank president Allison Jennings '17 said she joined both Pointe Blank and Tribal Dancers because they provided her with an outlet for her love of dance.
"I didn't want to lose dance and lose that emotional outlet. Anytime I can dance, I'm happy," Jennings said.
Brown said that her passion for dance will continue even past her college years.
"I could see myself being one of those 60-year-old women showing up with their tap shoes," Brown said.
According to Hinckle, the passion for dance common among these groups creates a close-knit community. This often results in an overlap in membership, with dancers calling multiple organizations home.
"I didn't want to lose dance and lose that emotional outlet. Anytime I can dance, I'm happy."
"In Orchesis, we have members who participate in both Pointe Blank and Syndicate. We have friends who are in both of those groups, Dance Team, Bhangra and other dance groups on campus and we love to see them perform," she said. "As a company, we enjoy going to their performances because it is always fun to see different types of dance. As fellow dancers, we always appreciate and understand the time and effort that goes into their performances, so we like to support them."