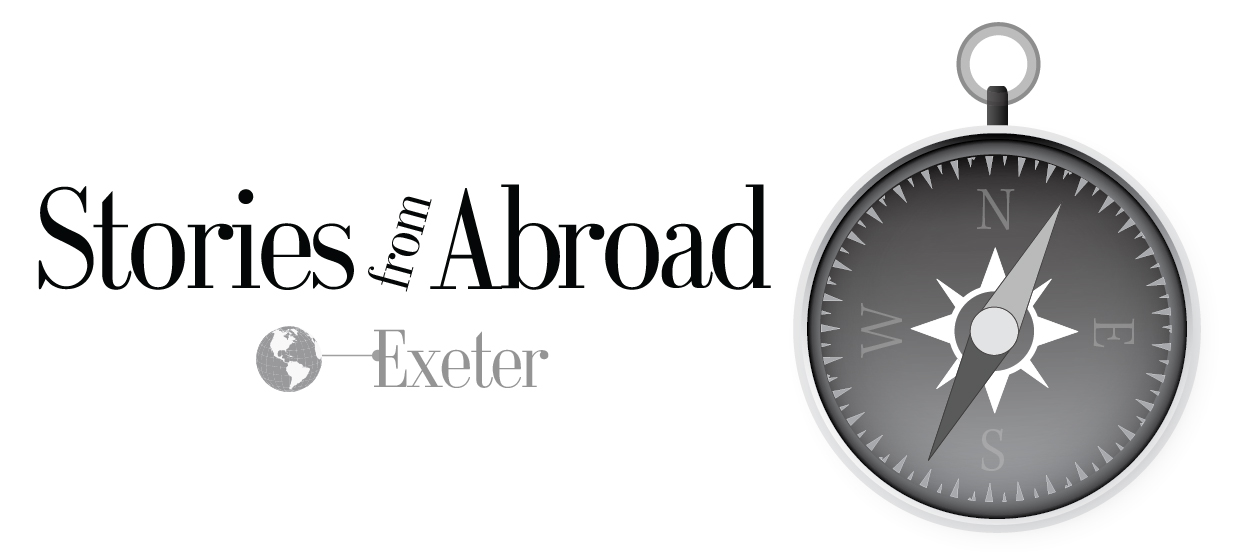 Sandy Park Stadium, home of the Exeter University Rugby Club, was filled with students decked out in green-and-white with beers in hand. The game was about to start, and I was excited to watch rugby for the first time. My friends and I wanted to get into the spirit of it — a "do as the Romans do" mindset — so we each bought a pint and set off to find our seats. As we walked around the stadium, a stray ball was kicked our way during warm-up, knocking my full pint to the ground. While a waste of two quid and a perfectly good Fosters, it was a memorable start to my first rugby game.
The game capped a week of new cultural experiences. Interestingly enough, these were not solely British. Living in a community of international students has provided me with the opportunity to learn about many different cultures. Watching rugby, learning to make homemade dumplings for Lunar New Year and celebrating Carnival were all new adventures for me.
My Australian friend Winnie was raised by her first-generation Chinese immigrant parents. Lunar New Year is perhaps the most important holiday in China. Winnie normally celebrates it with a weeklong series of meals, parties and firework shows with her extended family. This was her first time away from her parents on this important holiday, which was difficult to say the least.
Instead of wallowing, Winnie introduced us to Lunar New Year by teaching us to make homemade dumplings. Everything was prepared from scratch including the dough, meat and vegetable fillings. One benefit of studying abroad is that I have expanded my culinary skills. Prior to coming to Exeter, my culinary pursuits mostly consisted of boiling pasta, making grilled cheese and preparing a mean bowl of cereal. Knowing how to make both steamed and fried dumplings has helped me step up my cooking game.
The scene was humorous. We were a group of about 12 people from Germany, the Netherlands, Switzerland, France, Australia and the U.S. As university students, we did not have all of the necessary tools to prepare the food. One inventive step we took was using sanitized wine bottles as rolling pins. Ah, the life of a college student.
The dumplings were delicious and even though the process took about five hours in total, we had a wonderful time celebrating a study abroad style Lunar New Year. But the broadening of my cultural horizons was not over yet. Saturday night, we all attended a belated Carnival party.
Carnival celebrates the beginning of Lent. Around the world, this festive season is observed in many different ways. Most famous, perhaps, is Rio de Janeiro's Carnival party or the American take on the holiday — Mardi Gras. The hosts of this party were German and Dutch. In their respective nations, Carnival used to mean a couple days of masquerade parties. It has now developed into general costume parties all over Germany and the Netherlands. It symbolizes carefree revelry and self-indulgence before the abstemiousness of Lent.
Of course, the party was good fun. Seeing all the costumes was very entertaining. The Old Spice guy, Tom Cruise from "Top Gun" and Twiggy all made appearances. In a way, it made me feel like I was back at a theme party at the College of William and Mary. But instead of just being another party, there was a purpose: We were ringing in Carnival.
I can't stress how amazing it has been to have such a wide variety of new cultural experiences. Coming to Exeter, I expected to go to a rugby game, have cream tea and go to pubs. When I imagined going to a rugby game I did not predict the tragic fate of my pint, but I was really not expecting to learn so much about other cultures. I think that's been one of the greatest gifts from my time in Exeter.