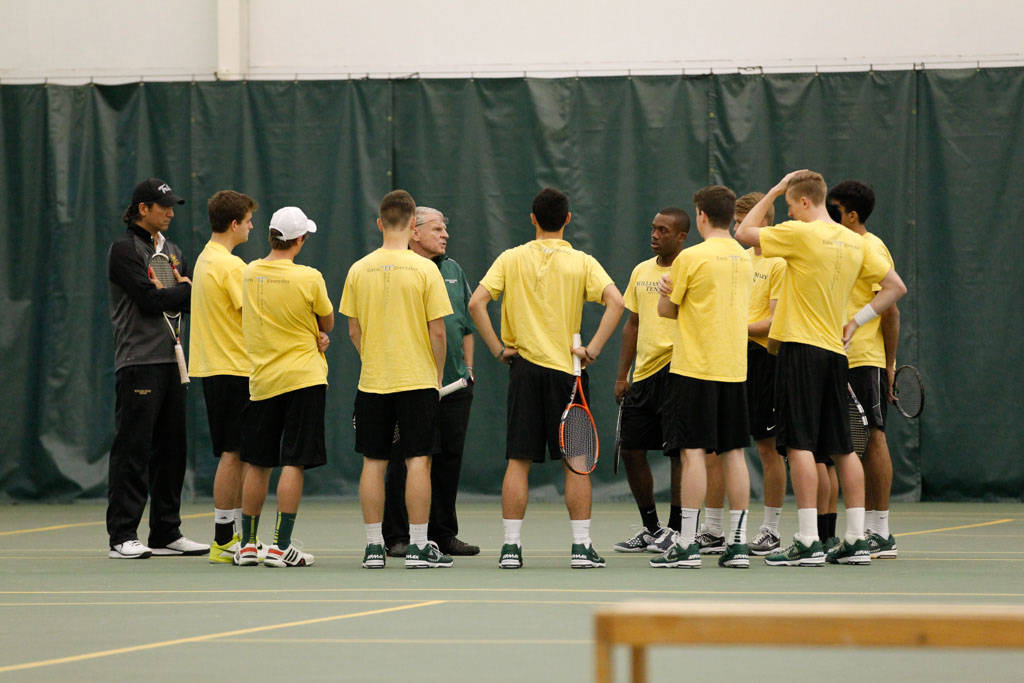 William and Mary had a strong weekend on the courts: the No. 28 women's team defeated Georgia State 5-2 Saturday morning, and the men's squad crushed James Madison 6-1 later in the day. Both matches took place at McCormack-Nagelsen Tennis Center in Williamsburg, Va.
The Tribe women (9-2, 1-0 CAA) opened the contest with Georgia State on a weak note, dropping two of three doubles matches to lose the doubles point and fall behind 1-0. However, the College cleaned up in singles play, led by No. 44 junior Leeza Nemchinov, who defeated Masa Grgan in straight sets for her 11th consecutive win. Nemchinov was one of four Tribe players to win without dropping a set, joined by senior Jeltje Loomans and freshmen Maria Groener and Cecily Wunescher.
Sophomore Melanie Roy added the College's fifth singles win in six matches with an intense three-set win over Kristin Rehse, 6-4, 3-6, 18-16; the marathon third set included nine match points. Roy eventually prevailed, raising her individual record to 9-9 and securing the College's 5-2 win.
Roy eventually prevailed, raising her individual record to 9-9 and securing the College's 5-2 win.
Later, the Tribe men (11-7, 1-0 CAA) won the team's Colonial Athletic Association opener, despite playing without freshman Christian Cargill, who was held out with an illness. The match began with the College and the Dukes splitting the first two doubles matches, but sophomore duo Damon Niquet and Addison Appleby claimed the third doubles contest to give the Tribe the doubles point and a 1-0 lead.
The Tribe's success continued in singles play; senior Will Juggins won at the No. 1 slot in straight sets over JMU's Sebastian Salinas. Niquet, junior Scott Huang, senior Aaron Chaffee and freshman Alec Miller joined Juggins in picking up straight-set victories as the College cruised to a 6-1 win. Miller's win marks his seventh in a row.
The upcoming weekend promises to be busy for Tribe tennis. The men will travel to La Jolla, Calif. for the Pacific Coast Doubles Championship Thursday. The women's squad takes on Navy at home in Williamsburg this Saturday.