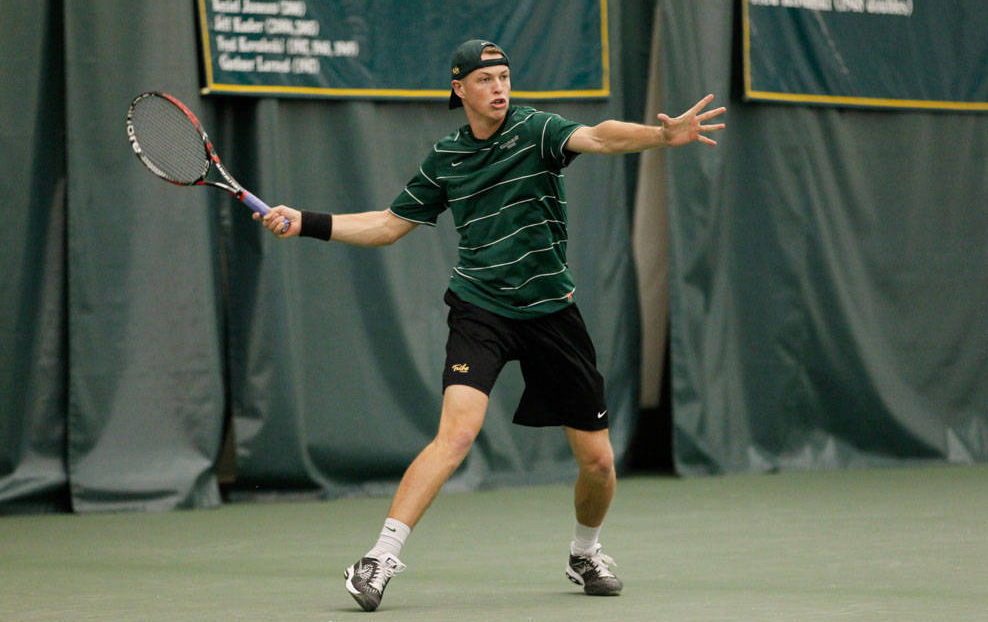 After getting some sun in California over spring break, William and Mary returned home to face former Colonial Athletic Association foe George Mason at the Millie West Tennis Facility on Wednesday, where the Tribe picked up a 6-1 blowout win.
The College (12-9, 1-0 CAA) entered the game 11-9 on the season after a loss at San Diego State ended the Tribe's West Coast schedule. The College bared its teeth and showed resilience by bouncing back from tough losses and starting off its mid-week match in strong fashion.
The Tribe kicked off against Mason (5-7, 0-2 Atlantic 10) with a string of successive doubles wins. Senior duo Will Juggins and Aaron Chaffee defeated the Patriots' Joe Hill and Jimmy Lange handedly with a final score of 6-2. The Juggins-Chaffee pairing improved to 8-3 overall and 6-2 at the No. 1 spot.
The College debuted two new pairings at the No. 2 and 3 spots. At No. 2, sophomore Addison Appleby and freshman Lars de Boer upended the Mason duo of Tanner Baine and Daniel Gutierrez. At No. 3, freshman Christian Cargill and sophomore Damon Niquet defeated the Mason grouping of Aaron Capitel and Nick Barker. Both spots ultimately saw the Tribe emerge with a 6-3 victory.
While doubles went the way of the Tribe, the strongest singles performance belonged to GMU, who emerged victorious at the No. 1 spot. The Tribe countered with singles victories from both Appleby and Huang. With the win, Appleby moved to 13 wins on the season, while Huang moved to 15. Huang also possesses a team best 11-6 record in dual-match singles competition.
Niquet didn't allow his teammates' work to go to waste and clinched the Tribe victory with a 6-3, 6-4 triumph over the Patriots' Connor Moran. The victory marked Niquet's third straight singles win and saw him improve to 4-0 mark at the No. 4 spot.
Next up, the Tribe continues its home stand at Millie West Tennis Facility when it takes on the Campbell Camels March 25 at 4 p.m.