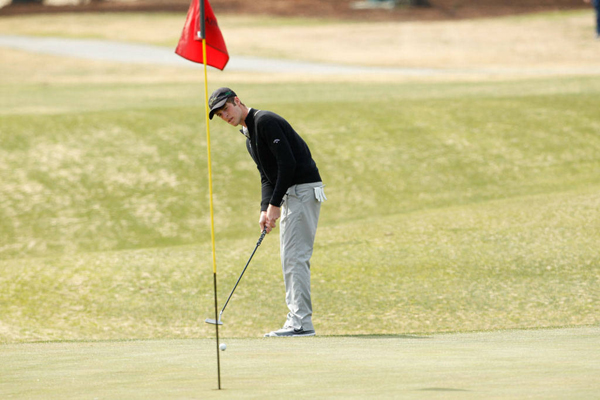 William and Mary was on par with the best this past weekend, as the Tribe finished second overall in the Whiting Turner Invitational at Prospect Bay Golf Club in Grasonville, Md.
Senior Alex Hicks and sophomores Austin and Davis Morrison led the College's effort, each finishing the two-day tournament at nine over par (151), tying for 11th overall. Senior Charlie Kern turned in a solid effort with a score of 152 (10 over par), while freshman Bryce Johnson rounded out the Tribe's team competitors with a 16 over par (161). Although his efforts didn't count towards the team score, freshman Tom Simmonds competed well as an individual, shooting a 22 over par (164).
The weekend began with solid efforts from the Morrison twins, as the Charlotte, North Carolina natives each bettered the other by a single stroke on one of the two days. Austin Morrison shot a four over (75) on Saturday, while Davis Morrison impressed with a 74. The scoring was flipped Sunday, however, as Austin shot a 76 to Davis' 77.
Hicks, one of the most accomplished golfers in Tribe history, got off to a slow start in the opening round, shooting a seven-over (78). He was much sharper the following day, shooting his way to a two-over (73).
This performance puts Hicks in fourth place all-time for Tribe career wins with 2,371. Solid performances at the upcoming Redhawks Invitational and the Colonial Athletic Association Championships could vaunt Hicks over the 2,500 win plateau, a mark achieved only three times in Tribe history.
University of Arkansas, a member of the Southeastern Conference, proved to be the only team able to best the Tribe. The Razorbacks' final score of 589 (21 over par) placed them comfortably ahead of the Tribe's 605 (37 over par). The Tribe managed to grab the lead in the opening round behind the efforts of the Morrisons, as they posted an impressive 300, but there was no stopping Arkansas Sunday, and the nationally ranked Razorbacks ran away with the title by posting a second day score of 287.
The Tribe did manage to top CAA compatriots Hofstra and Towson, who posted two-day scores of 622 and 629, respectively.
The Tribe has a long journey ahead, as it is scheduled to compete in the Redhawk Invitational hosted by Seattle University April 6-7.