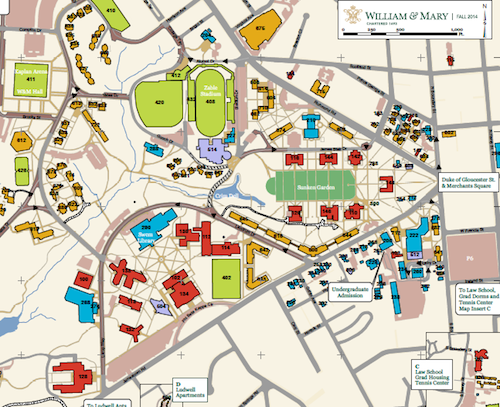 With two weeks before online room selection begins, Residence Life said that there will be no waitlist for on-campus housing this year, crediting the addition of Chandler Hall, which is coming back for the 2015-16 year. ResLife also stated that campus will be receiving new washers over the summer, and that residents of Landrum Hall and Jamestown North may be receiving rent rebates due to inconveniences caused by construction.
3,126 students made housing deposits this year, according to ResLife. That number is consistent with past years.
Associate Vice President for Student Affairs and Director of Residence Life Deb Boykin explained that the number of deposits often does exceed the number of beds available. Some students choose to drop the housing process, however, often because they find out about study abroad decisions.
The decision to renovate Chandler Hall was made by a group of departments at the College, including Facilities Management, Facilities Design and Construction, and Residence Life, according to Director of Housing Operations Chris Durden.
Planning, Design and Construction Director Wayne Boy explained that Chandler Hall is being renovated to meet current building codes due to its age. The renovations underway are focused on updating fire safety features, adding new building systems like plumbing and wiring, as well as adding ADA adaptations.
"Nothing will change floor plan-wise in [Chandler], besides a little accommodation for some ADA adaptations on the first floor. It will be an entirely all new building [system], new wiring, new plumbing and so forth. And of course new interior finishing, because we have torn it up," Boy said.
Durden highlighted another feature being added to Chandler, an auxiliary laundry room on the first floor, in addition to the one located in the basement. This laundry room will be more accessible to students that might be disabled.
Chandler's renovations are to be completed in July 2015.
Other housing options that are returning include the Moncure House located on Armistead Street. Pi Beta Phi currently occupies the house, as their house is being renovated thanks to a private donor. Pi Phi will return to their house in sorority court in the Fall and the Moncure House will be available to independent students.
Other changes to housing include relocating the Eco House to Jamestown and Delta Sigma Theta to the Bozarth House located on Richmond Road. Ludwell quads will be triples this coming year. Quads will still be available as an overcrowd option, however.
While there are no other major renovations planned to dorms in the next year, there will be small aesthetic updates occurring over the summer.
Durden explained that all of the washers will be replaced over the summer. The washers will remain front-loading, as they are more environmentally friendly. Some of the buildings in the Bryan Complex will also be receiving new furniture. Various dorms will be repainted and two of the Graduate Complex buildings will be receiving new fire alarms.
"We will be continuing to use the front-load washers. They're more economical, they are more environmentally friendly because they use less water," Durden said.
Construction of the ISC-3, which is to be completed by March 2016, has caused some noise issues for residents of Landrum Hall and Jamestown dorms. This past Monday construction lasted into Tuesday morning as crews were working on pouring a floor of the building. The process takes approximately 17 hours, according to Boy.
Students were not notified of the late night construction this past week due to miscommunications. According to Boy, there are approximately five more days of floor pouring left, which Residence Life will notify students of going forward.
Residents of Landrum and Jamestown North received an email from Durden about the noise on Tuesday. Residence Life is looking into offering a rent rebate to residents of the affected dorms. This rebate would entail returning a portion of the students' rent.
"What we do is we look at what are the days of inconvenience, what is the impact of that and then we take a portion of the student's rent and basically give it back to the student," Durden said.
In regards to the room selection process Boykin stated her support for students living on campus.
"I think living on campus is an incredible experience," Boykin said. "You will never ever have another opportunity to live in this kind of environment with your fellow students … Living with your fellow students who are your age, have the same drive and commitment to academics, and just the sheer opportunity to live with an amazing group of people."