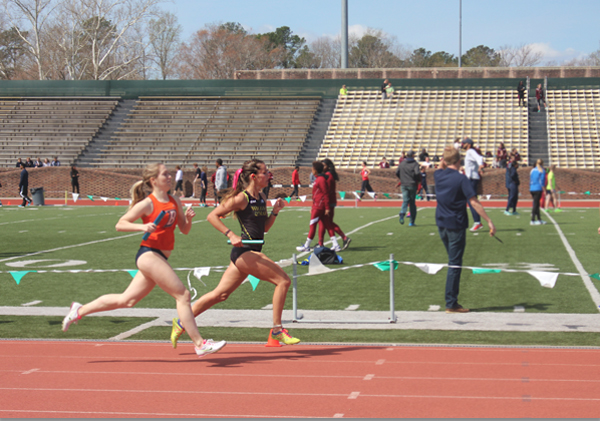 William and Mary hosted the 50th Annual Colonial Relays over the weekend, with events held from Thursday through Saturday at Zable Stadium and the Stimson Throwing Events Area. The Tribe finished third for both men and women.
Competition kicked off with just a single scored event Thursday afternoon. The Tribe took an early lead on the women's side as freshman Leia Mistowski continued her impressive rookie season by remaining undefeated in her collegiate career in the hammer throw. Mistowski's final throw of 53.27 meters propelled her to first place and earned her a requalification for the Eastern Collegiate Athletic Conference Championships, which will be held May 15-17. At the conclusion of day one, the College stood in first with 10 points.
Friday featured a full day of competition for both men and women as competition took place from 8 a.m. to 10 p.m. The men earned five qualifications for the Intercollegiate Association of Amateur Athletes of America Outdoor Championships, scheduled to take place May 15-17.
On the track, the Tribe took second in the 3,000-meter steeplechase as junior Ryan Gousse was unable to outrun Peter Gelston of Shippensburg in the final straightaway. Gousse earned an IC4A qualification, coming across the finish line in 9:04.94, just 1.18 seconds out of first place. Highlighting the other running performances from Friday were freshmen Davion Hutt and Ryan Thompson as well as sophomore AJ Tucker. Hutt finished in 11th place in the 100-meter dash with a time of 10.94 seconds. Thompson and Tucker both competed in the 5,000-meter run; Tucker won in 15:09.79 while Thompson took second at 15:10.20.
Friday's other IC4A qualifiers came from the throwing team. Senior Brian Waterfield took the silver medal for hammer throw with an IC4A-qualifying 57.85 meter toss. Junior Taylor Frenia earned a qualifier with third place in shot put at a distance of 16.38 meters. The last qualifying performances of the day were in javelin as junior Bob Smutsky and freshman Derek Trott finished fourth and fifth, respectively. Smutsky threw 63.79 meters in his first competitive appearance since April 2014, while Trott threw a personal best 63.5 meters.
At the end of the day, the College sat in first of 40 teams with 74 points, just ahead of Colonial Athletic Association opponent North Carolina-Wilmington's 72.5.
Junior Emily Stites ran away with first in 34:03.43 for a new Zable Stadium record by more than one and a half minutes.
The women's squad had seven ECAC qualifiers Friday. The distance runners dominated the 10,000-meter run as the Tribe claimed the top three spots. Junior Emily Stites ran away with first in 34:03.43 for a new Zable Stadium record by more than one and a half minutes. Stites is currently in the top three women in National Collegiate Athletic Association 10,000-meter times. Senior Dylan Hassett earned a personal best 34:30.29 for second place, possibly earning her third trip to NCAA competition. Junior Meghan McGovern finished third at 35:37.19 while competing in her first collegiate 10,000-meter run. All three earned ECAC qualification.
Also in distance running, freshman Regan Rome punched her ticket to the ECAC Championships with a ninth-place finish in the 5,000-meter run, completing the race in 17:03.66.
The other three ECAC qualifiers came from pole vault and the 400-meter hurdles. Senior Lizzie Powell tied in third in pole vault at a 3.95-meter clearance. Juniors Breanna Brukalo and Ashley Woodards finished in sixth and ninth respectively in the hurdles. Brukalo broke her personal best and finished in 1:02.79, while Woodards finished in 1:03.03.
At the end of Friday's competition, the Tribe ranked second in the field of 45 with 49.5 points, 36.5 points behind leader Villanova.
The competition finished on Saturday as the men continued to decimate their competition. Frenia earned a requalification for IC4As with a 49.62-meter discus throw for the gold medal. The Tribe's seventh and final IC4A qualification of the meet came from junior Derek O'Connell, who cleared 4.85 meters in pole vault despite heavy winds. Also highlighting the day was a third place finish by the Tribe 4×1,500-meter relay team, which finished in 16:12.97.
The men's team finished third overall with 70 points, nine points behind first place UNC-Wilmington's final tally of 79 and two behind defending champion Bucknell, who took second place.
The women earned another ECAC qualifier for a total of nine with the 4×400-meter relay Saturday. The combined efforts of Brukalo, Woodards, freshman Kacey Wheeler and junior Claire Tito earned a time of 3:50.74 while breaking the 1985 College's record at Colonial Relays of 3:52.5.
The Tribe moved into third place with a total of 52 points. Villanova topped the charts with 131, far ahead of the second place finisher Bucknell who finished with 64.
The College will now travel to the Patriot Invitational hosted by George Mason University in Fairfax, Va., scheduled for Saturday, April 11.