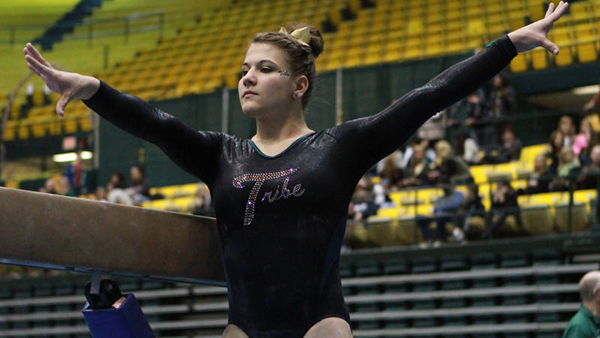 William and Mary concluded its season on Saturday as three members of the team competed as individuals at the National Collegiate Athletic Association Auburn Regional in Auburn, Ala.
Junior Brittany Stover highlighted the Tribe's performance with a ninth place finish in all-around competition, scoring a 38.875. Her best score of the evening came on vault as she recorded a 9.850, good for a 12th-place tie in the NCAA Regional event. She completed her stat line with a 9.625 on bars, a 9.700 on beam and a 9.700 on floor.
Graduate student Larson Lasek also competed as an all-arounder, finishing in 15th place with a score of 36.750. She scored a 9.525 in both the bars and floor competitions, as well as a 9.075 on vault and an 8.625 on beam.
Senior Maggie Lundeen participated in floor competition for the College in her last collegiate event. The 2015 Eastern College Athletic Conference Specialist of the Year tied for 10th place with a score of 9.800.
No. 5 Alabama won the tournament with an overall score of 197.575, followed in second by No. 8 Auburn, which finished with a 196.900. Both schools earned a bid to the NCAA Gymnastics Championships in Fort Worth, Texas. The Tribe did not compete as a team.
In individual competition, Alabama's Lauren Beers and Lindsay Mable of No. 17 Minnesota both finished with an all-around score of 39.575 to top the leaderboard. Mable and Alabama's Mackenzie Brannan tied for first in vault, each scoring a 9.925 in the event.
Beers earned top honors on beam with a 9.925 while teammate Kaitlyn Clark won the bars competition with an identical score. Mable, Beers and Clark topped the floor leaderboard, as each scored a 9.900.