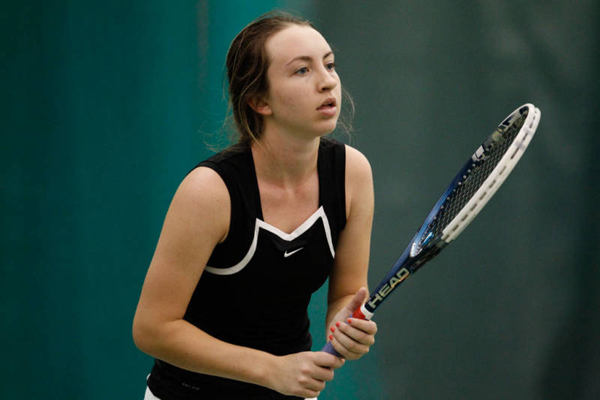 The College of William and Mary saw double this weekend, suffering two frustrating losses in two days on the road in Huntington, W.Va.
The Tribe (12-6, 1-0 CAA) fell to DePaul (14-4, 1-0 Big East) and Marshall (14-7, 1-2 C-USA) by the score of 4-3 and 4-2, respectively. Although the Tribe split the singles matchups in both matches, DePaul and Marshall were each able to earn the crucial doubles point.
The weekend action began on Saturday with a match against No. 38 DePaul. The Tribe took the top three singles matchups, with junior Leeza Nemchinov, senior Jeltje Loomans and freshman Olivia Thaler all taking down their opponents.
Nemchinov improved her record to 23-3 overall and 15-1 out of the No. 1 spot. The loss dropped DePaul's Yuliya Shupenia to 24-4.
Out of the No. 3 spot, Thaler easily defeated 2014 Big East Player of the Year Patricia Fargas in straight sets, 6-1, 6-2.
Although the duo of Nemchinov and Loomans won their doubles match and improved their record to 19-4 on the year, DePaul grabbed the match's initial point with a 6-4 victory at the No. 2 and a 6-0 victory at the No. 3.
That point proved costly, as the Tribe lost its No. 4, No. 5 and No. 6 matchups, all of which went the full three sets. Freshman Maria Groener suffered a tough loss at the No. 5 spot. After dropping the first set 6-3, Groener won the second 6-1 before losing in a tiebreaker in the final set, 7-6 (3).
An Easter Sunday matchup with Marshall would provide no salvation for the Tribe as it again suffered a close loss. Loomans and Nemchinov took the win at the No. 1 spot in doubles competition, but Marshall was able to grab the No. 2 and No. 3 matchups 6-3 and 6-2, respectively.
Groener  and sophomore Melanie Roy and looked strong at No. 4 and No. 5 in singles, winning their matches in straight sets. The Thundering Herd grabbed wins at No. 2 and No. 6, however, taking down Loomans and freshman Cecily Wuenscher.
Down 2-3, Thaler and Nemchinov were the Tribe's last hope, both needing to win their singles matches in order to earn the team victory. Thaler lost her first set at the No. 3 spot 6-4 before taking the second, 6-2. Nemchinov won a dramatic first set tiebreak, 7-6 (6), to go out ahead of Marshall's Derya Turhan. The second set was headed for another tiebreak but the match was called after Thaler dropped the third set of her match, 6-3, which gave Marshall the team decision, 4-2.
The Tribe finishes the regular season at home against No. 73 Old Dominion University at the Millie West Tennis facility Saturday at 2 p.m.
Loomans will also be honored for Senior Day.