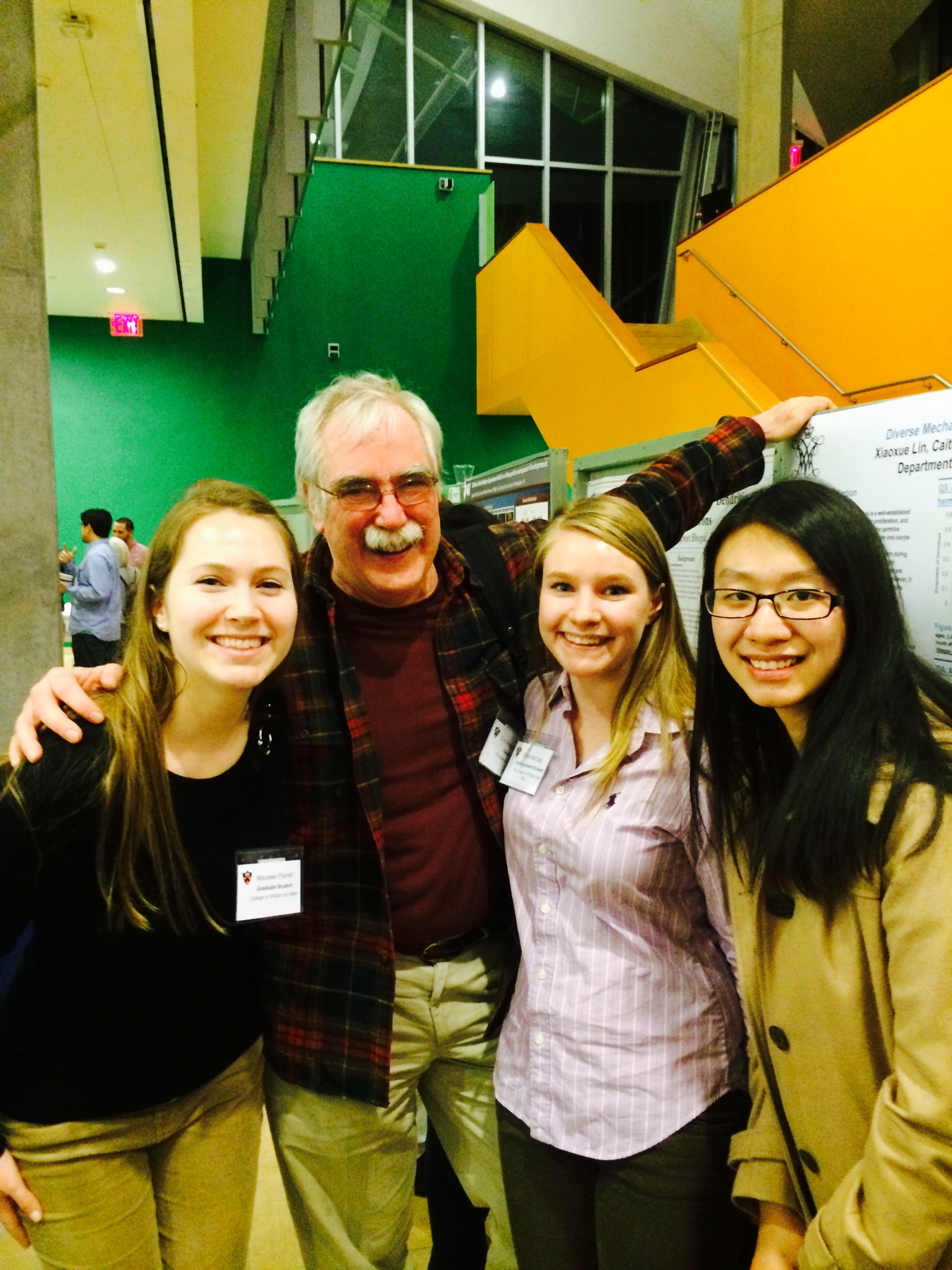 Four students from the College of William and Mary presented their research at the Mid-Atlantic meeting of the Society of Developmental Biology, held at Princeton University March 27-28.
Jackson Peterson '15 won first place in undergraduate research for his thesis, "The kinase SPE-6 prevents C. elegans sperm activation."
Xiaoxue Lin '17, Caitlin McCaig '15 and Maureen Farrell M.S. '15 presented a joint poster on "Diverse Mechanisms to Make a Hermaphrodite in Nematodes."
Peterson, Lin, McCaig and Farrell all conduct their research in Professor Diana Shakes' lab.
During the meeting, attendees — including undergraduates, graduates, faculty members and post-doctorates — listened to lectures about new research in developmental biology, attended professional development activities, and participated in poster sessions.
"Basically, you just have judges walk up to you, and then you tell them the story individually of what your questions were and how you addressed them," Peterson said. "[You're] showing them real data on your poster, and they might have ideas or questions — 'Have you tried this?' or 'Do you know [this]?'"
According to Peterson, Lin, McCaig and Farrell, the highlight of the event was meeting Eric Wieschaus, the 1995 Nobel Prize in Physiology or Medicine winner, and his wife, who is also a prominent researcher.
"[Wieschaus] was very excited about the novelty of the first project, and with Jackson's, he was wholly impressed," Shakes said. "He couldn't believe an undergraduate had done that much work."
Peterson's research, which he began as a freshman in Shakes' lab, focuses on the activation of sperm cells in C. elegans, a species of nematode roundworms.
The same base genes and proteins found in C. elegans and their sperm cells are involved in Alzheimer's disease and, according to a recent paper, amyotrophic lateral sclerosis.
"He's been studying … in the context of C. elegans' sperm activation, [cells] going from sitting there to being able to crawl," Shakes said. "That's kind of interesting because you think about a cancer cell going from sitting there to being able to crawl. We're very interested in that kind of transition."
Lin, McCaig and Farrell's project examines the mechanism of sperm production in C. elegans and a related nematode species, Rhabditis sp. SB347.
Whereas C. elegans first produce sperm cells and then switch permanently to producing eggs, SB347 produce sperm and eggs at the same time.
"We're using a different kind of nematode which clearly has a different reproductive strategy," Farrell said. "[We're] trying to understand how two different organisms can achieve the same goals in really different ways."
According to Lin, the project has shown that although C. elegans are a well-established model organism, they are not the most representative of all nematodes.
Overall, Peterson said the College was able to stand with premier research institutions like Swarthmore and Princeton at the meeting.
"I think there's really an opportunity here [because] we have a combination of really great scientists who love to teach here, and if [we] were a big research university, they could have a team of full-time post-doctorates," he said. "Instead, they have undergraduates who have to go to class … When you're actually doing research, you all of a sudden realize and get all of the different pathways you've been learning about are real and relevant, and you go to a conference and you hear these people talking about all of the pathways you learned about in class last year, and it's really real to them because they're studying it."