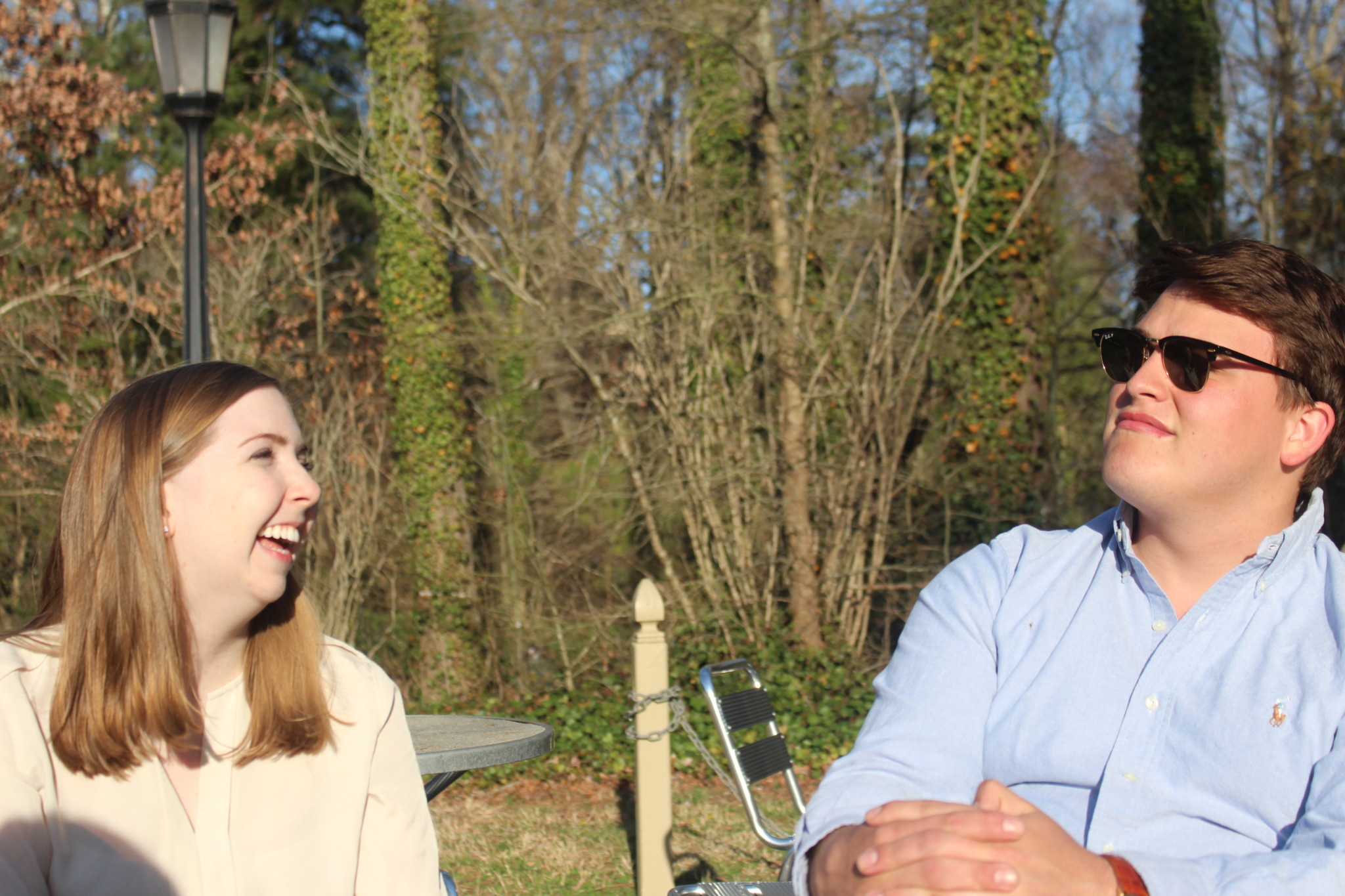 Almost exactly one year ago, Colin Danly '15 and Kendall Lorenzen '15 were sworn in as Student Assembly president and vice president. A year later, the two reflect on their past term as they prepare to leave office.
Both described their experiences as positive. Danly said the presidency allowed him to commit to something larger than himself, which he said can be difficult in the introspective environment of college.
"[I'm] glad we were able to take this year and be able to commit to something that's not ourselves," Danly said.
Lorenzen said that although the vice-presidency provided a satisfying experience, the position could also be frustrating.
"I feel like the more involved you get within anything the more you realize needs to be done. So you never really feel that your job is complete but at the same time you feel incredibly lucky to be doing everything that you're doing," Lorenzen said.
Chief of Staff Drew Wilke '15 described his experience within SA this past year as humbling in regard to the people with whom he was able to collaborate.
"Overall, it was very humbling just knowing all the talented people around you, be it in cabinet or senate, and even obviously Undergrad has been dissolved at this point. But those in Undergrad and all of their efforts this year has been really amazing to see," Wilke said.
Lorenzen cited the efforts to get a full-time psychiatrist and the continuation of Tribe Rides, a program she worked on her sophomore year at the College of William and Mary, as the accomplishments she is most proud of. Danly mentioned their efforts toward improving how SA runs.
"We talked a lot about how we run the SA as an internal organization, figuring out how we make this the most efficient organization, how do we make this the most effective organization," Danly said.
Lorenzen also discussed some things she wished they had been able accomplish while in office. She discussed the creating of a sort of "big ideas fund," with a more formalized structure to make it easier for students to realize their ideas.
Danly stated that he and Lorenzen took their campaign rhetoric — centered on the three pillars, "collaborate," "innovate" and "empower" — seriously.
Danly explained that he spent time considering with whom he would collaborate . He cited hiring Mallory Tucker '15 to serve as SA undersecretary of sexual assault advocacy, as a collaborative effort.
Wilke said that SA has become more collaborative every year he has been involved.
He explained that SA was innovative with efforts to improve internal communication within the organization. Danly said SA's work to address issues like mental health and sexual assault on campus empowered students.
Lorenzen also discussed establishing some of the programs she and Danly had campaigned on. She explained that Student Connectors was something tested out this past semester, and will likely grow in the future. The structure has been set for the Campus Leadership Conference, which the two discussed while campaigning. The conference is an effort that SA President-Elect Yohance Whitaker '16 may execute, should he choose to do so.
Lorenzen stated that the most rewarding part of her role as SA vice president was the opportunity for individual mentorship.
"It was rewarding getting to hear the way that [projects] actually impacted people," Lorenzen said. "For me those individual encounters are the most meaningful."
Danly said there were many rewarding aspects of the position of SA president, from positive interactions with alumni and students to the ability to represent the College outside of campus.
"I spent a lot of time, this semester especially, going and doing things outside the College, whether it be up in Richmond or D.C., kind of representing the students. It has been very rewarding to be able to put William and Mary's name out there in different circles and make sure that student' interests are represented in that regard," Danly said.
Danly stated that transitioning from vision to reality was one of the more challenging parts of his position.
"You have this distinct vision of what the SA could be and how much potential it has to do good and then you have to wade through a lot of useless, senseless, stupid stuff to be able to get there. By the time it gets there it isn't always the same vision and being able to be okay with that and realize that there's other agency involved," Danly said.
Wilke explained that the most difficult part of his position as chief of staff was having to balance many differing personalities.
"Especially in my role as chief of staff, I think I am kind of balancing working with individuals in the senate and the executive and also relaying messages between students and administrators. So often I have to really think about the personality or the opinion of someone I am working with and taking that into account and trying to think from their perspective or their side of the coin … which is not the easiest to always accomplish, especially if your opinion doesn't exactly meet theirs," Wilke said.
Danly identified three key issues that the SA will have to address in its next term. These issues, while not an exhaustive list of issues that Danly thinks must be addressed, were mental health, sexual assault and the racial climate on campus.
Danly and Lorenzen offered one piece of advice to their successors, Whitaker and Catie Pinkerton '16: Stay positive. Both wished their successors luck.