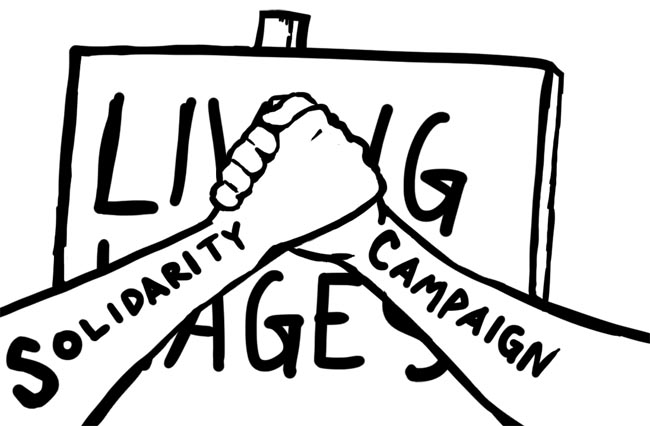 A student-led workers solidarity campaign held its first interest meeting Wednesday night. The movement, however new, is an interesting development that will hopefully be able to address allegations of problematic treatment of Sodexo workers on our campus.
The College of William and Mary has experienced two similar living wage campaigns in its recent history, both of which the newest movement seeks to learn from. In 2001, the movement was not able to overcome resistance from the administration and eventually tapered off after achieving only a moderate raise for housekeepers.
Then, in the 2010-11 school year, the Living Wage Campaign veered toward radical extremes. The campaign held aggressive protests in classrooms and eventually occupied President Taylor Reveley's office. Its tactics and misallocation of blame cost the movement public support.
The current solidarity campaign claims the fault in both of these extremes, and seeks to balance its tactics in such a way to have the greatest positive impact for the workers it supports. It appears to recognize the importance of positive public relations while simultaneously concerning itself with the implications of its actions on campus service workers. Both are necessary steps to creating an effective campaign to raise workers' wages.
Moreover, the solidarity campaign recognizes Sodexo as an obstacle to the better treatment of the College's service workers. Sodexo has been accused of numerous violations of workers' rights to unionize and collectively bargain, as documented by a 2010 Human Rights Watch report.
According to TransAfrica Forum's 2011 report, the company has also been tied to various abuses of employee labor, such as forcing employees to work overtime without pay or breaks while receiving minimum wage. The new workers solidarity campaign alleges that Sodexo has forced workers to work in buildings without air conditioning, denied workers use of the refrigerators to store their own meals and given insulting raises of as little as ten cents.
If these allegations are true, they are antithetical to the safe and supportive environment the College should provide for all members of its community, including service workers, who are a vital part of campus life. The group plans to reach out to other organizations around the country that have led anti-Sodexo campaigns to learn from those experiences. Given Sodexo's problematic track record across the nation, this kind of outreach could be pivotal.
The group needs to act quickly and decisively given its late start in the semester. When students leave for summer break they are least attentive to issues on campus. Summer is Sodexo's opportunity to dismiss workers without the scrutiny of the student body, so the campaign must begin work now and maintain a strong presence throughout the summer to reach its goals.
Áine Cain and Tucker Higgins recused themselves from this editorial.